Twin Lakes of Burera and Ruhondo
These beautiful twin lakes are located at the base Volcano Muhabura and close to the border of Rwanda and Uganda in the northern part of Rwanda, on the outskirts of Musanze. They are located close to the Volcanoes national park of Rwanda known as "gorilla's home" with their blue water surrounded by the virunga high hills. Lake Bulera and Lake Ruhondo are separated by a 1km wide strip of land.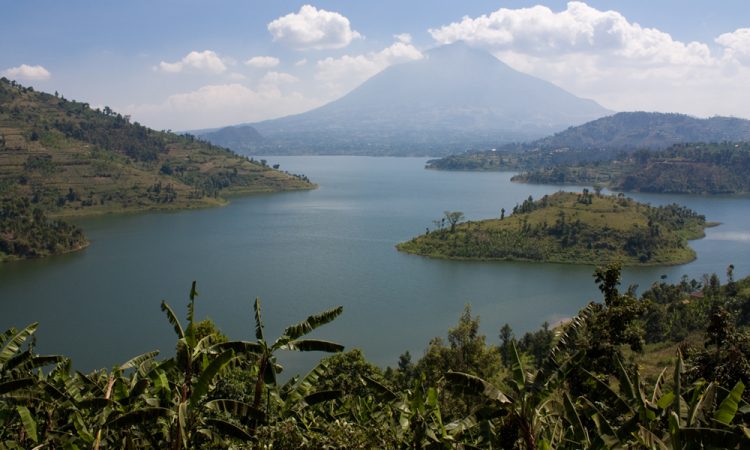 These lakes formed as a result of volcanic activity, where the largest River in Rwanda (Nyabarongo River) used to flow northward to Ndorwa (many years ago this part was for Rwandan side, but currently it belongs to Uganda), Due to the volcanic eruption which took a place in the volcanic region in Northern part of Rwanda, precisely due to the eruption of Muhabura volcano(currently is considered as dormant volcano), the lava flows from volcanoes blocked the Nyabarongo river's channel, this led to the formation of these twin lakes of Bulera and Ruhondo also considered as "Lava dammed lakes", and the divert of Nyabarongo river by flowing south east ward where it joins Akanyaru River to form Akagera River.
Rwanda's Lakes Bulera and Ruhondo have combined area surface of about 2800ha.
These Magnificent twin lakes of Bulera and Ruhondo and its Swamp Rugezi are the excellent photogenic, serene and scenic places for Bird watching activity. Moreover, Rugezi swamp is one of the most seven important birding areas IBAs) in Rwanda.
Their deep blue water surrounded by steep hills and tall waterfall with the outlines of the nearby virunga (volcanoes) provide a spectacular backdrop.
A canoe boat or Boat trip can be taken along the waters of the twin lakes of Bulera and Ruhondo for sightseeing.
The twin lakes of Bulera and Ruhondo can be visited in afternoon or evening time after Gorilla trekking or Golden monkey tracking in Volcanoes national park , or even after Cultural tour from Iby'iwacu cultural village or after visiting Musanze caves.
The scenery is Breath taking as the shores of the lakes are heavily terraced and Cultivated with crops and volcanoes slopes appear green in distance.
At the shorelines or in the lakes , fishing is carried out by people using traditional fishing methods like self made canoe that consist of a single piece of wood, and using fish net or hooks.
If you want to visit the islands on these twin lakes of Ruhondo and Bulera, the trip is done by a boat or canoe ride.
The overstay or Night stay around the Lakes was made easier because there are many hotels, lodges, Restaurants and Guest houses with an excellent hospitality.