5 Days Virunga Great Ape Package
5 Days Virunga Great Ape Package: Book a tour to Eastern Africa for a chance to trek mountain gorillas and chimpanzees. This 5 days great Ape package is a safari organized by Virunga national park for its visitors interested in the mountain gorillas and the Chimpanzees with a bonus of getting to visit the Senkwekwe gorilla orphanage. This package sets off from Goma on Mondays and Wednesdays.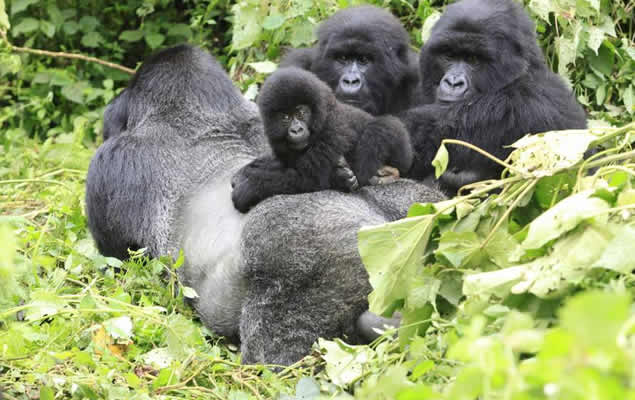 Trip highlights of the 5 Days Virunga Great Ape Package
2 mountain gorilla treks

Chimpanzee trek

Senkwekwe gorilla orphanage

Mikeno lodge

Ngila lodge

Virunga park headquarters visit. 

Kigali city tour
Trip Description
Day 1: Transfer to Mikeno lodge from Kigali
Connect to Mikeno lodge
Your driver-guide will be in Kigali at the agreed pick up point and time preferably by 8 am to pick you up to start your 5 day safari. You will drive 6 hours from Kigali to connect to the Goma Grande Barrier border building to check in and receive your permits for the next days' activities.
After all protocol has been observed, you will drive with the Virunga security team headed to Bukima ranger post where your hotel is located. You will check into your hotel and have a late lunch and settle in as you wait for night fall. Dinner will be served and the first night will be spent at Mikeno lodge
Day 2: Mountain gorillas trekking in Virunga national park.
Mountain gorilla trek 
Wake up to catch a glimpse of the sunrise and have a quick breakfast thereafter grab your packed lunch boxes and connect with your driver-guide who will be waiting to transfer you to the Bukima ranger post where the brief before the trek is given. Enter the forest in search of the mountain gorillas and spend the allotted 1 hour in their presence shortly before you exit the park to have your lunch boxes.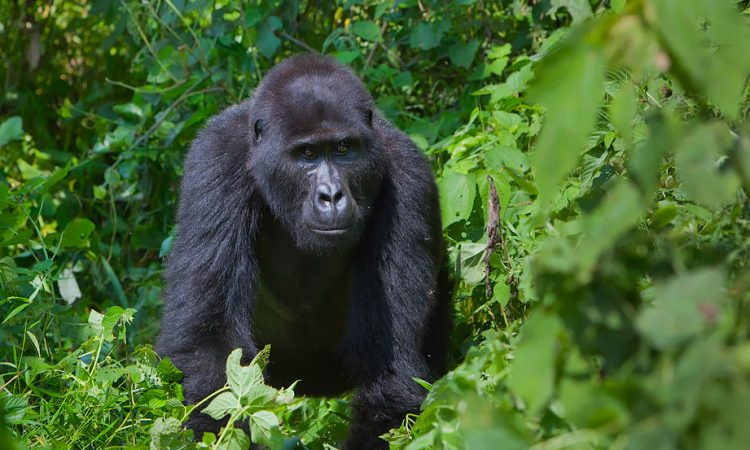 Drive back to your hotel to spend the rest of the evening at leisure as you await dinner to be served at Ngila lodge
Day 3: Second mountain gorilla trek
Mountain gorilla trek
Wake up for the second chance to meet the mountain gorillas of Virunga national park. Grab your breakfast at the hotel and your lunch packs then drive along with your driver guide to connect back to Bukima ranger post for the pre trek brief. Set out into the forest and trek for about 2 to 5 hours according to how far in the forest the gorillas are. 
After trekking exit the park and drive back to you hotel to spend the evening as you may wish reading a book at the lodge or take on a more active activity like visiting a community project and return before it gets dark in time for dinner and second night at Mikeno lodge.
Day 4: Chimpanzee trekking and Senkwekwe gorilla orphanage visit
Chimpanzee trek
Wake up early in time to catch the chimpanzees that are early risers. Set out to the park headquarters and join the team of individuals that are habituating the mountain gorilla family in the Mahura forest of Virunga national park. Get back to your accommodation for a late breakfast and relax or opt to visit the Virunga national park headquarters in the midmorning hours.
Return for lunch at the luxury Mikeno lodge and later in the evening, go visit the Senkwekwe gorilla orphanage in the evening. The Senkwekwe gorilla orphanage is strategically located in the compound of the Mikeno lodge. Spend a few hours at the orphanage and connect back to the dining area for dinner and another night in Mikeno lodge.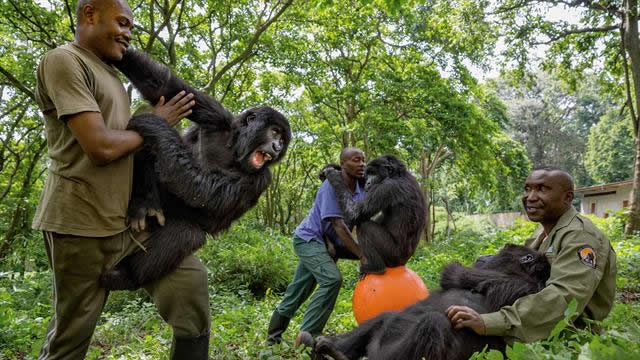 Day 5: Transfer back to Kigali
Drive back to Kigali
Wake up at leisure and get ready to check out of your hotel after having breakfast. Your driver-guide will be waiting to transfer you back to Kigali for drop off. You will have a Kigali city tour visiting the Kimironko market and the Kigali Genocide memorial grounds and advise on your drop off location in Kigali.
End of the 5 Days Virunga Great Ape Package