6 Days Rwanda Gorilla Trekking & Tanzania Wildlife tour
6 Days Rwanda Gorilla Trekking & Tanzania Wildlife Tour: Take on a 6-day safari visiting two different countries in one safari. Book to visit the mountain gorillas of Rwanda and take on a wildlife safari in Tanzania visiting the Serengeti national park all in a space of 6 days.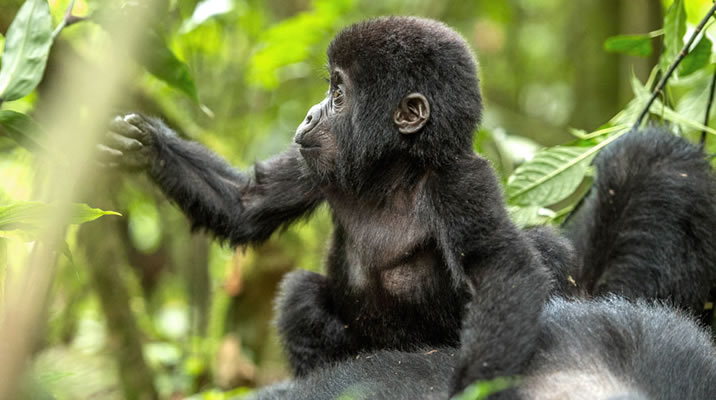 Trip Highlights of the 6 Days Rwanda Gorilla Trekking & Tanzania Wildlife tour
Mountain gorilla trekking

Game drives in Serengeti

Ngorongoro crater visit

Kigali city tour
Trip description
Day 1: First day in Rwanda and volcanoes national park
Kigali city tour: The first day of your safari in the Eastern countries of Africa will have you meeting your Rwandan driver-guide at your agreed pick up location in Kigali. After exchanging pleasantries, you will drive out to the Kigali Genocide Memorial grounds for your first visit. Later get a chance to visit the Kimironko market shortly before you head out for lunch in Musanze.
Volcanoes national park: You drive to your hotel for check-in and cool off as you watch the sunset and waiting for dinner to be served at your hotel where you will be spending the night
Accommodation options
Kinigi Guesthouse for budget
Le bamboo Gorilla lodge for midrange
Amakoro songa lodge
Day 2: Mountain gorilla trekking in Rwanda
Trekking mountain gorillas in Rwanda: The mountain gorilla trekking in Volcanoes national park is the highlight of this day as you will wake up looking forward to meeting these gentle giants. Drive out to the park headquarters along with your driver-guide for the morning brief. Walk into the forest with all your necessary gear looking forward to the moment you meet the gorilla family. A magical 1 hour will be spent around the mountain gorillas taking photos and studying them from a 6 meters distance.
Cultural tour in Volcanoes national park: Drive back to your hotel for a late lunch and return to your room to refresh and later in the evening, drive to the Iby'iwachu cultural village for the cultural tour of the Rwandan culture showcasing a few highlights like the way of dressing, methods of cooking, cultural dances as well. Return before nightfall for dinner at your hotel of the previous night.

Cultural Tours in Rwanda
Day 3: Flight out to Serengeti National park – Tanzania 
Serengeti national park: After having your breakfast at the hotel, pack your bags and check out of the hotel and drive straight to the Kigali International airport to catch a flight to Serengeti national park. Coastal aviation has a daily flight from Kigali to Serengeti national park where you will find your driver guide waiting to welcome you to Tanzania and drive you to your hotel for check-in and a warm lunch will be waiting for you.

Later in the evening, you will set out for an evening game drive to catch a glimpse of the game of the Serengeti plains. Return to your hotel before it gets dark for dinner and spend a night in the park
Accommodation options in Serengeti national park. 
Osupuko lodge for budget
Serengeti Heritage tented camp for midrange
Serengeti Sopa lodge for luxury
Day 4: Full day in Serengeti National park
Game drives in Serengeti: Have a hot breakfast at your hotel and grab your packed lunches and set out to the Serengeti plains for a full day of game drives. Serengeti is the most visited game reserve in Tanzania majorly because of the numbers of wildebeests but there is more wildlife to look out for on a safari to this reserve like the elephants, lions, Impalas, kobs, cheetahs, buffaloes and giraffes. 

You drive around the plains and have a picnic lunch in the wild before you spend the rest of the day spotting more game. Get back to your hotel to end the day with a refreshing dinner shortly before you return to your room for the night.

Game drives in Serengeti
Day 5: Transfer to Ngorongoro
Ngorongoro crater visit: Right after having breakfast at your hotel, check out and drive out towards Ngorongoro for a visit. You will arrive at Ngorongoro at lunchtime that you will have at the entrance of the crater thereafter, you will descend 600 meters into the crater where you will be able to spot most of the wildlife of the crater. The several animals, you may be able to view include the wildebeest, elands, zebras, buffaloes, lions, cheetahs, hyenas, jackals to mention but a few.
Visit the Lake Magadi: Within the region, you will visit the Lake Magadi that is a stunning attraction harboring a big variety of birdlife. Great spot for birding! You will spend your night in Ngorongoro.
Accommodation options in Ngorongoro
Hhando Coffee lodge for budget
Ngorongoro Rhino Lodge for midrange
Ngorongoro Sopa lodge for luxury
Day 6: Drive from Ngorongoro back to Arusha
Leave Ngorongoro: This will be a leisurely day according to our flight out of the country. Wake up for breakfast and after pack your bags to check out of you hotel and set out on your drive to Arusha. You will get some time to pass by a craft shop to get some souvenirs and a chance to interact with the local people of Tanzania.
End of the 6 Days Rwanda Gorilla Trekking & Tanzania Wildlife tour