Iby'Iwacu Cultural Center / Village
Iby'iwacu cultural village is a non-profit organization located in Kinigi around volcanoes national park of Rwanda, found in 2005. It is found for the aims of improving the lives of reformed poachers and communities around Rwanda's volcanoes park through provision of conversational incentives, supporting community enterprise development and livelihood based projects.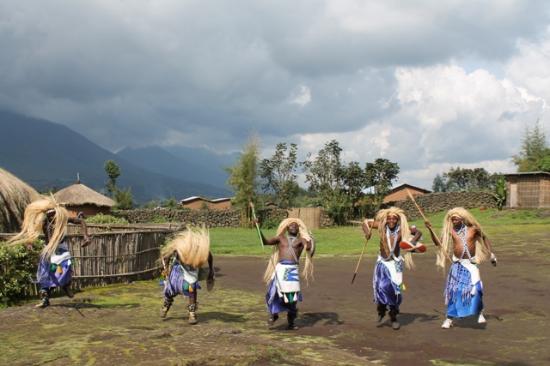 The place offering a great highlights of traditional rural Rwandan village, that has existed for centuries ago. It also gives the visitors the opportunities to meet the local people in their daily life activities, they show you how to produce the local banana beer(Urwagwa) from the primary stage to the finished product, you can even taste that beer.
In this cultural vilage, you will see the king's house replica, with the help of the guides and some elders in the village, you will listen all king's stories, the meaning of the different symbols inside the palace, witness and event perform how the king's wedding ceremony were like.
A day visit costs 35.00USD per person inclusive all activities at the village and a community walk in the village to visit village elders, women and children and other community activities. while overnight stay at village costs 70.00USD per person per night inclusive breakfast, lunch and dinner and all village activities. the itineraries will be set according to the visitors' interests and wishes.
The visitors take a look the or even practice the different types of traditional dances(like intore dances)and local traditional musial instruments like (Umuduri, ikembe etc), traditional songs(like Hinga amasaka) that entertain visitors.
The visitors can visit a local traditional healer for hearing about different medecinal trees, herbs, grasses and their uses and how they were administered to the local patients.
Alongside the traditional healer, there is a handcraft products exhibition stand, where you can buy or take a look at different handcraft products like Gorrila wooden mask, itopito( a tool used by kids for hunting birds).
You will see more than you are expecting at the time you will reach to this beautiful and serene village, where you will get a best view of Rwandan volcanoes with excellent atmosphere.The place is where the visitors understand the culture of Rwandese through their daily life and knowledge of the environment, poetry, dancing, singing, pottery, crafting and the theoritical hunt gathering skills. iby'iwacu is a great example of the succcess in community based tourism of Rwanda.