8 Days Rwanda Exclusive Tour
This 8 days Rwanda exclusive  tour offers you the opportunity to explore Rwanda in depth. You will do gorilla trekking in volcanoes, canopy walk and Chimpanzee tracking in Nyungwe forest national park and game drives in Akagera national park where you will get to see lots of wildlife including lions, giraffes, buffaloes, baboons and more.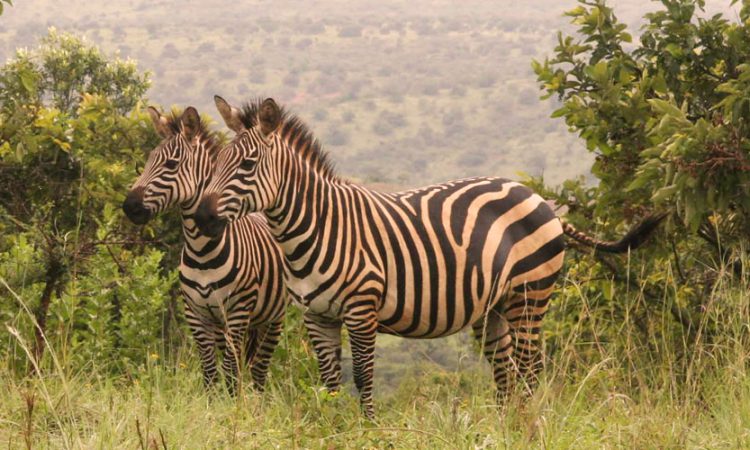 Day 1: Arrive in Kigali
A representative from our Rwanda tours and travel agency will be at the airport to welcome you on your Rwanda safari and transfer you to Serena hotel, Kigali. Brief introduction of Rwanda and chart way of making your Rwanda safari rich and rewarding.
Day 2: Transfer to Nyungwe National Park
Set off from Kigali city in the morning taking southern route to Nyungwe forest. You will have brief stopovers en route and visit former King's Palace at Nyanza, National Museum at Butare where you will have lunch as well. You will arrive late afternoon and check in at Nyungwe Forest Lodge.
Day 3: Chimpanzee Tracking and Canopy Walk
You will take an early cup of coffee and with breakfast boxes set off to tourism office for registration and other chimpanzee tracking formalities. You will then enter the Nyungwe forest that harbors no less than a dozen primate and monkey and no more than 280 bird species, lots of plant and tree species, insects and reptiles. You will end your fantastic first Rwanda safari day with a tree canopy walk to have beautiful scenic views of forest from above.
Day 4: Colobus Monkey tracking, transfer to Kibuye
Enjoy the comfort of your room and after a cup of hot breakfast head to the forests again with lunch boxes for colobus monkey tracking. Besides chimpanzees and colobus monkeys the forests have a lot of wildlife underneath that the ranger guides will help identify and interpret for you. You will enjoy a unique picnic lunch on your Rwanda tour in the forest and later proceed to Gisenyi a lakeside town on the shores of Lake Kivu and let the cool breezes of the lake wash away all your forest fatigue.
Day 5: Transfer to Volcanoes National Park
Relax, enjoy your morning and watch a stunning sunrise with extra bright sun-rays reflecting over the lake. Enjoy your breakfast in the lawns and get mesmerized by the birds with their morning calls. You will get on the boat cruise later and get more Rwanda safari experiences and explore what is within the lake. You will get back in time for lunch and have a brief relaxation before transferring to the hotel on the hem of Volcanoes National Park, check in at Mountain Gorilla View Lodge and sleep to the roars from the forests.
Day 6: Gorilla trekking
To many travelers this is the day to live their dream of safari to Rwanda and possibly the best wildlife experiences that bring you more personal with nature. Take a very early cup of coffee and a snack and with lunch boxes the driver will escort you to tourism offices for briefing, check gorilla trek preparedness and complete all formalities. You have the steep, thickly forested Volcanoes National park reaching beyond 7,000 ft in some areas at your disposal to explore with the ranger guides in the lead.
The Rwanda gorilla trekking experience is quite challenging and not a sweet cup of tea for every Tom and Dick and whoever gets over this highly entertaining and exciting exercise confesses of wonderful conquering feelings and experiences never encountered anywhere else. In the afternoon you will take the Iby'Iwacu community walk and interact with cheerful, welcoming Rwandan people and share wonderful everyday life experiences.
Day 7: Transfer to Akagera National Park
Enjoy your Rwanda safari with a nice morning sleep and shake off your adventure fatigue. Take your breakfast in the lawns and breathe in the pure Kigali fresh air. You will take a brief city tour, visit the Rwanda Genocide Memorial Centre and have lunch in an upscale restaurant. After lunch you will transfer to Akagera National park and check in at your safari camp. You will do an evening game drive to increase your number of wildlife views on your Rwanda safari.
Day 8: Morning game drive, boat cruise and return to Kigali
Wake up at first light and take a hot cup of coffee and get onto the waiting safari car. You will go on a ranger guided game viewing drive in the plain grasslands and with luck you will view lions, leopards, elephants, buffalos, elands, many other mammal and bird species. You will go for an exciting boat cruise after lunch on Lake Ihema to explore Rwanda water wildlife species before checking out of park and onto Kigali for your evening outbound flight marking end of your tour into Rwanda.