12 Days Rwanda and  Uganda tour
This 12 Days Rwanda and Uganda tour  offers you an opportunity to Explore the best of Rwanda including Rwanda gorilla trekking, chimpanzee trekking, wildlife adventures in Akagera National Park. The safari also takes you to track the gorillas in Bwindi impenetrable forest in Uganda and there after return to Kigali for a city tour before your flight back home.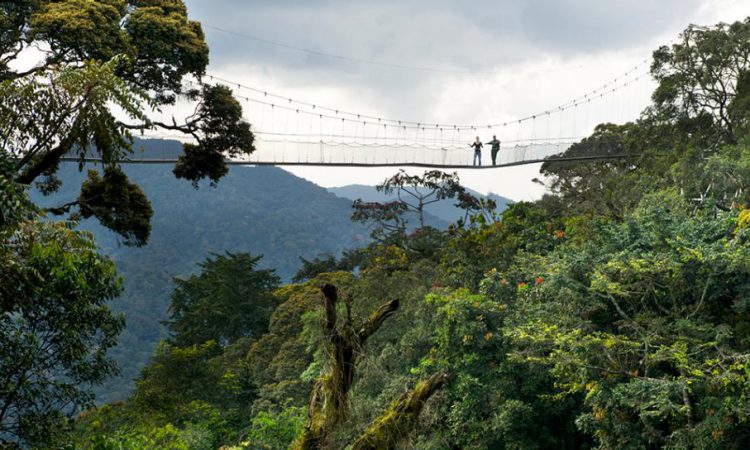 Day 1 of  12 Days Rwanda and Uganda tour : Arrive in Rwanda
Our staff will be at Kigali International Airport as your plane touches down to welcome you on your Rwanda safari. He will transfer you to Serena Hotel Kigali, share brief information about Rwanda over a cup of coffee. You will do a city tour and visit places of interest after lunch and get new experiences of touring Rwanda. Gisenyi Genocide Museum, Hotel la Palme and get its history, cathedral, African market and an upscale urban restaurant.
Day 2  of 12 Days Rwanda and Uganda tour: Transfer to Akagera National Park
Enjoy a stunning bright sunset over the Kigali hills and take breakfast in the lawns. You will make more brief visits in the city centre and then proceed to Akagera National Park. You will arrive at Ruzizi tented safari camp and proceed on an evening game drive to check out wildlife species winding up the activities of the day as nocturnal species come out of their dens. Sleep to the sweet sounds of roars emanating from the woodlands
Day 3 of 12 Days Rwanda and Uganda tour: Game drive, boat cruise
Take an early morning breakfast and with a guide proceed into the plain grasslands on the lookout for wildlife species. Akagera ecosystem of marshland, savannah grassland and woodland is a habitat of choice for lions, leopards, elephants, buffalos, elands, giraffes Boat ride, impalas & many bird species. After a sumptuous lunch you will get on the boat cruise on Lake Ihema to check out marine species and view wildlife cooling off the heat of the day. You may relax the rest of evening and get a refreshing feeling of safari into Rwanda.
Day 4 of 12 Days Rwanda and Uganda tour: Game drive, transfer to Kigali
You will take an early breakfast, check out of safari camp and do the last game drive of Rwanda safari as you check out of the park to top up on previous sightings, try the last lack on missed spots and enjoy your last Rwanda safari experiences. You will arrive in Kigali in time for lunch, relax and make gainful use of your Rwanda safari.
Day 5 of 12 Days Rwanda and Uganda tour: Transfer to Nyungwe Forest
You will enjoy your morning sleep and get sweet feelings of rwanda safari. After your breakfast you will start a journey south to Nyungwe Forest with brief stopovers the National Museum and customary King's Palace at Nyanza. You will have lunch en route at an upscale restaurant and check in at Nyungwe Forest Lodge late afternoon. Enjoy the unique attractions of Rwanda safari with scenic views of thick forests that seem as dead as silence.
Day 6of 12 Days Rwanda and Uganda tour: Chimpanzee Tracking
Take an early breakfast and the guide will escort you to ranger tourism office to formalize your Rwanda chimpanzee tracking regulations. You will be led into the forests by the ranger guides at 8.30 am for chimpanzee tracking expedition. You will come back in time for a picnic lunch under tree shade and get wonderful experiences of Rwanda tour. You will go for a canopy walk in the forests and enjoy scenic views of the forests and experience a bird's view of life on top of the forest. You will get back to hotel and relax to shake off fatigue of the day.
Day 7: Transfer to Kibuye lakeside town
Enjoy your Rwanda safari with a breakfast in the lawns at sunset. You will check out of hotel and transfer to Kibuye town on the shores of Lake Kivu. Enjoy the cool breezes of the lake with beautiful views of floating islands in the backgrounds. You may take a guided walk to interact with the indigenous Rwandan people and share experiences.
Day 8: Lake Kivu Explorations
Enjoy the sunset breakfast on the shores of the lake with freshness of the lake breezes brushing on your body. You will take a boat cruise on the lake and explore its interiors. You will back in time for lunch at the hotel. After lunch you may take a self guided walk around the shores of the lake as you await transfer to Volcanoes National park late afternoon. You will check in at Mountain Gorilla Hotel on the boundary with the park.
Day 9: Gorilla trekking expedition
Take in the rare excitement of gorilla trekking experiences with a morning cup of hot coffee and with lunch boxes set off for the tourism rangers' office. You will be checked for gorilla trekking preparedness, assigned ranger guides and porters and divided according to specific gorilla family you will trek. On the dot of 8.00 am you will set off for the forests and rangers using their forest techniques will locate the gorilla family with which you will spend approximately an hour or so depending on their moods. You will then descend to the trail head and reunite with the safari guide who will take you to the hotel. After lunch you will take on the Iby'Iwacu cultural interaction with the indigenous people close to the mountain gorillas. Join them as they showcase their music, dance, storytelling, dressing, homestead, food preparation and other skills. At sunset you will return to your hotel.
Day 10: Transfer to Bwindi impenetrable forest
After breakfast , your guide will transfer you from volcanoes national park to Bwindi impenetrable forest in Uganda. Upon arrival in Uganda, you will check-in your accommodation and have lunch. You will then proceed to visit the local towns around to interact with the locals and you will thus learn more about Uganda culture.
Day 11: Bwindi Gorilla Trekking
After your early breakfast, you will proceed to the pack where you will be briefed about your gorilla trekking before entering the forest to track the gorilla family you will be assigned to. After your gorilla trekking, you will return to your vehicle. Bwindi Forest has many walking trails that you could explore in the afternoon if you would like, alternately, you may just wish to relax at the lodge and enjoy the beautiful views of the Virunga's in the distance and the forest around the lodge.
Day 12: Transfer to Kigali
Early in the morning you will leave for Kigali either for your scheduled flight, or back to your hotel. There is an optional chance for you to go for a Kigali city tour and genocide memorial center.
End of 12  Days Rwanda and Uganda tour