Bwindi Impenetrable National Park is Uganda's foremost tourist attraction a popular destination for gorilla tours. Bwindi alone is a home to half of the world's population of Mountain Gorillas, with 400 found in the park. The park has a total of 120 mammals, which includes numerous other primates such as Chimpanzees, Blue Monkeys, Black and White Colobus, Grey-cheecked Mangabey, and L'hoest's Monkey making it a popular spot for primate Uganda safaris.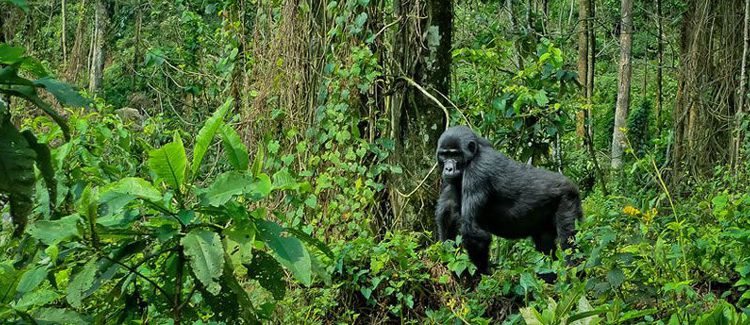 Bwindi rainforest also protects over 350 bird species, 30 species of frogs, over 150 butterfly species, 160 tree species and 100 species of ferns. Many of these are endangered species and as such Bwindi has been designated by UNESCO as a World Heritage site. Many consider the encounter and subsequent eye contact with a mountain gorilla, the most exciting and moving wildlife experience in the whole of Africa.
The park is 3,315 square kilometers in size and provides unrivaled access for Uganda gorilla trekking tours. Tourists come here to track the popular Mountain Gorillas. At Bwindi there are 10 groups of habituated mountain gorilla families. Bwindi Impenetrable National Park has 4 trails which provide access to various attractions in the park which include rivers, waterfalls, swamps and lots of wildlife concentration throughout the park. Bwindi is also one of the best birding destinations in Uganda where you can go for your Uganda birding safaris with various birds living in the forests.
Tour activities at Bwindi forest National Park
Gorilla tracking tours: Gorilla tracking can be a tiresome and challenging but also very rewarding especially for adventure seekers with an encounter with the mountain gorilla being one of its kind when we talk about wildlife encounters.
Nature Trail Walks.