Full List of Uganda Gorilla Families in Bwindi
There are 15 Gorilla Families / Groups in Bwindi Impenetrable National Park tracked by visitors on a daily basis. The number of Gorillas in a family as described below are current as of January 2018.  They may and will change during the year – The Key to a successful Gorilla Trekking  is not the number of Gorillas but the experience that you will have. for those bound to do gorilla trekking  in  uganda and precoisely at  bwindi, they will track from the families below.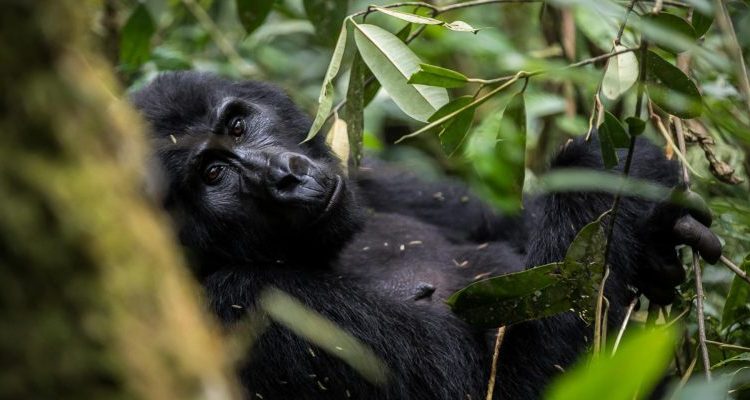 Nshongi Group Family
This is the largest gorilla family comprising of 25 members under the leadership of 1 silverback known as Bweza with 3 adult females, 1 sub adult, 1 juvenile and 1 infant. This group is found in Nshongi/ Rushaga. However after a recent split, where the Mweza group was created, the group now has about 18 gorillas in the family. The Nshongi group is named after the Nshongi river ehere they were first sighted some years back. This group is found in an area that ishighly forested so there is a chance of seeing other primates, birds, butterflies in this thick vegetation of Bwindi Impenetrable Forest.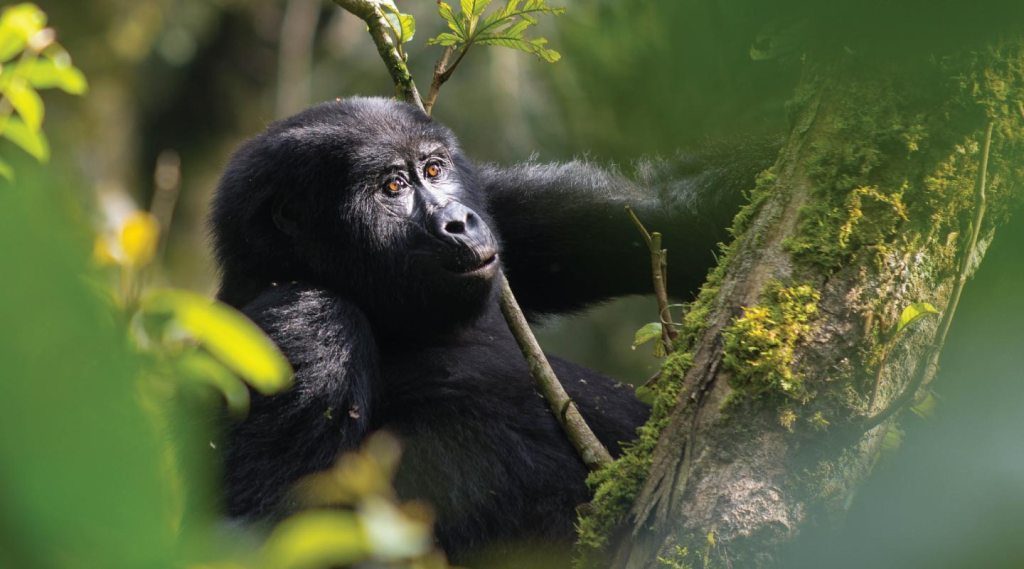 Nkuringo Gorilla Family
This group comprises of 18 members with 2 Silverbacks, 1 blackback, 2 adult females, 2 sub adults, 3 juveniless and 2 infants and can be found in Nkuringo sector. This group is led the silverback Rafiki. Tracking the Nkuringo Gorilla Group takes a bit more energy and stamina.  This is probably the toughest trek in Uganda. The group may be the toughest group to trek and that has to do with the terrain at the beginning and end of the trek.Yet there are not many complaints about being exhausted.   A better word would be exhilarated after the experience of a lifetime. Nkuringo Group may be the toughest to track due to the tough terrain, however, those that take it – love it.
Mishaya Gorilla Family
This group comprises of 12 members with 1 silverback Mishaya the leader who is also a fighter. This group is found in Nshongi / Rushaga sector. It broke away from the Nshongi Gorilla Family and the end of 2015, the group had 7 members but increased as last checked to 12 members.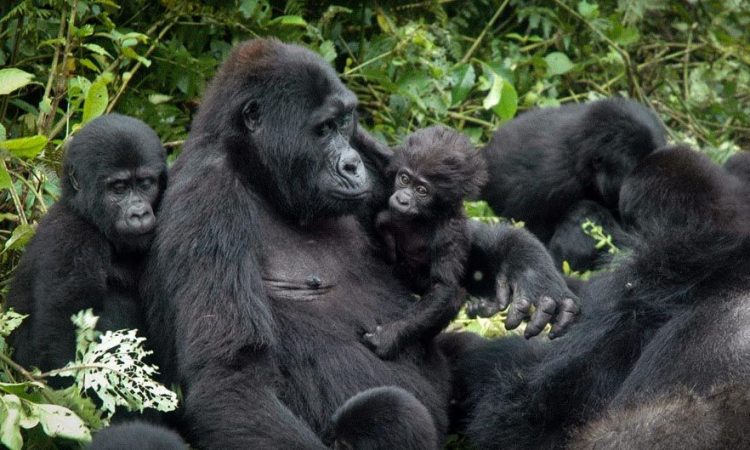 Bitukura Group
This is the most recently habituated gorilla group in Ruhija part of Bwindi Impenetrable Forest in Ruhija Park. It is one of the most attractive groups in the region. It learns and adapts quickly. It has 14 members , 4 silverbacks where Ndahura, the youngest silverback is the leader. This group has 2 black backs in the same group who move along the silverbacks. It is unusual to have this many Silverbacks in one group but they get along. Rukara and Rukumu are the silver backs and Ohia and Mugisha are the two black backs, 3 females, 2 juveniles and 2 infants.
This group originally consisted of 24 gorillas which isn't the case as last checked because of the feuds and the constant recruitment from the other groups, as some rather leave than fight.  This goup gets along with each other and fights are minimal with them. They are the peaceful group. This group is found in the northern part of Bwindi Impenetrable forest.
Habinyanja Gorilla Family
This group comprises of 20 members with 2 Silverbacks and is also located in Buhoma sector. The Habinyanja Gorilla Family is one of the earlier habituated groups in the Buhoma area of Bwindi Impenetrable Forest and over the years has had thousands of visitors from around the world from 1996. It normally takes a full day – five hours or more to track this group.  They move and roam over a wide range in the forest. Nevertheless, there are harder groups to track that take a bit more energy. It is a large group of 17 led by Makara the lead Silverback.  There are also 1 black-back, 5 adult females, 1 sub-adult, 3 juveniles and 6 infants. The group was first discovered near a swamp in Bwindi Impenetrable thus the name Habinyanja which comes from the local name for water "Nyanja"
Oruzogo Gorilla Family
This family comprises of 17 members headed by the dominant silverback, Tibirikwata. The group is also located in the northern part of Bwindi, Ruhija- Buhoma sector. It is one of the most recently habituated groups for Gorilla trekking. Other individuals in the group include Otaka, Bwoba(the coward), Busungu (short tampered), Kashundwe, Nyakiina, Kaganga (the giant one), Karimi (tongue), Kiromba, Katooto (the small one), Kanywani ( friendly), Kakobe ( looks like a monkey) and Buchura (the last born). This is the playful and energetic group exhibited mostly by the juveniles and toddlers which keeps the guestd entertained.
The Oruzogo Gorilla Family started to receive visitors in 2011 and those who came to visit them simply loved this group.  It is not an extreme trek but you need medium endurance and stamina. The Oruzogo Gorilla Family is led by the Bakwate the dominant and only silverback, with 2 black backs, 5 adult females, 2 sub-adults, 1 juvenile and 5 infants.
Mubare Gorilla Family
This is the smallest Gorilla family in Bwindi as at the beginning of 2018 there were 11 members of the Mubare family led by the Silverback Kanyonyi , beside him, there are 6 adult Females,, 1 Sub-Adult that is a teenage gorilla and 3 Infants. Originally there were 12 family members and when the leader, the silverback Ruhondeza who died tragically in 2012. Ruhondeza, the founder of the Mubare Group practiced infanticide that is; killing younger males that might become a threat to him.
Only the present leader Kanyonyi somehow survived. This group can be found near the park headquarters at Buhoma Park Headquarters but it takes over 5-hours round-trip to track this group. The word Mubare refers to the area where the group was first discovered in Bwindi Impenetrable Forest. This group was habituated in 1998 and was open to visitors since 1991.
Rushegura Gorilla Family
This group comprises of 16 members with 1 Silverback. It is also located at Buhoma. Tracking this group may take shorter since this group stays near the park headquarters.  It can be found in about 5 hours however there is no guarantee as these gentle giants are unpredictable and may decide to move further. This group is led by Kabukojo the silverback, 4 blackbacks, 4 adult females, 3 juveniles, 4 infants making it to a total of 16 gorillas.
Nyakagezi Gorilla Family
This group is found in Mgahinga national park and is the only habituated gorilla family in Uganda. It comprises of 10 members including 5 Silverbacks, 2 adult females, 2 juveniles and 1 infant but led by the dominant silverback Mark. There are over 80 mountain gorillas in Mgahinga Gorilla National park. This 10 member group had a migratory split within them as they are frequent travelers. This group is that it keeps on migrating between the borders of Uganda and Rwanda.
The Bweza Gorilla Family
This family is an example of another family feud that leads another new gorilla family setting up household in the Rushaga sector of Bwindi Impenetrable Forest.  The Bweza Gorilla family is led by the Silverback Kakono and is made up of 12 individuals including; 2 silverbacks, 4 blackbacks, 3 adult females, 1 sub-adult, and two infants.This group broke away from the Nshongi Family group because of too many feuds within the group at the end of 2013.This is exciting news as the summer months approach which normally means a scarcity of permits.
The Busingye Gorilla Family
This is a splinter group from the Kahungye Gorilla Group – an event that happened in August of 2012.  At the last check, this group consisted of 9 members and among them were 3 infants and what is called a sub-adult – gorilla teen. This is a new group that is open for tracking which means 8 more Gorilla permits in the Rushaga sector are available. Presently the group is being observed whether there are any signs of a return to the Kahungye Gorilla Group and it seems there is too much bad blood and no sign of reconciliation.
The Kahungye Gorilla Group
This is another Rushaga sector gorilla family sizeable in number even after a recent split in the Family creating the new Busingye Gorilla Group.The Kahungye Gorilla Family is led by Rumanzi and there are a total of  17 individuals that includes 3 silverbacks, 3 blackbacks, 3 adult females, 3 sub-adult, 3 juveniles and two infants.The group was opened for visitors and gorilla tracking in 2011 after being habituated, a process that takes over two years. The Name Kahungye comes from a hill in the Rushaga area where the gorillas were discovered.
The Kyaguliro A&B Group
This is a family with a history and a family split.  It was originally habituated beginning in 1995, however, it was a family that was not visited by tourists and there were no permits issued for the Gorilla Group.  It was set aside as a Research Group studied by the German Max Planck Institute of Evolutionary Anthropology. The group had a major tragedy when the leader or family head Rukina was struck dead by lightning on April 7th, 2015. After his death the group was led by an inexperienced young Silverback (Mukiza) who was later ambushed by an immigrating Adult Silverback (Rukara) from the Bitukura family, this fueled a split of the family into two – (Kyaguliro A -Rukara and Kyaguliro B -Mukiza) in May of 2016.
Presently, the two families continue to stay within close proximity of each other which has the potential for a reunion or crossing over of some family members. They are most often found deep in the forest and do not venture out into the peripheral areas. The A&B groups are made up of Rukara which is composed of 10 individuals; 1 silverback, 2 blackbacks, 3 adult females, 2 juveniles and 2 infants, while the second group,  Mukiza is also made up of 10 individuals who include; 1 silverback, 4 adult females, 1 subadult and 4 infants.
We note again that the size of families changes, they split, divorce, have feuds and runoff in a huff, while the males may raid another group and grab a few females to come along. You cannot get permits for a particular group ahead of time, but the group you trek is determined with your input.