Mount Nyiragongo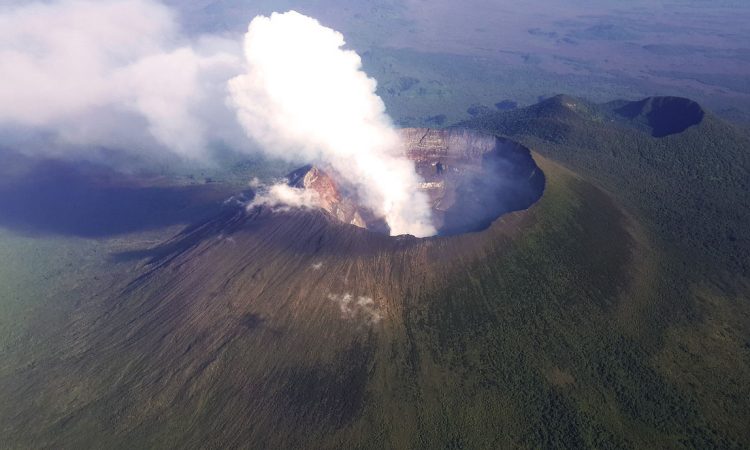 Mount Nyiragongo is a steep sided active stratovolcano at an elevation of 3,470m in the Virunga range, Albertine region located in the Democratic Republic of Congo. It has erupted about 34 times since 1882 and the last eruption was recently in 2002. This is the world's largest lava lake. It is just 40km away from the Nyamuragira shield volcano, coordinates 1°31′S 29°15′E.
Opting to Climb Mount Nyiragongo is a great choice as it is one of a kind. This mountain is famous for its lava lake size (1.2km diameter and 200m deep) and being an active volcanic mountain with recent eruptions as recent as 2002. It is open for visitors who wish to hike it despite the political struggles of the region but please remember you will need to spend a night at the top/ summit of Nyiragongo so be prepared for that. The peak is very cold surprisingly despite the hot red lava of the mountain so ensure to carry warm clothes, and don't forget your hiking shoes, stick and sleeping bag. a full access and exploration of mount Nyiragongo  can only  be done while on a congo safari.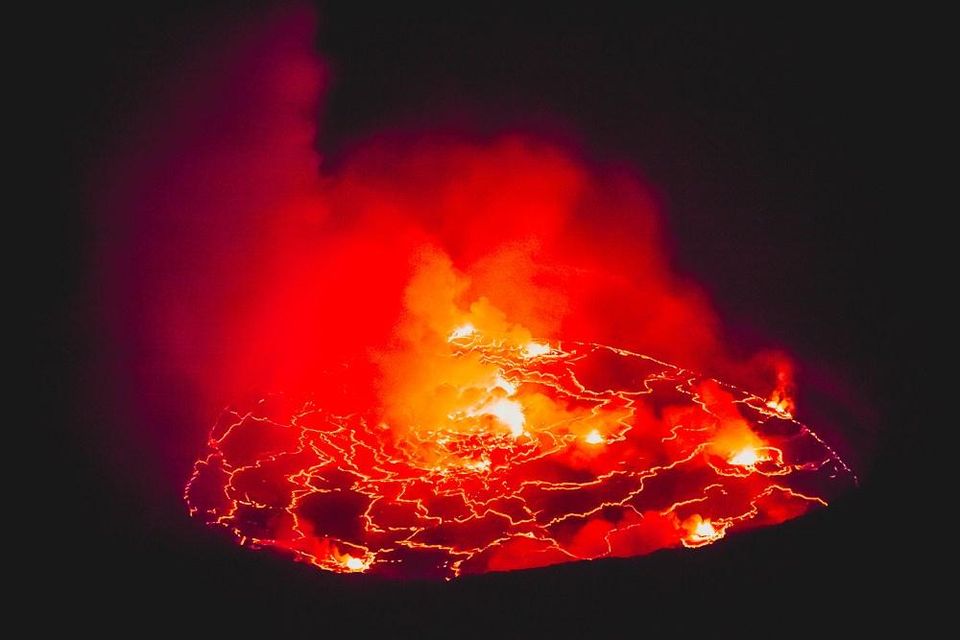 Last Nyiragongo eruption in 2002
The most recent Nyiragongo eruption started on 17th January 2002, moving at a speed of about 60 kmp spreading out from an elevation of 2800m to 1550m and reached the outskirts of Goma town. I advise you to spend a night here in Goma before you hike the volcano as the evidence is still visible, Goma town road sides still have the lava rocks from some of the past eruptions. The lava even reached and covered the north side of Goma International Airport to Lake Kivu leaving only the southern side usable/ accessible and thousands of people were warned and evacuated the region to cross to the neighboring town- Gisenyi.
The people who died from this eruption was mainly because of suffocation from the carbon dioxide that was released in the air, but also buildings in the area kept collapsing from the lava spreading and the earthquakes that came along with the eruption. These earthquakes kept coming back for a while which left the people of Goma and Gisenyi town worried for another eruption. Studies show that at least 15% of Goma town was destroyed by this 2002 Nyiragongo eruption leaving many people homeless and investors in losses and is the largest recorded eruption in Congo as of today. This eruption of 2002 saw the lava lake fissures opening up to the south side of the volcano and three streams of lava oozing out.
This mountain erupted again just 6 months after this scenario. There are still a few threats like the localized carbon dioxide that recently seeped through the ground in relatively high levels without equal wind to disperse it and killed a number of children. The volcano is however monitored on a daily basis with a temperature report every 10 minutes.
Mount Nyiragongo Map
What you need to know before hiking Nyiragongo.
The peak is very cold so carry as much clothing as you may need as it is known that the higher you go, the cooler it becomes at 3,000 ft above sea level, you should expect the chill despite the red lava lake.
Ensure to have a valid yellow card and visa upon your arrival at the border of Congo.
It is advisable to have a ground handler to make your bookings to avoid last minute disappointments.
Ensure to know your fitness physically even though you are slow, you are given provision to reach the summit as well.
Ensure to carry with you all the medication you may need so as to avoid scenarios of sickness especially colds, altitude sickness, or even fevers.
You are advised to move light so as to not have a burden of weight to carry as you hike but again it is advisable to pack 2 pairs of shoes and extra clothes as they may get wet on day of ascension and then the day of descent, you are stranded.
Carry extra money on you even if you booked a fully paid hike especially if you booked direct with the Virunga park not a tour operator.
Finally, Do not get overwhelmed by the site of the lava lake upon reaching the summit and ignore your belongings.
How to get there.
By Road; If one is using a car, you can cross through the Goma boarder from Kigali as it is the shortest and most recommended route.
By Air; Kigali International airport is still the best airport to land at. Then drive 4 hours to the starting point of the hike; Kibati however one will need a 4×4 safari jeep as the road is not smooth.
One can also land at Goma airport.
What to carry on your Nyiragongo Hike
Sleeping Bag
Raincoat
Rain Jacket
Hiking Stick
Hiking Shoes
Hut
Gloves
Ensure to get a "Nyiragongo Backpack" Ask your operator about this
Where to stay?
This is a big worry for every tourist. Congo has several accommodations of different ranges according to your budget. It is advisable to sleep in Goma or Gisenyi (worst case scenario) the night before your hike so as to make it in time for set off for the hike. Check out; Ihusi Hotel, Hotel Linda, Hotel Belvedere, La Joie Plaza, Hotel de Bakanja and Lac Kivu Lodge for your stay in Goma.
Not so much has been known as about Nyiragongo's past eruptions but one fact for sure is this volcano is still active. A permit to hike this precious mountain goes for just 356 USD for foreigners and 90 USD for citizens. The maximum number of people allowed to hike Nyiragongo per day is 24 because of the limited cabins at the summit. There are only 12 cabins of double occupancy. Therefore, it is advisable to book your permit in advance to avoid last minute disappointments.