Luxury Lodges in Queen Elizabeth National Park: Queen Elizabeth National Park, located in the southwestern part of Uganda, is the country's oldest, second biggest, and most visited national park. The national park spans 1,978 square kilometers and includes Lake Edward and Lake Gorge, as well as a connecting water feature known as the Kazinga Channel.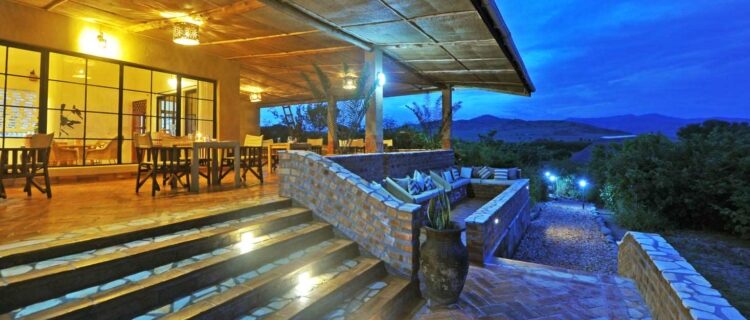 The park is made up of open savannah grassland, forest grassland, swamp vegetation, and acacia woodland and is home to approximately 95 animal species, including the big four mammals of elephants, buffaloes, lions, and leopards, as well as other animals such as hippos, waterbucks, warthogs, giant forest hogs, bushbucks, Uganda kobs, oribi, and primates such as chimps, olive baboons and others which are viewed in other sectors of the park.
It is home to over 625 bird species, including the broad-billed roller, African finfoot, African skimmer, black bee-eater, papyrus Gonolek, red-chested sunbird, papyrus Gonolek, grey-winged robin, yellow-throated cuckoo, white-backed night heron, and yellow-bellied wattle eye.
Game drives in Kasenyi plains, Mweya peninsular, and Ishasha sector where you will be able to view the famous tree climbing lions which will be lazily lying up in the fig, acacia trees staring at the Uganda kobs grazing in the open savannah plains, boat cruise on Kazinga channel, mongoose tracking, lion tracking, hot air balloon, birding, and nature walks among others.
Luxury Lodges in Queen Elizabeth National Park.
Luxury Lodges in Queen Elizabeth National Park : Elephant Plains Lodge
The Elephant Plains Lodge, located on the Northeast Escarpment, is one of Queen Elizabeth National Park's newest properties. It's perched high on the cliff, with vistas that spread for miles and miles. Lake Kikorongo is right adjacent to the resort and is regularly frequented by elephant herds.
The lodge is made up of a number of private cottages that are clustered around the main area. It features a bar and lounge located above a pool with magnificent views of the escarpment. This section of the park is exceptionally beautiful, with views of the grasslands going all the way to Lake George and the easily accessible Kasenyi Plains, where you may often observe animals roaming.
Guests can stay in one of six double/twin homes or a family cottage with two separate bedrooms and a capacity for five people. All of the cottages offer en-suite bathrooms with bathtubs and showers, huge windows, and large private verandas with wonderful views of the surrounding countryside. The roofs of the cottages are made of indigenous brown savannah grass, which helps the lodge fit in with its environment and serves as an excellent cooling system.
Furthermore, the lodge has a large lounge with comfortable lounging spaces, a well-stocked bar with bistro dining, and a fantastic restaurant with an international menu inspired by local flavors. Elephant Plains Lodge also has a huge swimming pool, which is ideal for cooling off after a day of visiting the park.
Luxury Lodges in Queen Elizabeth National Park : Kyambura Gorge Lodge.
The Kyambura Gorge Lodge, located in the park's eastern section, is gradually becoming one of the top hotel alternatives in Uganda. Its position makes it an ideal starting point for chimpanzee trekking, wildlife drives, and boat safaris.
The structure was previously a coffee plantation store and has since been renovated into the main lodge, which houses eight luxury rooms. The easygoing architecture of the structures, which are mostly composed of wood, stone, and thatched roofs, provides an intimate atmosphere.
Each room has a wide four-poster bed, a private veranda, an en suite bathroom, and a living area with basic and unusual furnishings. The design is modern while maintaining a classic safari lodge atmosphere. A personal butler service is available to all guests.
The main lodge contains a huge lounge, dining room, and bar with a combination of hardwood and tiled floors, large windows, and artwork placed on the walls. The cuisine in the dining room is of good quality, and it is served by courteous and attentive employees. For visitors' enjoyment, there is also a swimming pool and a freshly renovated spa.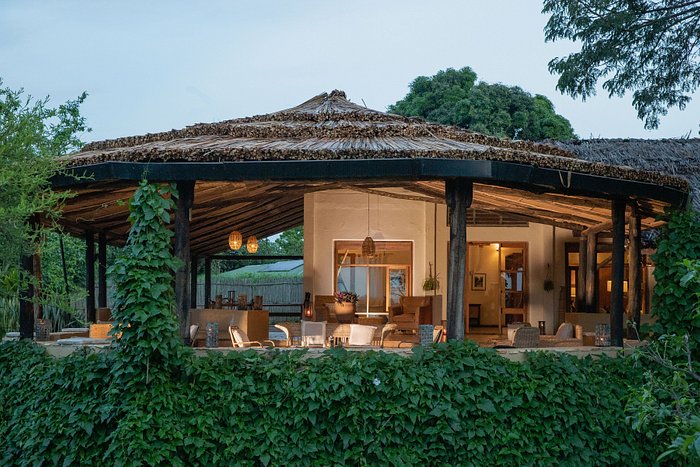 Luxury Lodges in Queen Elizabeth National Park : Ishasha Wilderness Camp
The Ishasha section in the park's southwest is one of its quietest places. The Ishasha Wilderness Camp here provides a full-tented camp experience without sacrificing comfort or luxury. The camp is located on the banks of the Ishasha River, directly on the border between Uganda and the Democratic Republic of the Congo, and mixes in nicely with the natural surroundings.
Ishasha Wilderness Camp, which overlooks the Ntungwe River, is made of canvas, wood, and thatched roofs to fit in with the surrounding trees. The camp has a central area with a pleasant lounge, bar, eating area, large veranda, and even a quiet library. Guests can have their meals within the dining room, on the balcony, or in their own tents. The food is of great quality, with traditional Ugandan and European-style meals offered, prepared using local ingredients whenever feasible. There is also free Wi-Fi in the lounge, where you can rest on the comfy sofas and observe the amazing local artifacts that decorate the room.
Each of the ten individual canvas tents is purposefully placed to provide a spectacular view of the local hippos and elephant herds from their verandas. They are comfy and large, and are fashioned in the East African Meru style. To reduce the camp's environmental effect, each tent features an en-suite bathroom with eco-friendly toilets and showers, as well as solar panels to light the tents.
Mweya Safari Lodge.
The Mweya Peninsula reaches the Kazinga Channel, a lengthy natural waterway that connects Lake Edward and Lake George. The Mweya Safari Lodge, a government property established over 30 years ago and turned into a huge hotel, is located here. The center position is great for catching Kazinga Channel boat cruises, and the views of the far meadows blending into the lakes are breathtaking.
Mweya Safari Lodge in Queen Elizabeth National Park offers a variety of accommodation types to its visitors. One of the 32 standard rooms, each with an ensuite bathroom and own balcony, is the most basic alternative. There are 12 premium rooms with air conditioning to choose from. The Honeymoon Suite is located in a hidden section of the grounds and features a lovely four-poster bed, as well as luxurious tents that give a calm, romantic ambiance. Private cottages with two and three bedrooms, sitting areas, and huge verandas are available for larger parties.
The lodge has a bar with wide windows and an attractive veranda, a gift shop with local crafts, the Uganda Wildlife Authority Informational Centre where tourists can learn more about the national park, and a business center. The infinity pool has its own bar, so you may enjoy your favorite drink while gazing out over the Kazinga Channel.
Visitors can eat inside the lodge's formal dining room or outside on the balcony to savor local and international delicacies cooked by professional chefs. Every Saturday evening, the lodge offers a special BBQ with traditional dancers performing.
Katara Lodge
The Rift Valley Escarpment rises over the vast savannah in the park's southeast corner. Katara Lodge is perched on the brink of this magnificent precipice. The bamboo-based furniture, thatched roofs, and wooden beams create a natural, calm ambiance that mixes in nicely with the surroundings.
The lodge consists of eight unique thatched huts with canvas walls and hardwood flooring, each with a spacious double bed (or twin beds) and an en-suite bathroom with a bathtub and shower. If you wish, the staff will set up your bed on the big balcony of your bungalow so you may sleep beneath the stars. Because Katara Lodge only has eight bungalows, the service is attentive and personalized.
The main portion of the lodge, which includes a nice lounge and restaurant, is positioned higher up on the hill and is entirely exposed to the west, providing spectacular views of the plains and the distant Rwenzori Mountains. There is also a library where you may pick out a book to read while lounging in a hammock outside.
Katara Lodge in Queen Elizabeth national park places a high value on environmental sustainability. They have a rainwater collecting system to supply water to the lodge, solar water heaters and lights to reduce energy use, and eco-friendly bathrooms. There is also a saltwater pool, which uses fewer chemicals.
Queen Elizabeth national park is one of the best wildlife national parks that tourists can visit on a Uganda Safari. A visit to the national park can be combined with gorilla trekking in Bwindi Impenetrable National Park or chimpanzee trekking in Kibale national park.