Mgahinga Gorilla National Park
Mgahinga Gorilla National Park is the smallest park in Uganda with a size of 33.7km2, the park obtained its name Mgahinga from a local word Gahinga which means the piles of volcanic stones cleared from farmland during cultivation at the foot of the volcanoes. The area was first declared a game sanctuary by the British administration in 1930 and later was gazetted into a National park in 1991. The park borders with Congo and Rwanda. This Park is one of the few places in the world where the endangered mountain gorillas live.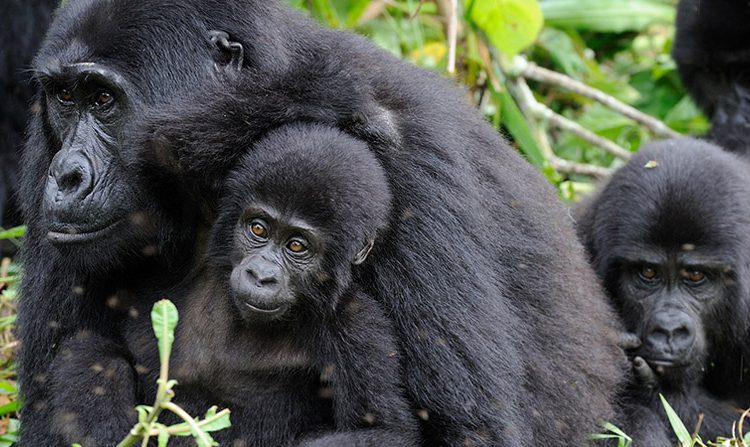 Attractions in Mgahinga Gorilla National Park
Mgahinga Gorilla National Park is home to over 76 mammal species including the rare mountain gorillas that make up part of 1004 Gorillas that still exist on earth today.  Besides, there are also elephants, buffaloes, golden monkeys, spotted hyenas, black-fronted duikers, giant fronted hogs, bushbuck and not to forget over 115 bird species as explained below; 
Gorillas: Mountain gorillas are found in only three countries including Uganda, Rwanda, and DRC. In Uganda, gorillas are found in only two parks that is Bwindi Impenetrable national park and Mgahinga National Park. 
Golden Monkeys: These amazing creatures are also termed as the endangered primate species and they are usually found in the dense bamboo forests on the Gahinga trail and other species are endemic to the Albertine Rift. These wonderful species can be seen during Golden monkey trekking and nature walks.
Other Wildlife: Mgahinga is home to over 76 species of mammals including; the bush pigs, giant forest hogs, forest buffaloes, elephants, bushbucks, golden cats, side-striped jackals, black-fronted duikers, and South African porcupines.  However, it's not easy to have a look at all of these wildlife species due to the nature of the park which is in thick wild forest vegetation but some of them can be heard in the wilderness.
Birds: Mgahinga Gorilla National park being a forested park harbors several bird species which are normally spotted during birding and nature walks. these species include; The Ibis, Pin-tailed Whydah, Speckled Mousebird, Stone Chat, Grey-capped Warbler, Wax Bills, Yellow-vented Bulbul, Firefinch, White-naped Raven, Black Kite, Rwenzori Turaco, Blue-headed Council, Paradise Flycatcher, Rwenzori Batis, Double-collared Sunbird, and Rwenzori Nightjar.
Virunga volcanoes: This Park has three Virunga peaks including Mount Sabinyo, Mount Gahinga, and mount Muhavura. Virunga volcano offers three challenging peaks to climb and is the best attraction for hikers.
Activities in the Mgahinga Gorilla National Park
Mountain Gorillas trekking: Visitors normally come to this park to trek mountain Gorillas. Mountain gorillas are among the endangered primate species that are always found in the three countries including Uganda, the Democratic Republic of Congo and Rwanda. In Uganda, they are found in only two National Parks that is Bwindi Impenetrable National Park and Mgahinga Gorilla National Park. Mgahinga is home to only one habituated Nyakagezi gorilla group. This family includes the lead silverback Bugingo who is around 50 years old and he is the father to most of the group members. His silverback sons include Mark and Marfia, and two blackbacks, Rukundo and Ndungutse who love to pose and play in the trees, the two females Nshuti who is the mother Furraha of and Nyiramwiza who is the mother of Nkanda. These mountain gorillas roam about the whole forest in search for food. Mgahinga gorilla national park is the best place to trek gorillas in Uganda because it has a thick rain forest with a wide variety of tree species and gorillas are known to be vegetarians. There is enough food for them in the park and this is the reason why some even migrate from Congo and Rwanda to this place. Though not in large numbers, gorillas of Mgahinga are easily seen in their natural habitats and this makes tracking more easy compared to other parks.
Birding:  There are several bird species which will attract the sight of the visitors while on Mgahinga National Park including; the black kit, white-necked raven, paradise flycatcher, double collared sunbird, ibis, whydah, Ruwenzori nightjar, Ruwenzori turaco, dusky crimson wing, Kivu ground thrush, yellow vented bulbul, waxbills among others. Birding in Mgahinga also takes in some of its most beautiful scenery in the gorge between Mount Gahinga and Sabinyo, through the bamboo forest, and in the montane forest, where the beautiful Rwenzori Turaco may be observed. Birders can also use the Gorge trail.
Gorge Trail is also the best trail for birders and it lies between mount Gahinga and Mount Sabinyo. In this trail, visitors are able to view several bird species including; Cape Robin-chat, Dusky Turtle Dove, Brown-crowned Tchagra, Kivu-ground Thrush, Olive Thrush, Bronze Sunbird, Regal Sunbird, Blue-headed Sunbird, Rwenzori Batis, Black-headed Waxbill, and Streaky Seedeater among others .this trail can take three to four hours.
Other good birding areas are at the bamboo belt at about 2,500m above sea level, and the tall montane forest at 2,660m. The Rwenzori Turaco is mostly sighted at around 2,700m. Along the Uganda-Congo border and on level ground, the Chubb's Cisticola, Red-faced Woodland Warbler, Banded Prinia and Doherty's Bush-shrike are vocal yet inconspicuous inhabitants of the tangled vegetation at the forest's edge
Mountain/Volcano Climbing: This is the most tiring activity but worth it. Mgahinga National park has three volcanic mountains and all of them can be summited by the visitors. Volcano climbing takes a full day to reach the peak.  These volcanoes include; Mt. Sabinyo at 3,669m which is 14km and takes around eight hours to cover the round trip. The visitors pass through a steep ridge to reach the peak, Mt. Gahinga at 3,474m takes around 6 hours for a round trip. In this trip, visitors pass through the swamp-filled crater, giant lobelia and through the bamboo forest where they can see the golden monkeys and finally, Mt. Muhavura which is the highest peak at 4,127m. This 12km round trip takes around eight hours. Once at the top, hikers are rewarded with a clear day by viewing the Virunga Volcanoes, Lake Edward, Bwindi Impenetrable Forest and the peaks of the Rwenzori.
Cultural Encounters: During the cultural encounter, the visitors are able to meet the Batwa who lived in the Mgahinga's dense forests. These indigenous Batwa-hunter-gatherers and fierce warriors depended on the forest for shelter, food, and medicine but were later evicted from the forest. These Batwa lead visitors through the forests and introduce them to their old homes and the techniques they used to survive in it. During the Batwa Trail, visitors will discover the magic of the Batwa's ancient home while enjoying nature walks and learning about the cultural heritage of these special community.
Hiking and Nature Walk: Hiking around the foothills of the Virunga Volcanoes gives visitors the chance to spot forest birds, the Rugezi Swamp, wild vegetation, bamboo forests and glorious views of the surrounding lakes and agricultural villages. A hike through the forest to the deep Sabinyo Gorge provides good birding opportunities where several bird species including the Rwenzori Turaco are easily seen. This walk takes four hours and passes through the Rugezi Swamp which is fantastic for bird watchers.
The walk to the Congo border gives visitors an opportunity to view different vegetation zones. Hikers can sight the calderas on top of the Gisozi hill, look out for Kisoro and Bunagana towns and Lake Mutanda. Mount Gahinga is where this volcano derived its name and denotes to a pile of lava stones heaps around which cultivation is carried out. Hiking this volcano may last you six hours through bamboo forest and rewards hikers with amazing views. The other is Sabyinyo volcano which denotes old man's teeth and climbing it takes you about eight hours and for those who may wish to embark on a little more challenging hike this is the best place for you. On top of this volcano, you have the opportunity to have a clear view of Uganda, Rwanda, and the DRC.
Golden monkey tracking: Mgahinga National Park is the best place for Golden monkey trekking. In this place, gold meets silverback. Golden monkey trekking is that one exceptional primate adventure that is offered in this park. During this process, visitors can get a chance to view other mammals including buffalos and duikers.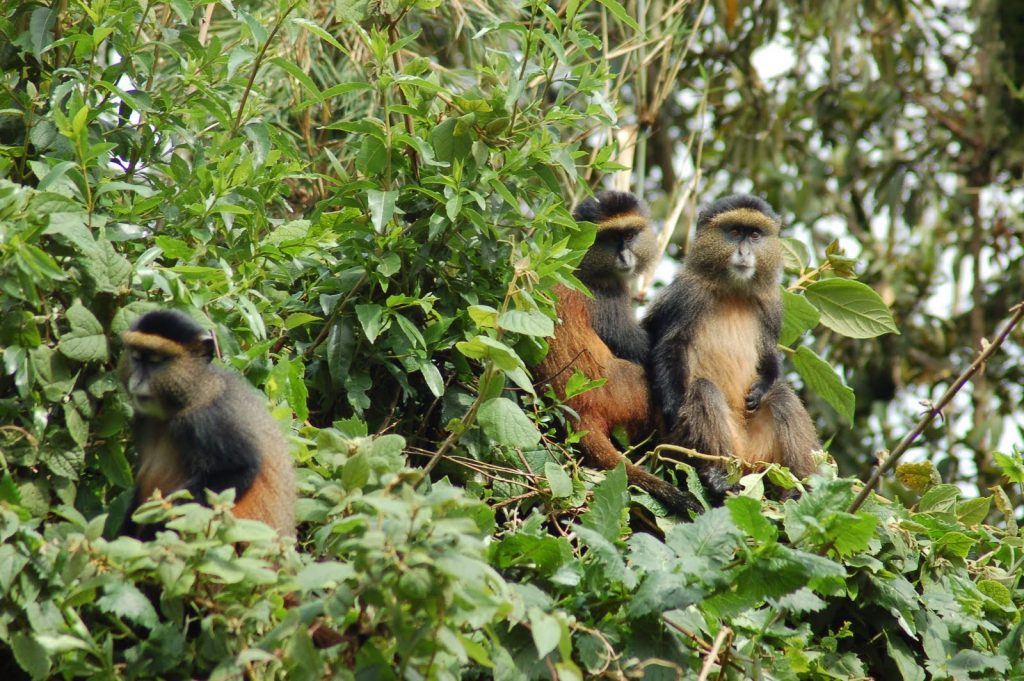 Your journey to Mgahinga Gorilla National park will be supper amazing as you trek the gorillas, enjoy looking at the golden monkeys, watch several bird species and wind up your trip with the Batwa demonstrate hunting techniques, gather honey, point out medicinal plants and demonstrate how to make bamboo cups and move to the sacred Garama Cave where the women of the community perform a sorrowful song which echoes around the depths of the dark cave.