Rwenzori mountain National Park is composed of alpine highland of glaciers, snowfields, hot springs and blue cirque lakes and as such the early geographers named it "Mountains of the Moon". peak being 5,109 meters high, the Rwenzori mountains is the 3rd tallest mountain in Africa only rivaled by Mount Kilimanjaro of Tanzania and Mount Kenya of Kenya. A Uganda hiking tour to the Rwenzori's exposes one to trails consisting of snowy peaks and glacier-carved valleys lined with colored mosses and rare Afro-alpine plants.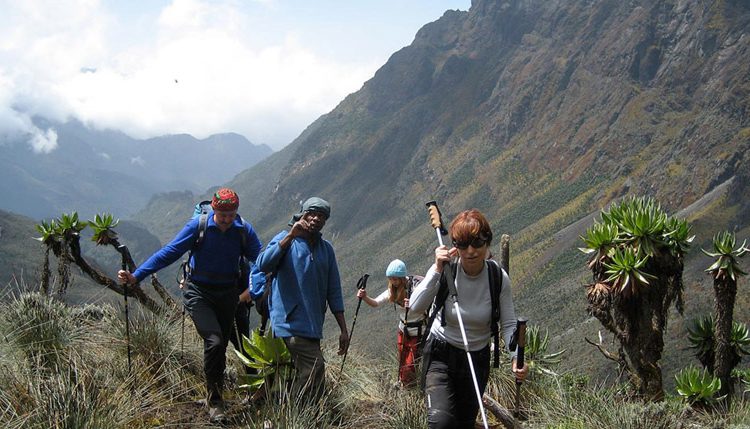 A Uganda hiking safari at the Rwenzori Mountains is considered to be the most challenging in Africa with hikers able to climb about 1600 meters. The lower slopes of the mountains are home to 18 species of large mammals, over 200 bird species, 10 reptile species, and 6 species of amphibians.
The Rwenzori is however most famous for its varied vegetation in a conclusively naturally built ecosystem. There are five vegetation zones i.e the montane forests, the bamboo forests, tree heath-bog, Hagenia-Rapanea scrub and the afro-alpine moorland. Many of these cloud forest fauna are considered very unusual and botanists call Rwenzori the botanic big game park.
Tour activities at Rwenzori Mountains National Park
Multi-Day Trekking: To reach the peaks of mount Rwenzori, there are two major routes that can be followed.
The 1st is a 7 day trek, considered the central tourism circuit.
The 2nd is a 5 day trek along Kitembe to the southern section of the park.
There is however an opportunity for shorter treks to be arranged.
Guided nature walks: There exists many trails which visitors may follow on a nature walk each with a varying length. Exploring the unique flora and fauna of the Rwenzori trails can as entertaining in as much as it is refreshing.
Peak Climbing: Pick climbing is a vigorous, tiresome and adventurous and is as such recommended for experienced mountaineers to engage in.