The most popular national park for Uganda safaris is the Queen Elizabeth National Park. Named after Queen Elizabeth II in commemoration of her visit in the early 1950's, queen Elizabeth national park sprawls with diverse ecosystems including huge savannah areas, shady and humid forests, sparkling lakes and fertile wetlands. Queen Elizabeth national park is a habitat to various big game, 10 primate species and over 620 species of birds.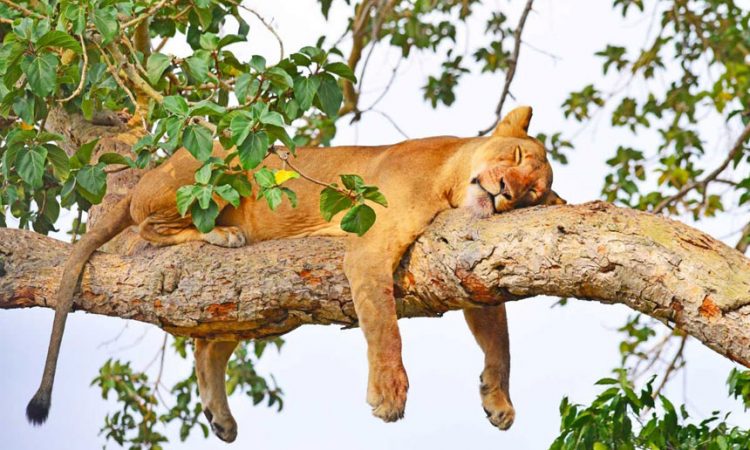 Some of the most astonishing things to see include the panoramic views of the Kazinga Channel, whose banks are lined with Hippopotamuses, buffaloes and elephants. The fig trees of the endless Ishasha plains are habitat to the elusive lions, ready to pounce on herds of antelopes and Uganda Kob.
Tour activities at Queen Elizabeth National Park
Uganda Birding Safaris: Birding International classified Queen Elizabeth National Park as an important Birding Area. With over 620 bird species, it is by far unrivaled by any other east African park for variety.
Bat Cave: Under the canopy of the Maramagambo Forest, there is a Bat Cave. Here visitors can view the resident bats and pythons from the comfort of a viewing room.
Chimpanzee Tracking: While at queen Elizabeth national park, one can go for chimpanzee tracking in the Kyambura Gorge.
Game Drives: Queen Elizabeth national park has various tracks, but the tracks through Kasenyi, the North Kazinga Plains and the Ishasha Sector are the best since they offer guaranteed sightings of buffalo, antelope and elephant, as well as warthogs and baboons. Tracking down a pride of lions at dawn or dusk is most successfully achieved with the help of an experienced guide with explore Rwanda tours having some of the most experienced guides. Leopards may be sighted game drives in Queen Elizabeth National Park. A game drive at the park gives you the most rewarding feeling you can ever get on a Uganda safari.
Launch Trip / Boat Trips: Taking a boat tour along the Kazinga Channel gives the visitor an opportunity to see many of the species inhabited in the park. Cruising down the channel in close proximity to hundreds of enormous hippos and buffalos in the water, can be very exciting. The added viewing of the elephants on the shoreline at the same time can dazzle even the seasoned traveler.
Cultural Heritage and Nature Trail: Here in Queen Elizabeth National Park one can watch the dancers of the Kikorongo Equator Cultural group, watch salt being harvested on the Katwe Salt Lake, viewing a traditional Banyaraguru hut or have a guided tour by the local community members. Many cultural opportunities are available to enhance the visit to the park.
Wildlife Research Tour.
Hiking / Nature Walks.