Exclusive Gorilla Trekking Safaris in Rwanda: One of the main concerns for individuals who wish to observe the endangered primates in their natural habitat is the possibility of trekking a gorilla family alone. Several visitors to Africa on gorilla excursions have questioned about the prospect of trekking a gorilla family alone over time.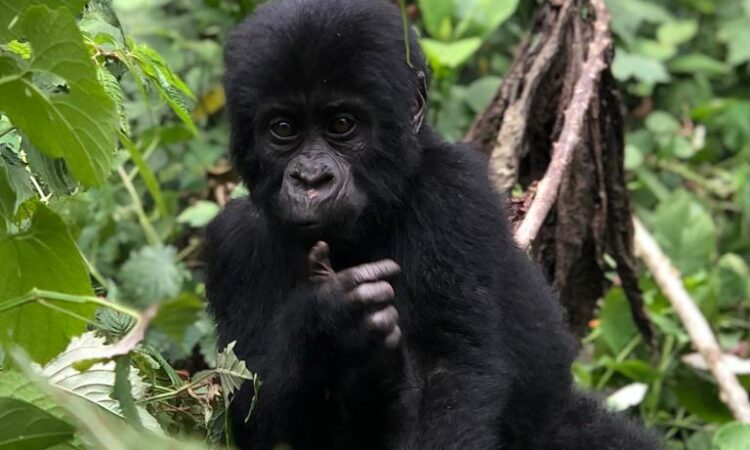 Is it actually possible? Yes, if you arrange carefully, you may be able to climb a gorilla family by yourself. While each gorilla family is assigned to a group of eight people each day, you may request to see the complete family by yourself. Gorilla trekking has long been regarded as the ultimate wildlife safari experience in Africa.
The majority of visitors visiting Uganda, Rwanda, and the Democratic Republic of the Congo come to have an adventure. The primates can only be found in Uganda's Bwindi Impenetrable Forest National Park and the Virunga Conservation Area, which includes Rwanda's Volcanoes National Park, Uganda's Mgahinga Gorilla National Park, and the Democratic Republic of Congo's Virunga National Park.
Exclusive Gorilla Trekking Safaris in Rwanda.
You will be obliged to acquire eight gorilla permits to compensate for the other seven that the other seven visitors would have paid for. A gorilla family is visited by eight people every day. This implies that in Uganda, Rwanda, and the Democratic Republic of the Congo, any one-gorilla organization can have up to eight gorilla permits. To see this gorilla family alone, you must purchase all eight permits.
In Uganda, a single gorilla permits costs $700 for non-residents, $600 for locals, and UGX 250,000 for East Africans from Uganda, Rwanda, Congo, South Sudan, Kenya, and Tanzania. Each gorilla permits costs $1500 for all tourists in Rwanda, but $450 for international non-residents and $400 for East African citizens in Congo. A foreign non-resident seeking to go alone with a gorilla family in Uganda will thus pay $5600, but a similar private gorilla trekking experience in Rwanda will cost $12,000 per person.
Exclusive gorilla trekking safaris in Rwanda is surely thrilling and unforgettable. You may go close to the critically endangered mountain gorillas without being harassed by other visitors. In addition, exclusive gorilla trekking in Rwanda allows you to take stunning images and film live recordings of gorillas in their natural environment.
Despite the fact that it is an exclusive tour, you cannot hike into the forest on your own. The management of the several gorilla national parks supplies you with two armed rangers to escort you through the forest. These rangers carry firearms not to kill wild animals, but to scare them away if they display aberrant behavior.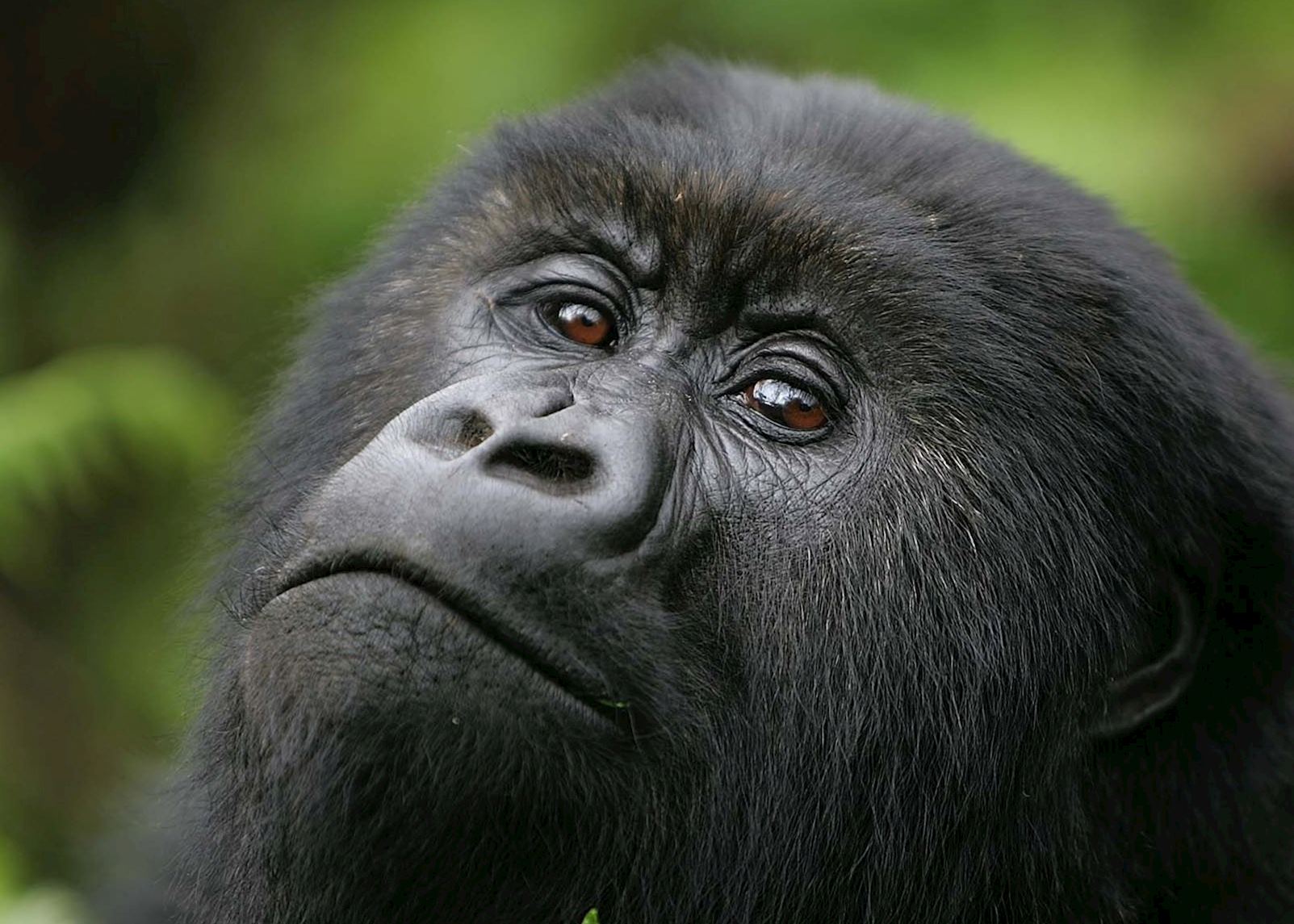 Whether you travel alone or in a group, your time with these endangered mountain gorillas is strictly limited to one hour from the time you encounter them. It is possible, however, to spend more than 7 hours in the rain forest before seeing the designated gorilla family. The time you spend looking is governed by the gorillas' location and your trekking speed.
About Exclusive Gorilla Trekking in Rwanda.
Exclusive Gorilla trekking safaris in Rwanda takes place in Volcanoes National Park. Your exclusive gorilla trekking experience in the park begins with a training at Kinigi park headquarters on the laws, regulations, and expectations to follow.
Following the briefing, you will be divided into groups of eight to hike each habituated gorilla family. Grouping is based on your physical condition and age, with visitors who are not physically fit being assigned to nearer gorilla families.
Later, about 8:00 a.m., you will begin walking with a park guide who will share facts on the gorillas and show you the trails to utilize for gorilla trekking. Gorilla trekking in Volcanoes National Park takes between 2 to 6 hours, depending on the location of the mountain gorillas, and once located, you will spend one hour in their presence learning about their habits, lifestyle, and mannerisms, taking photographs, and documenting the moments.
Volcanoes National Park is located in the far northwest of Rwanda, Ruhengeri, and is home to the endangered mountain gorillas and Golden Monkeys, as well as a variety of bird species and forest mammals that survive in a rich mosaic of montane forest ecosystems with open grasslands, swamps, bamboo forests, and heath vegetation. Volcanoes National Park is one of three national parks that constitute the Virunga Massif ranges of volcanoes. This park is within a 4 to 5-hour drive between Kigali City and Kisoro in Uganda.
How to book an exclusive gorilla trekking safari in Rwanda?
Exclusive gorilla trekking safaris in Rwanda can be scheduled directly with the relevant government officials at Rwanda's Development Board. You may, however, book through any reputable tour operator company like Explore Rwanda Tours after performing thorough research on their services.
To travel a certain gorilla family privately, you must purchase all eight permits for that group in order to trek that family privately. A gorilla permit in Rwanda costs USD1500 per person per trip, which means you will be forced to spend USD12000.
In order to schedule this special gorilla trek, you will need to obtain authorization from the Rwanda Development Board, which will also provide you all of the necessary permissions. Contact us here and we will assist you in obtaining authorization and gorilla trekking permits to allow you to hike a specific group privately.
Where can I stay during my exclusive gorilla trekking safari in Rwanda?
Another factor to consider while choosing a Luxury and VIP Gorilla Trekking Tour in Rwanda is luxury accommodation. Sabyinyo Silverback Lodge, Bisate Lodge, One & Only Gorilla's Nest Lodge, Virunga Volcanoes Lodge, Five Volcanoes Boutique Hotel, Virunga Resort Inn & Spa Hotel, and Mountain Gorillas' Nest Lodge are also luxurious alternatives.
They have great hospitality, clean rooms, VIP rooms, and all have put in place the set SOPs for prevention of the spread of the corona virus and all are ensuring the safety and health of their clients. Their prices range from USD500 to USD3000 per person per night and give you the best time ever during your stay during your Rwanda exclusive gorilla trekking safari in Volcanoes National Park.
When is the best time to go on an exclusive gorilla trekking safari in Rwanda?
The best time to go on an exclusive gorilla trekking safari in Rwanda is during the dry months of December to February, then June to October, when the vegetation is not completely established, as opposed to the wet seasons of March to May and later October to November. Volcanoes National Park may also be visited throughout the year, and you will be able to view Mountain Gorillas there.
How can I get to Volcanoes National Park?
The park is located in Northwestern Rwanda, around 2 to 3 hours' drive from Kigali. The park may also be reached from Uganda, so include it to your Uganda itinerary. The distance from Uganda to the park varies depending on where you begin your journey. From Bwindi and Mgahinga National Parks, the trip to Volcanoes National Park takes roughly 4-5 hours.