4 Top Chimpanzee Trekking Destinations in Uganda: Uganda's chimpanzees are a major draw for primate enthusiasts. Uganda's chimp population numbers roughly 5,000 and shares up to 98% of our DNA. These very friendly, clever, and talkative critters create intricate social ties in family groups of 15-20 individuals. A guided chimpanzee trek into the jungle is the greatest way to view chimpanzees in Uganda.
It is critical to obey chimp trekking guidelines, which are intended to safeguard both you and the chimpanzees. Visitors should do the following:
At all times, keep at least 8 meters away from the chimps.
Do not eat in front of the chimpanzees.
If you are sick, do not hike.
Avoid using flash photography.
You must be at least 12 years old.
Chimpanzee Trekking in Kibale National Park.
Kibale Forest National Park, located just outside the colonial town of Fort Portal, is a lush tropical rainforest where you may follow chimps and 12 other primates such as red-tailed monkeys, olive baboons, and the endangered Ugandan red colobus.
Kibale, Uganda's primate capital, is the ideal location for chimp trekking, with most trips departing from the Kanyanchu Visitor Centre. A normal chimpanzee trek in Kibale Forest will take you into the forest in the early morning or late afternoon with a group of six or more guides (the total number of permits per day is limited). Chimpanzee treks are often shorter than gorilla treks because chimp families are simpler to approach.
Expect to spend more time staring up into the trees as chimps swing through the jungle, crying out to one other and banging tree branches, while your trained guides explain how the chimpanzees communicate with each other and keep you safe.
The Bigodi Wetlands Sanctuary, located within Kibale forest, provides food for over 200 bird species as well as a variety of reptiles. It's also a great site to go on village walks and view butterflies. Activities include basket weaving, dancing, and interactive dinners where your host explains the history and culture behind the cuisine you consume.
Chimpanzee Trekking in Bigodi Forest (Murchison Falls National Park)
Budongo Forest is located in western Uganda, about a four-hour drive from Kampala. Budongo, which is home to six habituated chimp groups totaling roughly 700 monkeys, conducts chimpanzee treks all year.
The forest is an attraction in and of itself, with its massive mahogany trees and tremendous biodiversity, including blue monkeys, red-tailed monkeys, and olive baboons, all of which may be seen on a trip. Budongo is a popular chimp trekking destination due to its convenient position on the route from Kampala to Murchison Falls National Park, albeit its smaller monkey population means you're less likely to spot the wildlife than in Kibale forest.
Chimpanzee Trekking in Kyambura Gorge (Queen Elizabeth National Park)
Kyambura Gorge, a hidden treasure in the far eastern section of Queen Elizabeth National Park, offers a third alternative for monkey tracking in Uganda. The gorge's great biodiversity is due to the drainage of the Kyambura river, which created a deep (100m) channel in the terrain. This chimpanzee hike is for individuals who are already planning to visit one of Uganda's most prominent national parks. It is home to a small family of 16 chimpanzees.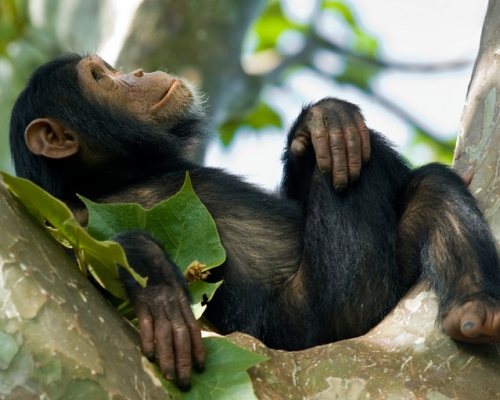 Hiking down the gorge allows you to witness habituated chimps and other primates like as red-tailed monkeys, black-and-white colobus, baboons, and vervet monkeys. Several woodland birds find refuge in this green-riverine forest. Although the chances of seeing chimps are not as good as on an official walk in Kibale or Budongo, the gorge's dazzling green beauty is one of the most beautiful in Uganda and well worth a visit.
Chimpanzee Trekking in Kalinzu Forest neighboring Queen Elizabeth National Park
The major activity that attracts people to Kalinzu woodland is chimpanzee trekking. The Kalinzu Central Forest Reserve is home to one of Uganda's largest chimpanzee colonies. After Kibale Forest in Uganda, it is possibly the finest area to monitor chimps. Nearly 50 of the forest reserve's 320 chimpanzees are habituated or available for trekking.
Despite the fact that Queen Elizabeth National Park has its own chimp population near Kyambura Gorge, most tourists from the park prefer tracking chimpanzees in Kalinzu woodland. The Mweya area of Queen Elizabeth National Park provides easy access to Kalinzu woodland. The trip takes only around 40 minutes.
Chimpanzee trekking in Kalinzu forest is not as strenuous as gorilla tracking, but you must be physically fit to travel for 3 to 4 hours across occasionally challenging terrain. The journey may take you across steep slopes and muddy woodland areas. Though chimps normally live in lower terrain than mountain gorillas, they are incredibly mobile and must be followed at great speed, which may be exhausting.
There are two shifts: morning and afternoon. The morning shift begins at 8:00 a.m., followed by the afternoon shift at 3:00 p.m. Each shift provides a distinct experience. The chimpanzees are quite busy in the morning as they go out to eat and defend their area. The chimpanzees are full in the afternoon and prefer to rest and avoid the sun's heat.
In summary: There are various areas in Uganda where you may go chimp trekking to learn more about these interesting animals, but you must first get a chimpanzee trekking permit from the Uganda Wildlife Authority. These are $150 per person and allow you to spend an hour with the chimpanzees. A morning or afternoon hike will also include guides, admission to the national park of your choice, and birding.