Big Five Safaris in East Africa: Going on safari in Africa has become synonymous with seeing the Big Five. Have you ever wondered what all of that is about and where you should go? The phrase "Big 5" came from the early days of game hunting. The most hazardous wildlife animals to hunt were the lion, leopard, elephant, buffalo, and rhino, and hence they were seen as costliest trophies by poachers and trophy hunters. The Big 5 are still the most spectacular encounters on a safari today, even with most visitors armed with cameras. Here are some of the greatest sites in Africa to watch the Big 5: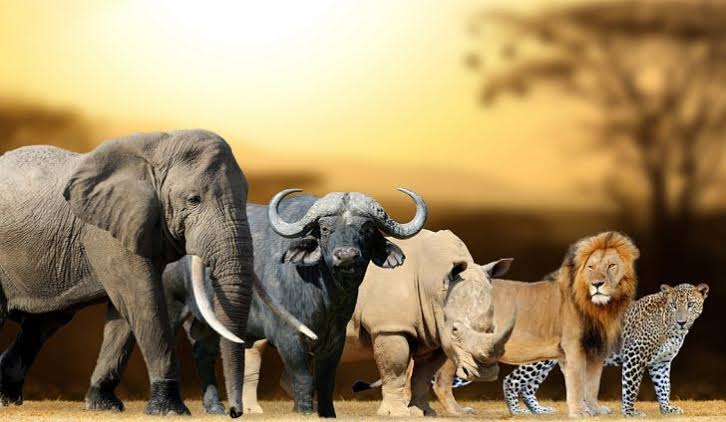 Big Five Safaris in East Africa in Ngorongoro Conservation Area in Tanzania.
The Ngorongoro Conservation Area in Tanzania provides excellent animal watching. Although animals may migrate in and out of the crater, ascending the crater's high caldera walls involves considerable effort, thus much of the species lives within. This contains a robust black rhino population. These cautious animals are rarely observed in East Africa, but the crater is one of the few areas where they may be found. The other four Big 5 members are also plentiful; however, leopard sightings are hit-or-miss and less probable within the crater than on the wooded rim. The good news is that these secretive cats are relatively frequent in Serengeti National Park's Seronera region, which is the next destination after Ngorongoro on most northern Tanzanian safari itineraries.
When is the best time to go on a Big Five Safari in Ngorongoro Conservation Area?
Wildlife watching in the crater is usually fantastic, although it is slightly better in the dry season when the grass is shorter and the animals are easier to identify. The wildebeest calving season is from January to February, and the ideal time to avoid crowds is in the low season months of April and May.
Where to stay during your Big Five Safari to Ngorongoro Conservation Area in Tanzania?
Some upscale resorts are positioned on the crater rim, providing spectacular views of the crater bottom. There is also camping on the rim, but be aware that it gets extremely chilly here at night. Many lodges and camps in Karatu, the gateway town, are also utilized for crater tours. There are no accommodations within the crater.
Big Five Safaris in East Africa in Masai Mara National Reserve in Kenya.
The Masai Mara is home to all five of the Big Five, although it is most known for its large cats. You'll be stumbling over lions and cheetahs, which are surprisingly plentiful, and leopards are also frequently sighted. Black rhinos are also there, but your chances of sighting one are minimal unless you stay in the isolated Mara Triangle in the extreme west. Yet, both black and white rhinos may be seen at Lake Nakuru National Park, a popular stopover on way to the Masai Mara. The latter is frequently observed grazing in tiny family groups around the lake.
When is the best time to go on a Big Five Safari in Masai Mara National Reserve in Kenya?
Throughout the year, wildlife watching is excellent. You should plan to visit between late August and early October to catch the wildebeest migration.
Where to stay during your Big Five Safari to Masai Mara National Reserve in Kenya?
There is no shortage of accommodation inside and just outside the reserve. All budgets and styles are catered for. There are several campsites as well. Some of the lodges and camps in Masai Mara include; Castel Mara, Siana Springs Tented Camp, IIkeliani Camp, Sanctuary Olonana, Kichwa Tembo Tented Camp, and Mara Engai Wilderness Lodge to mention but a few.
Big Five Safaris in East Africa in Akagera National Park-Rwanda.
Rwanda is famous for its mountain gorillas found in Volcanoes National Park, but it also has the Big 5 and many more savannah creatures. Akagera National Park is the ideal location for a traditional safari in Rwanda. Wildlife here was severely decimated by fighting and poaching, but it has made an amazing rebound since 2010. After the return of black rhinos and lions in 2017, Akagera National Park now provides a genuinely off-the-beaten-path opportunity to witness Africa's Big 5.
When is the best time to go on a Big Five Safari in Akagera National Park?
The perfect time to go on a Big Five Safari in Akagera National Park is during the dry season which lasts from June to September. It's much easier to spot wildlife in the park during these months as compared to the rainy season.
Where to stay during your Big Five Safari in Akagera National Park?
Rusizi Tented Camp, Akagera Game Lodge, and Karenge Bush Camp are just some of the lodges and camps that provide accommodation to tourists visiting the national park.
Big Five Safaris in East Africa in Murchison Falls National Park-Uganda.
Murchison Falls National Park in Uganda is worth seeing for its breathtaking landscape as well as its animals. The Victoria Nile River cuts it in half. A boat ride to the foot of the park's eponymous waterfall is not to be missed. The river is home to hundreds of hippos and crocodiles, and you're likely to spot buffalo and elephants on the bank in the afternoon. Murchison Falls National Park isn't a complete Big 5 location because the rhino isn't there, but many people stop by Ziwa Rhino Sanctuary on the way for an amazing rhino-tracking experience.
When is the Best Time to go on a Big Five Safari to Murchison Falls National Park in Uganda?
If you are looking to go on a Big Five Safari to Murchison Falls National Park in Uganda, then December to February and June to mid-October are the best times.
Where to stay during your Big Five Safari to Murchison Falls National Park in Uganda?
There are a number of accommodations in Murchison Falls National Park in Uganda including; Parkside Safari Lodge, Pakuba Safari Lodge, Twiga Tented Camp, Nile Safari Lodge, Heritage Lodge, and Paara Safari Lodge among others.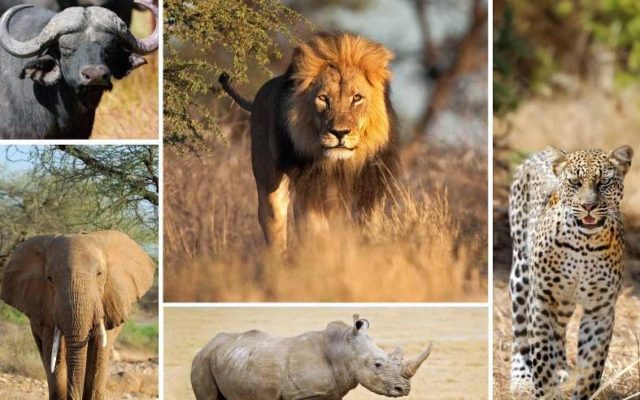 Big Five Animals in East Africa.
The Lion
Lions were among the most common big terrestrial animals after humans around 10,000 years ago. Currently, they are a threatened species, with the majority of the world's wild lions found in Sub-Saharan Africa. In comparison to other cats, lions are exceptionally sociable; a pride includes of related mothers, their cubs, and a few adult males. Prides spend their days sleeping in luxury and hunting between nightfall and dawn. Females hunt in groups and are considered apex predators.
The Leopard
Leopards are smaller and lighter than jaguars, with comparable rosettes on their coats, and are known as black panthers, just like jaguars. Leopards are solitary species that employ camouflage well and are powerful enough to haul their food up into trees, away from competing predators and scavengers. Leopards are among the quickest large cats, reaching speeds of up to 58km/36 mi per hour. Leopards are masters of camouflage and are inherently reclusive and nocturnal, making them difficult to discover and study in the wild. If this is the animal you most want to see, make sure to inform your guide so that your game watching takes place in areas where leopard sightings are common and the population of these cats is healthy and stable.
The Rhino
Rhinos vary in color from pale grey to medium brown; the form of their upper lip, not their color, indicates which subspecies they are. The top lip of a 'black' rhino is hooked and pointed, whereas the upper lip of a 'white' rhino is broad and square. The species is highly endangered: rhinos are slaughtered to meet Asian demand for their horns. A rhino horn is formed of keratin, the same material as human hair and nails, therefore it will regrow if severed. The illicit trade, on the other hand, values the base of the horn under the skin, and collecting it causes such severe wounds that rhinos who could have survived the initial assault die of shock and blood loss when their horns are removed by chainsaw or machete.
The African Savannah Elephant
Male African elephants are the world's biggest terrestrial animals, standing four meters (13 feet) tall and weighing up to 7 000kg. Their incisors develop into tusks, which they use to move items, dig, and as weapons, while their notoriously enormous ears aid in body temperature regulation. Females with calves reside in family groupings, whereas older males live alone or in bachelor herds. Elephants are sociable creatures, with several family groups associating together.
The Cape Buffalo.
The African buffalo, often known as the Cape buffalo, is a huge, horned bovine native to South and East Africa. The horns of both men and females create a continuous bone shield over the top of their heads. Buffalo are unpredictable and brave, which is why they have never been tamed. They are not domestic cattle's forebears and are only distantly related to other bovines such as the Asian water buffalo.
Only lions have the collective strength to hunt buffalos, and these bovines are no easy meal; they can fight themselves and even gore predators to protect their herd members. A herd of buffalo can readily scare a pride of lions, and evidence exists of a stubborn buffalo putting its head down and just 'walking away' from adolescent lions.
In summary, a wildlife safari to Uganda, Kenya, Tanzania or a wildlife safari in Rwanda will definitely raise your chances of seeing all the Big  Five animals during your safari to any of the East African Regions.