Buhoma sector , lies in the northern section of the Bwindi Impenetrable Forest National Park and Buhoma sector is one of the four gorilla sectors found in the park, where tourists prefer most to do their gorilla trekking excursions to see these endangered mountain gorillas in their natural cradle. More so, it was the first trailhead to be opened up for tourism established by Uganda Wildlife Authority, it attracts enormous numbers of visitors that have turned the small village trading center into a beautiful town.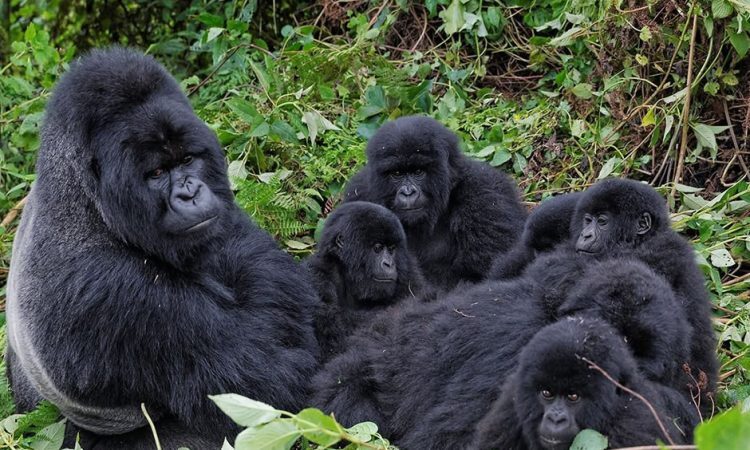 In fact, mountain gorillas appear in two isolated subpopulations in East Central Africa, surrounded by a human matrix of cultivated highlands and village settlements. The southern subpopulation exists in the Virunga Mountains, estimating 451 square kilometers that mount the ''DRC'' Democratic Republic of Congo, Rwanda and Uganda borders. Each of these countries manages designated protected areas in this tri- national houses such as; Virunga National Park, Volcanoes National Park and Mgahinga Gorilla National Park respectively.
The northern subpopulation 'second'' occupies Bwindi Impenetrable National Park and extends to Sarambwe Nature Reserve ''9.8km2'' and in DRC.
 Then ''UWA'' Uganda Wildlife Authority a body that manages all Uganda National Park, divided part of the land of about 331 square kilometers ''Bwindi Impenetrable National Park'' into four sectors based on the location of habituated gorilla groups to provide visitors easy access to visit them. The four sections include Ruhija, Buhoma, Rushaga and Nkuringo sectors.
Bwindi National Park was gazette as a conservation park in 1991, the Uganda Wildlife Authority   which is set up at the park's headquarters at small Buhoma village to Network conservation services all over Bwindi Forest National Park. Today, the best-done activities in this park section includes; Gorilla trekking -starts at Buhoma trailhead, where the briefing happens before entering the UNESCO Nature World Heritage Site.
Despite the fact, Buhoma sector was the first trailhead to open for Gorilla trekking in Uganda in 1993 with one gorilla family. Year passed by and now the family has multiped in numbers.
Today, Gorilla tourism has created different kinds of jobs for the communities around the misty jungles.
More fact, the Buhoma sector boasts as one of most exquisite wilderness retreats in the country and mountain gorillas like to move distances in their cold jungle to taste the luxurious plants in the sector.
Gorilla Groups in Buhoma Sector;
Buhoma sectors has got four habituated gorilla family group available for gorilla trekking and can be done by tourists aged 15 years and above. The gorilla groups include; Mubare, Habimanya, Rushegura, Katwe among others.  And only eight tourists are allowed to trek each gorilla family per day. Buhoma offers only 32 gorilla permits on a particular day.
Mubare Gorilla Family
The Mubare gorilla family has got 6 members, comprised of 1 silverback ,3 adult females ,2 infants.
This gorilla family was the first gorilla group to be habituated and availed for tourism in Uganda in October 13 -1993. The word Mubare derives from the thrilling Mubare hills around Buhoma, where researchers first sighted the troop.
Mubare gorilla family was first lead by silverback Ruhondeza when the group was availed for tourism, was a stubborn leadership with its amazing character which attracted visitors. But left his leadership prematurely to live a solitary life ''in a nearby human village'' till he died of old age at fifty in June 2012. He left the Mubare family under the leadership of his surviving oldest son silverback ''Kanyonyi''
Unfortunately, in November 2017, a formerly solitary silverback ''Maraya'' violently attached Mubare troop and Killed 'Kanyonyi'' lead silverback taking over troop as a leadership.
Habiyanja Gorilla Group
The Habiyanja Gorilla group consists of 18 members – 1 silverback ,4 Adult females ,4 Blackback ,4 Sub adult females ,3 Juveniles and 1 infant.
This is the second gorilla group and were opened for gorilla tourism in 1999 in the Buhoma sector of Bwindi Impenetrable National Park.  It's under the leadership of dominant silverback Makara.
The word ''Habinyanja'' means near the swamp in the local Rukiga dialect. The name was got from ''the swamp ponds'' in Bwindi, where the troops were first sighted by the researchers.
This gorilla family is comprised of 30 individuals under the powerful leadership of Mugurusi. However, in February 2002, the family divided into two to form another troop called the Rushegura family in Buhoma sector.
Habinyanja family is quite excellent gorilla family that offers the most exciting gorilla experience.
Katwe Gorilla Family
Katwe Gorilla Family consists 8 members – 1 silverbacks ,2 Adult females ,2 Blackbacks ,3 Sub-adult females and 1 infant.
This is the fourth habituated gorilla family in Buhoma region- Katwe Gorilla Family lead by the dominant Silverback ''Mahane''.
The Uganda Wildlife Authority began monitoring about this gorilla group in January 2018 following mubare lead silverback Kanyonyi's death in November 2017. Unfortunately, the death of Kanyonyi's disintegrated the family members to unknown locations.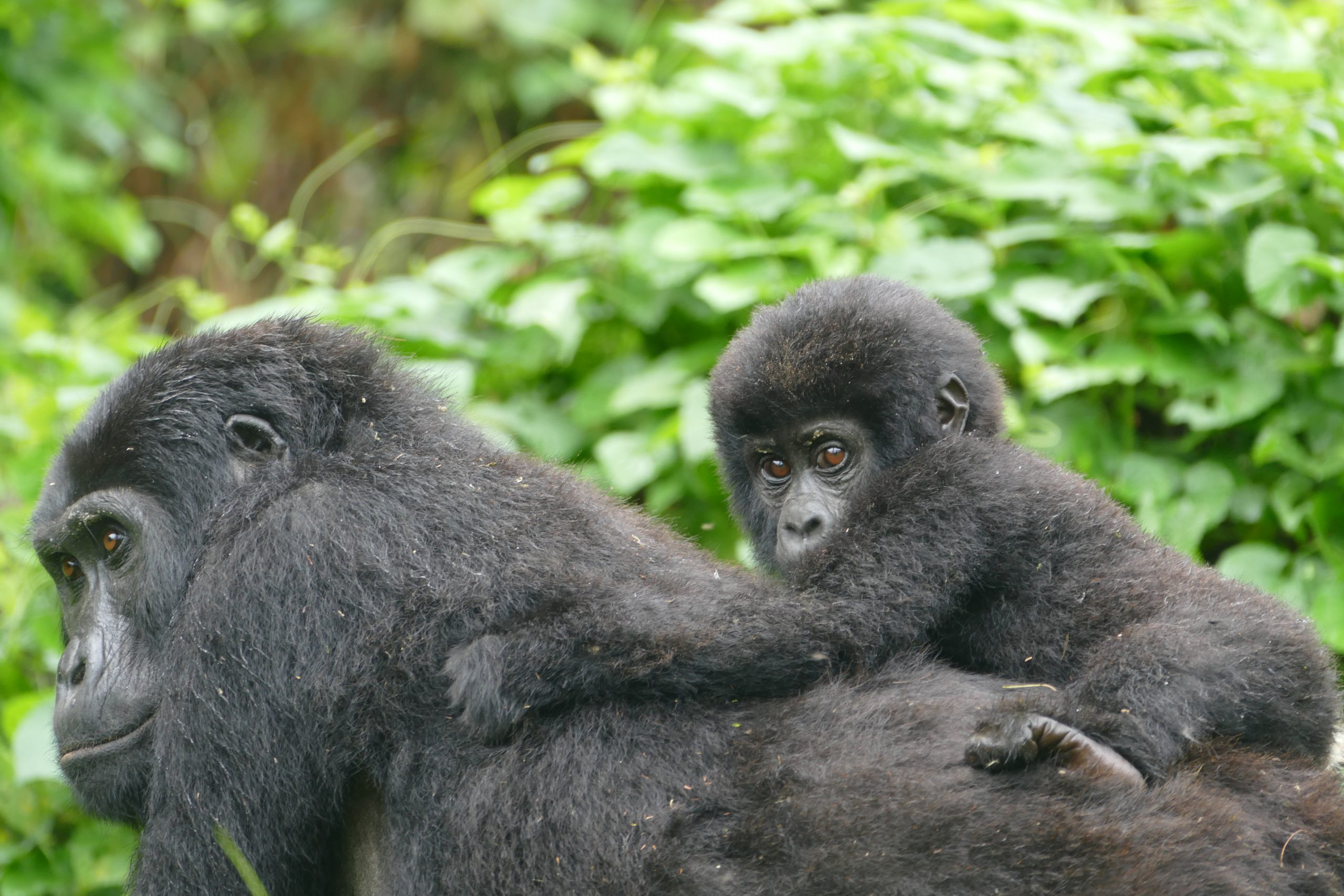 The name'' Katwe'' derives from the topo-name of the hill top, where researches started the group into habituation process in January 2018.
Where to stay in Buhoma
Buhoma sector has got perfect accommodation selection compared to other Bwindi sectors. All types of visitors have got different choice of stay, including Luxury, Mid-range, Budget and Camps. Well, Buhoma is the only sector that has camps built within the park boundary – Sanctuary Gorilla Forest Camp.
Luxury Accommodation;
They all have spectacular views of the Bwindi steamy canopy that will teleport your mind into African jungle enchantment especially in the misty mornings and sunsets.
Lodges includes; Gorilla Forest camp, Buhoma lodge, Silverback lodge, Mahogany Lodge, Bwindi Lodge, Silverback Lodge.
Mid-range Accommodation
Mid-range accommodation in Buhoma offer perfect warm jungle lodging with affordable pricing including;
Engagi Lodge
Gorilla Safari Lodge
Lake Kitandara Camp
Haven Community Lodge
Budget Accommodation;
They include;
Ride 4 A Woman
Bwindi View Bandas
Eco Marvel Gorilla Resort
Gorilla Friends Lodge
Apart from doing gorilla trekking experience – there other stunning activities to combine with gorilla trekking while on safari here including; Mountain Biking trails, Nature walking, Birdwatching, Batwa Cultural trail among others.
Getting to Buhoma;
Buhoma sector lies in the northern part of Bwindi Impenetrable National Park in southwestern Uganda at the rim of the Albertine Rift.
By Road
From Kampala or Entebbe to access Bwindi takes between 8 to 9 hours' drive on a dirt road. You can opt to use a domestic flight -scheduled flight between Kihihi or Kisoro Airstrip ''Aero link Uganda from Entebbe international Airport and lands within 1:15hours.
Get started now!