East African visa
East African visa : Have you booked a safari to East Africa? Or are you planning on visiting more than one of the countries in East Africa that is Uganda, Kenya and Rwanda? These three countries have made travelling easier among themselves with the introduction of the East African visa. The East African community comprises of Uganda, Rwanda, Kenya and Tanzania however the Republic of Tanzania has not yet joined this initiative.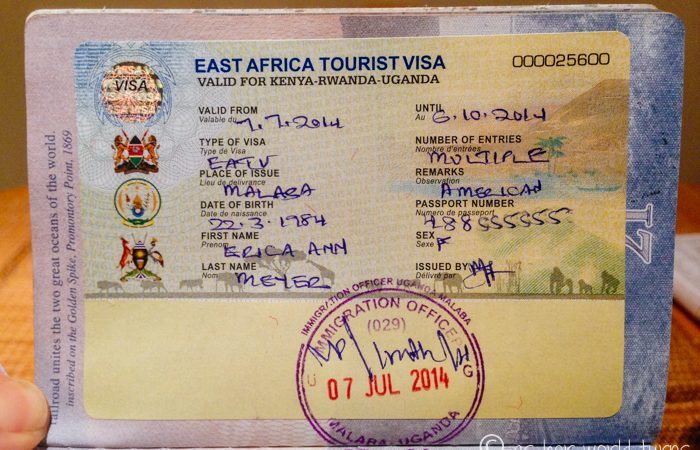 This East African visa is a tourist visa that can be applied for visiting the Uganda, Rwanda and Kenya with multiple entries and only one visa can apply for the above mentioned countries. This visa has eased the movements of travellers coming or heading out to either of the East African community countries. There is a future prospect of other countries joining in on this arrangement.
The heads of these states the Uganda, Kenya and Rwanda spearheaded this partnership with a major aim of boosting sales and increasing the number of tourists visiting these destinations for tourism. This also was aimed at creating tourism opportunities in East Africa to boost the tourism sectors of all these countries.
The East African tourist visa is valid for a period of 90 days after issuing and you can move multiple times between these three countries however you should note that immediately you move to another country besides the three, this East African visa will no longer be valid. This should be able to guide you on your routing and which countries to visit before and after the other. The number of times you can enter and exit any of the 3 countries is unlimited as long as the visa is still within the 90 days.
How to apply for the East African tourist visa in Rwanda, Uganda and Kenya?
Each of the 3 countries has an online platform on which you can either apply on line or print out and do it manually. If your country has an embassy of either of the countries, you may visit their offices to apply manually or you can visit any of the immigration offices of any of the 3 countries to apply manually. This insinuates that the East African tourist visa can be acquired on arrival on ground. In Kenya, you may need to apply for the visa at least 2 days in advance though.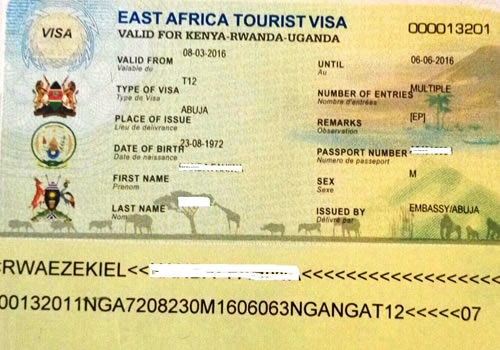 On arrival to any of the international airports of Uganda, Rwanda or Kenya, you can apply for the visa and wait a short while until you are provided with this travel document. Please note that you will need a visa to visit any of the above countries. If you are only visiting one of the three countries, you can just apply for a single tourist visa as you won't need the East African tourist visa.
The East African tourist visa goes for only 100 USD which is cheaper than acquiring single visas for each of the three countries whose single entry visa costs 50 USD. The visa in Rwanda actually goes for 70 USD while the single entry visa goes for 50 USD.
Uganda's immigration authorities are well accustomed with the online visa and this is a quicker and cheaper form of applying as there will be no mailing fees, no need for attachment of photos and documents but rather physically show them.
Some countries like Switzerland had been exempted from paying the tourist visa fee in the past but now all travellers will need a visa to access Rwanda. Travel between these destinations has been eased however in Kenya, you may need more documents to accompany this tourist visa.
What are the requirements for an East African tourist visa?
You will need a passport sized photograph to identify you physically and this is attached on the manual form or a soft copy attached on the online form. All foreign wears like caps, glasses or head socks should be taken off.
You will also need to show financial statements for some destinations, your dates of travel, your purpose of visit, the point of entry and exit and also where you will be staying for the time in the country. This application will also have to be issued to the country you are headed to.
After the form has been filled in and sent or filed, you will need to provide the 100 USD payment of the visa. This visa fee once paid is nonrefundable and also the visa cannot be rescheduled or postponed.
The East African visa is strictly valid for 90 days and cannot be extended but you can apply for another if need be.
This visa can be obtained by any one that is the foreigners, the expatriates, the foreign students or anyone interested in participating in the tourism of Uganda, Kenya or Rwanda. When discussing this joint venture, the local people were not left behind as they were also given the liberty to cross the country borders by use of their valid national ID card.
Get in touch with us and let us help you book your East African tourist visa.