Map of Rwanda National Parks: Seeing through the eyes of a mountain gorilla is a once-in-a-lifetime opportunity. However, Rwanda has a lot more to offer. For gorilla trekking, Volcanoes National Park is the place to be. Nyungwe Forest National Park, situated in the southwestern province of Rwanda, is home to over 300 chimpanzees and 12 other primates, whereas Akagera National Park is Rwanda's only savannah national park and home to the Big Five. Why not spend a few days relaxing on the shores of beautiful and dazzling Lake Kivu?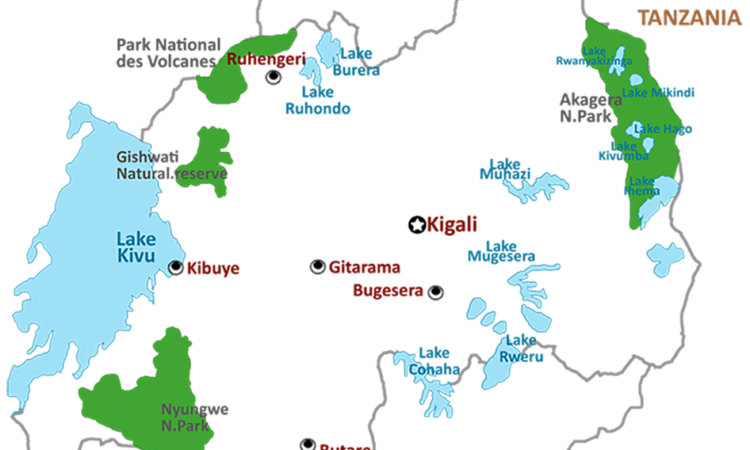 Rwanda's Wildlife.
Rwanda boasts an extraordinary variety of species due to its location in the Albertine Rift, which is renowned as a biodiversity hotspot. Aside from gorillas and chimps, there are many more primates to view, including Ruwenzori colobus and golden monkeys. Boat cruises are an excellent way to observe hippos and crocodiles, and the savannah grasslands of Akagera are teeming with species like as giraffe, buffalo, zebra, and defassa waterbuck. Lions are also never far away.
Map of Rwanda National Parks.
Rwanda's National Parks provide a level of diversity rarely seen in East Africa, including rainforest on the slopes of the Virunga Volcanoes in the west, montane forests in Nyungwe National Park in the southwest, and savannah plains in Akagera National Park in the east. These national parks, when combined, offer a breathtaking tour through one of Central Africa's most dynamic places.
Rwanda's national parks are an attestation to the wildlife regulators, as they are well managed, with clear entry fees and facilities, and a range of comfortable accommodations.
Akagera National Park.
Akagera National Park is Rwanda's version of some of Eastern Africa's savannah reserves; the low-lying park is located in the country's east near the Tanzanian border. The habitat of undulating plains covered in dense woodland and grassland, leading to swamps, lakes, and papyrus forests in the far east contrasts sharply with the mountainous landscapes for which Rwanda is famous, and those looking to focus their itinerary on Rwanda but with some variety may want to include this in their plans, Map of Rwanda National Parks.
Akagera, Rwanda's first national park, was founded in 1934 with the goal of safeguarding the species contained within its diverse habitats of swamps, plains, and mountains. The park's territory is around 900 square kilometers, making it relatively small in size yet having a diverse topography from west to east. The park is only two hours' drive from Kigali, making it possible to visit on a quick day trip from the capital.
The undulating plains of Akagera national park in Rwanda are habitat to a wide range of species, including buffalo, elephants, impala, giraffes, zebras, and other antelope. You may observe hippos wallowing in the lakes or crocodiles on the river banks. The area is also rich in biodiversity, including raptors and water birds in the wetlands that may be seen on boat tours along the rivers. Some bird species are found only in Nyungwe National Park, and among the water birds you may view are crowned cranes, storks, fish eagles, herons, cormorants, and egrets.
Accommodation facilities within Akagera national park include; Mantis Akagera National Park, Rusizi Tented Camp, Karenge Bush Camp, Akagera Transit Lodge, and Akagera Rhino Lodge.
Nyungwe Forest National Park.
Nestled in southwest Rwanda, within a designated national park established in 2004, Nyungwe forest is one of Africa's oldest forests and a true rainforest, with annual rainfalls of up to 2,000mm. The region is of paramount significance to Rwandan tourism as the biggest single tract of montane forest that exists in Central/Eastern Africa, and it is without a doubt one of the country's primary attractions, with waterfalls, plentiful animals, and overlooks over the picturesque countryside.
The national park is absolutely packed with animals; especially if you enjoy monkeys, its green woodlands are a sanctuary for 13 species in all.
The Nyungwe Forest national park offers few lodging alternatives, but the One&Only Nyungwe Forest Lodge boasts a beautiful site overlooking the forest canopy and well-appointed suites and villas. You may arrange for some fantastic trekking trips of varied durations to observe the forest's primates, as well as canopy skywalks; you may even see monkeys moving through the forest from your hotel. Other accommodations within Nyungwe include; Gisakura Visitor's Center, Kitabi Eco Center and Nyungwe Top Hill View Hotel.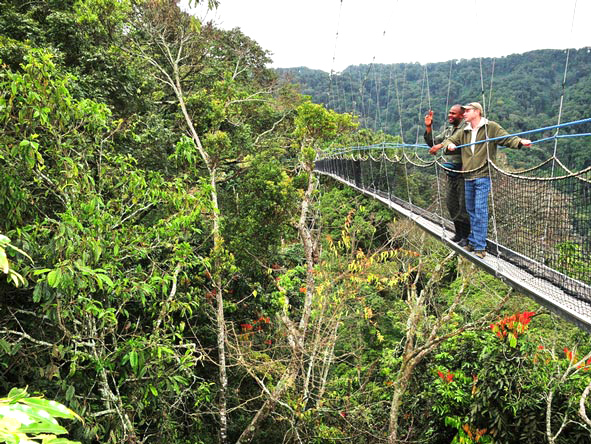 Volcanoes National Park
Volcanoes National Park or National Volcanoes Park is located in northwestern Rwanda, bordering the Democratic Republic of the Congo and Uganda. The land approaching the park consists of agricultural land that transforms into dense evergreen forest beyond the park boundary. This stunning region covers an area of ​​8,000 square kilometers and protects five of the nine breathtakingly beautiful Virunga Mountains. Each features steep slopes covered with dense green rainforest.
Currently, Volcano National Park is home to 12 groups of mountain gorillas, and trekking the Vol to see these endangered animals is an immersive experience you'll never forget. It's an experience. Here you'll have the chance to successfully track down a 400-pound silverback and a mother tending to her cubs. We use only the best guides who use their expertise and tracking skills to search for these adorable creatures in their natural habitat.
There are several lodging alternatives in and around the park, many of them are centered on the environment. The most remarkable of them is the Virunga Lodge, which is built into the mountainside and offers spectacular views of the Virunga volcanoes as well as Lakes Ruhondo and Burera.
Other lodges provide spectacular scenery and pleasant accommodations in close proximity to the park and include Virunga Resort Inn, Tiloreza Volcanoes Eco Lodge, Sabyinyo Silverback lodge, One&Only Gorillas Nest Lodge, Muhabura Hotel, Le Bambou and so many more. Our main goal here is to get you as near to the animals as possible without sacrificing your comfort, and we have a selection of lodges that will achieve exactly that, boosting your whole experience and adding that little touch of luxury when you return after a long day in the wild.
Gishwati Mukura National Park
Gishwati-Mukura National Park in Rwanda is divided into two forests: Gishwati Forest and the smaller Mukura Forest, which are separated by a 30-mile buffer zone. In the traditional sense, this is not a national park. Gishwati-Mukura national park is an ongoing conservation effort aimed to counteract one of Central Africa's most best examples of environmental deterioration, rather than maintaining a region of exceptional natural beauty.
Gishwati Mukura was recently gazatted as a national park in 2015 and later opened to the public in 2019. Activities in the national park include, chimpanzee trekking, primate tracking, birding and guided nature walks to mention but a few.
Best Time to visit Rwanda.
Rwanda may be visited at any time of year; however, rainfall is common and it is best to avoid the wettest month, April. During these months, the paths are sometimes quite slick, making gorilla trekking more difficult. Rain can also disrupt your gorilla trekking experience, which is both time-limited and unique. Overall, the greatest time to visit the nation is from June to September, when the weather is more likely to be sunny and wildlife is more visible.