Musanze Caves
Musanze caves are one of the physical features of geological activity in Northern part of Rwanda, the 1.25mile long Musanze caves located outside of Musanze town center, and 90 minutes' drive from Kigali, or 2km from Kinigi (Volcanoes national park head quarter).The caves are explored from volcanoes national park and are located at the foothill of this well-known park" Home of mountain gorillas".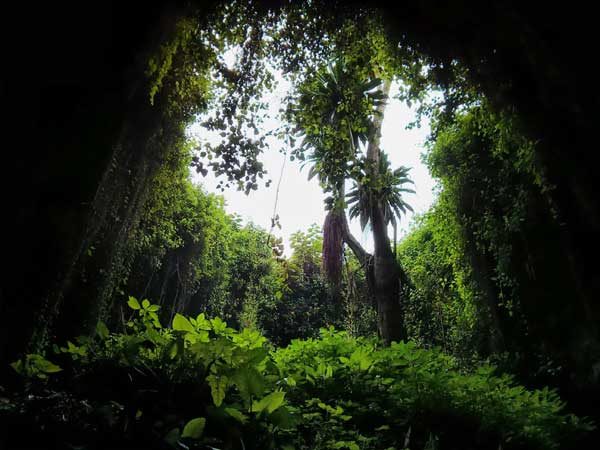 The caves have been developed by Rwanda development board (RDB) in collaboration with Rwanda Defence force (RDF)/Reserve forces, and the works were accomplished in 2013, they were consisted in the establishment of tourist walkways, trails, stairs and other safety measures for the visitors.
You have to go all the way to the Rwanda development board (RDB) office at volcanoes national park in Kinigi for buying the entry ticket. Before you enter the caves, the guides give you a torch because of the darkness inside the caves, a helmet and knee protectors (for safety in case of accident), and the gums (gloves) and nose protectors for anti-bacterial health issues.
Within an entrance side of cave, there is bats resident (bats habitat or bat colony), the second part is named…………….., the third part is named …………………, while the fourth is called INKOMANE.
The caves were used as shelter during the wartime for many centuries (Monarch era in Rwanda). And it was used as a shelter for Tutsis during 1994 Genocide against Tutsis. The caves were used by priest during their meditation events. Expert guides alongside security guard (armed soldiers) lead every tour, and they can explain the history of caves from their formation to the present day.
The Musanze caves offer in-depth understanding of geological history and development of the earth within centuries ago. The caves are also believed to be the feature results of volcanic eruption which took a place in the region many years ago.
The local people around the area, started to benefit from these caves as some local investors built hotels and lodges (like Musanze caves hotel and Musanze caves lodge), at the caves entrance and even the exit.
The greenery places (with the green vegetation and moist climate) outside the caves provide the best nature for a fantastic photo shoot.
Apart from visiting the caves, tourists can also visit other tourist attractions found in that area like; Twin lakes of Rwanda (Bulera and Ruhondo, Buhanga eco-park, a famous for the coronation of Rwanda former kings, Karisimbi volcano climbing, Bisoke volcano hiking, trekking mountain gorillas.
The Explore Rwanda tour is recommending you, to this well-built tourist attraction of Rwanda. Your tour to Musanze will be excellent, as after you have seen gorillas in kinigi, do not hesitate to take 2.5hours to visit these 2km long underneath caves, and it can be done anytime throughout the year.