What color of clothes should one wear during a Safari in Rwanda? If you've decided to visit Rwanda, how you should dress for a safari will be a crucial element of your itinerary. Color is one of the most significant factors to consider when deciding what to wear on a Rwanda safari. This safari color guide can help you decide what to wear on safari.
What color of clothes should one wear during a Safari in Rwanda?
On a Rwanda safari, what color should you wear? For your African adventures to Rwanda, we recommend neutral safari gear. Shades of khaki, brown, beige/tan, and green are included. These colors mix in nicely with the environment and are ideal for safari travel for several reasons.
How important is wearing the right color of clothes during your Rwanda Safari?
Game-viewing: By blending in with your surroundings, you improve your game-viewing experience in any of the national parks in Rwanda (Akagera, Volcanoes or Nyungwe Forest National Park). The greatest way to see Africa's amazing biodiversity is to see it in its native habitat. The color of your attire has the ability to frighten off or disrupt your sighting, which you want to avoid.
Activities: Don't pass up the opportunity to immerse yourself in the wilderness in as many ways as possible. Dress appropriately for game drives and self-drives to make the most of every opportunity to go for a brief stroll. The color of your clothes matters for your wildlife encounters on walking safaris and other active safaris, and it may add to the quality of your observations and, in certain situations, your safety.
Designed for safari: Exploring the wild may be exhilaratingly dusty and filthy. Safari-goers have traditionally worn khaki-colored clothing since it does not reveal dirt as quickly as other colors. Avoid black and blue colors when on a safari in Rwanda as these colors tend to attract tsetse flies.
 Also avoid wearing white when on a safari in Rwanda as this will stand out more than any other color while you are out viewing wildlife, though you can wear it when out for dinner or lunch. Tourists are also discouraged from wearing camouflage clothing during your safari in Rwanda as it is associated with the army and hence are not recommended.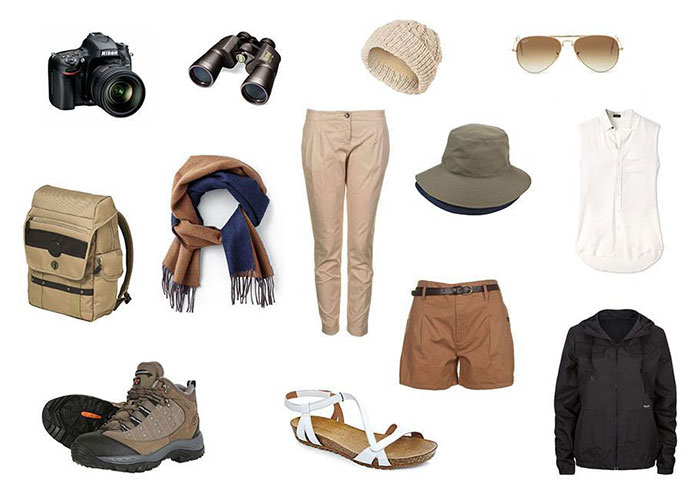 What material of clothes is suitable for your clothes for a Safari in Rwanda?
So, once you've decided on the correct safari outfits and colors, you can then decide on what material your clothes should. Simple cotton works best for shirts and pants, but you may experiment with some of the new man-made fabrics, some of which are more durable than cotton. It is critical to evaluate the climatic conditions and season depending on where you intend to go. In Tanzania, for example, light safari attire is advised during the dry season, as opposed to gorilla trekking safari in Volcanoes national park in Rwanda, where it rains virtually every day.
Africa's temperature and weather vary from extreme to extreme, from extremely cold frigid nights to excessively scorching and dusty days. In these cases, layering is really useful. If you want to go on early morning game drives, you should layer at least one warm layer.
Shorts and shirts are really comfortable on a safari, especially during the day, although you may wish you had covered yourself a bit more during game drives and brief excursions in the woods. Lightweight pants in light hues such as cream, khaki, Chinos, or grey are ideal for game drives and walks. You'll want to cover up at night to minimize mosquito bites, especially in malaria-infested areas, so reserve your shorts for the day.
Hiking Shoes
You do not need to bring a large assortment of shoes for your Rwanda safari excursion. All you need are a pair of hiking boots and a pair of casual dress shoes. To take a break from the boots, throw on a pair of sandals.
Safari Destinations worth visiting.
As you plan for your safari to Rwanda, we recommend that for wildlife safaris to Rwanda, you can visit Akagera national park where you stand the chance to see the Big Five animals and forgetting that it's the only savannah national park in Rwanda.
For gorilla trekking safaris in Rwanda, you should visit Volcanoes national park which is located in Ruhengeri. Although the gorilla permit in Rwanda is expensive ($1,500), it does not deter tourists from visiting the park's mountain gorillas. Aside from trekking mountain gorillas, visitors to the park can also track golden monkeys, visit Karisoke Center (former research base for the late Dian Fossey), tour Musanze caves, twin lakes and birding to mention but a few.
Finally, for chimpanzee tours, visit Nyungwe forest national park with an enroute stopover at the King's Palace in Nyanza and the national museum in Butare. Other activities offered by the park include primate tracking, birding, canopy walk, tea tours, coffee tours, hiking and night nature walks.