Akanyaru River
The Akanyaru River is the main tributary of the Nyabarongo River. It rises in the western highlands of Burundi and Rwanda, flows east and north of Burundi along the border of those 2countries before joining Nyabarongo River in Bugesera district of Rwanda, forming Akagera River which flows toward Victoria Lake in Uganda and the source of River Nile.
The lower stretches of Akanyaru River contain important but unprotected wetlands, which are useful for Human activities.
Course
The Mugere River, a major headwater rises at an elevation of 2,450 m in Burundi. The river has Sources at about 2,300 m elevation in the south of Rwanda. Many of the valleys of the higher tributaries are covered by Papyrus, which contains seasonal swamp forests. The upstream portion of the River has a catchment area of about 2,650 km2.
The lower course of the river is a belt of permanent wetlands about 7 km wide that ends where it reaches the Nyabarongo River.
In this 80 km stretch the River drops from an elevation of 1,465 m to 1,400 m. The Swamp belt is fed from the right by Lake Cyohoha north and Lake Cyohoha south. The Burundi side of swamp belt has about 14600ha of permanent swamp along a 63 km stretch of the River, with the swamp reaching 6km to 10 km up valleys of tributaries.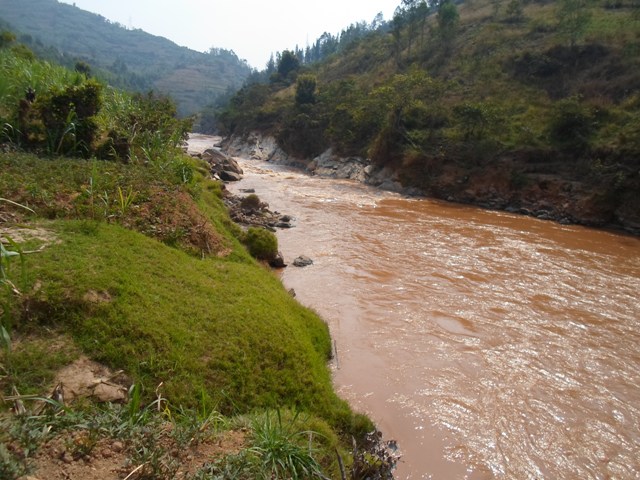 Climate
The Upstream part of the River basin has average annual rainfall of about 1200 mm, Average rainfall in the wetlands is about 800 mm. Rwanda has two rainy seasons, as one last from mid-September to mid-December and the other from March to May.
Fauna
The Akanyaru wetland is one of the seven main important birding areas (IBAs), with about 54 species recorded including vulnerable like papyrus Gonolek, papyrus yellow warbler, great snipe and more.
Human activities
As the wetlands are not protected, the local people using the area for Agricultural purpose, mainly in the dry season the local people cut and burn the marsh vegetation for fertility. The wetlands and swamps are mainly used for rice plantation, Sugarcane, maize and sweet potatoes plantation. Apart from the Agriculture, local people engage in Fishing in the River and Swamps.
Around the area where Akanyaru River joins River Nyabarongo, local people engaging in Brick making, this activity is steadily destroy the habitat.