Mount Gahinga or Mgahinga (in Uganda) is an extinct volcano, one of eight volcanoes in the Virunga mountain range, it straddles Rwanda and Uganda. It is also the smallest volcano lies between Sabyinyo and Muhabura volcanoes.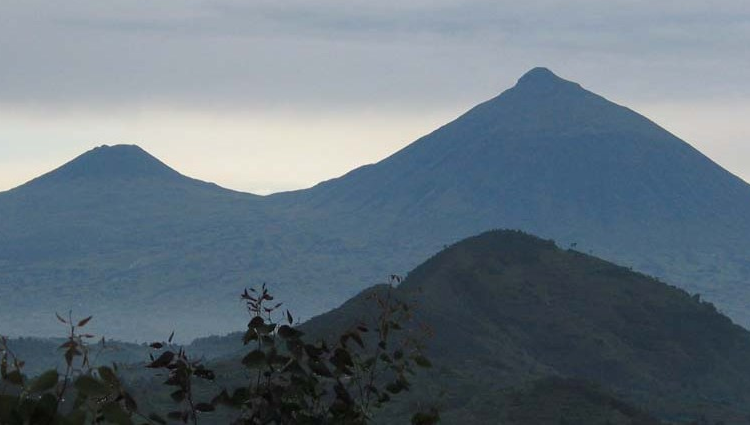 It also called"Rufumbira" Kinyarwanda word dialect "small pile of stones", the mountain has a swampy caldera of about 180m wide on its peak.
Mount Gahinga stands 3474m above sea level, is a part of a chain of 8 volcanic mountains of Mufumbiro ranges. The volcano chain spans across Uganda, Rwanda and Democratic republic of Congo.
Mgahinga National park in Uganda derived its name from this Mount Gahinga.
The vegetation across the mountain can be described as Afro-montane with bamboo composing the main vegetation. The bamboo forests on Mt Gahinga are the habitat of the endangered mountain gorillas, the golden monkeys and even the bird species.
The plains at the foot of the volcano are characterized by deep volcanic ash and run off from the peak rapidly disappears underground.
We recommend you to visit this beautiful mountain/volcano, which is favorite to many hikers due to its low altitude. The hike takes you between 5 and 7 hours (depend on the speed of climber) from the morning time. Hiking takes you to the lush vegetation that cover Mgahinga National Park in Uganda. The vegetation including bamboo cover up reaching the top, the cool air and the breeze from the giant lobelia in the crater swamp is so fulfilling.
3 Reasons to Climb Mt Gahinga
Medium effort: It is an easier hike (6–8 hours; moderate difficulty) and includes less ladders to scale (5). If you suffer from vertigo, Gahinga is the most comfortable of the three volcanoes (and don't even think of Sabyinyo!).
Bamboo bonanza: Gahinga offers a long stretch (about 2km/1.3ml) of bamboo forest that is a special environment to hike through.
Swamp surprise: The swamp at the top is a true definition of beauty.