Dian Fossey Safari & Gorilla Trekking Safari highlights
We will trek mountain gorillas and explore the Volcanoes National Park rainforest. Gorilla trekking expeditions in Rwanda traverse the jungle walking in the footprints of walking gorillas. They leave behind a trail of footmarks, food and waste droppings. The gorilla trekking expedition discovers the relationships between different wildlife species. We will walk in the footsteps and commemorate Dian Fossey with an exclusive Dian Fossey Safari. The science and primatologist researcher who studied and spearheaded mountain gorilla habituation exercise. We will visit the gorilla guardians' village and interact with indigenous Rwandan people.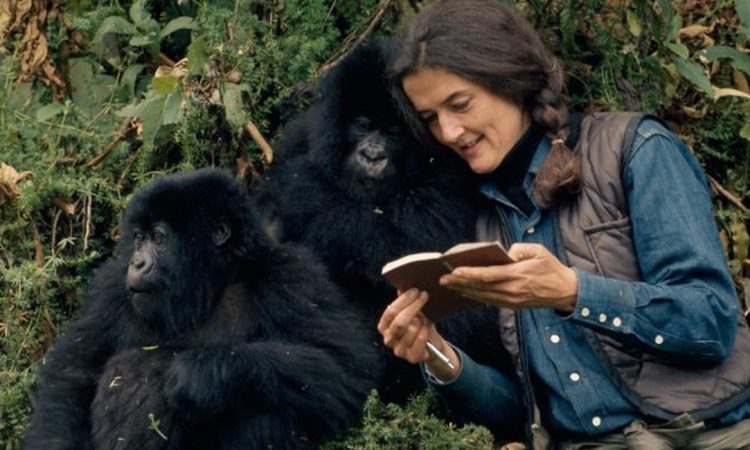 Safari activities
Mountain gorilla trekking
Forest walk
Visit to gorilla guardians' village
Kigali City tour
Day 1: Arrival and travel to Volcanoes National Park
Your safari guide on tour into Rwanda will pick you when your plane touches down at Kigali International Airport. Meet, greet and share the highlights of your safari into Rwanda over a cup of coffee / lunch. You shortly set out of Kigali City for a 3-hour travel northwest of Rwanda. The countryside is an absolute gem with scenic landscapes that keep travelers on tour of Rwanda on their heels. The travel traverses pyramid-shaped highlands, explore the beauty of the countryside all through the travel. You will check into your hotel in Musanze and feel the calmness of the Volcanoes rainforests.
Day 2: Gorilla trekking, visit the gorilla guardians' village
The mountain gorilla trekking expeditions start early morning to catch up with the mobile gorillas before they venture deeper into the forests. You set out early morning and assemble and Rwanda gorilla trekking starting point. The rangers will brief you about mountain gorilla trekking experiences and gorilla trekking regulations. The gorilla trekking teams then set out for the rainforest according to the gorilla family assigned. You wander into the jungle; traverse the wilderness from corner to corner following fresh markings of gorilla presence. The gorilla trekking regulations stipulate interacting with the gorillas for an hour upon discovery of their feeding areas. Later in the day, your safari guide will escort you on a visit into the neighborhood. Here you have an opportunity to visit and share life experiences with an indigenous community of Rwandans that has lived their lifetime with wildlife.
Day 3: Dian Fossey Safari / travel to Lake Kivu
Dian Fossey was a researcher on primates who concentrated on Mountain gorilla studies in the Virunga massif. Her base station was at Karisimbi in the Volcanoes National Park. She habituated families of gorillas to make them docile to human presence. It is largely because of her conservation input we have gorilla trekking safaris. Dian was martyred at her research station because of her love for gorillas and entire Volcanoes ecosystem. You will set out early morning for a nature walk on a circuit of trail system to Karisimbi travelling in the footsteps and commemoration of Dian Fossey in this exclusive Dian Fossey Safari. You will set out later and bid farewell to rainforest on a 3-hour travel back to Kigali City. Relax and enjoy the fruits of your tour into Rwanda. You may later take an evening tour of the city and sample Kigali nightlife.
Day 4: Travel to Kigali City
Enjoy your safari in Rwanda with a prolonged morning sleep. You will tour Kigali City after breakfast and learn more about Rwanda as a country. The events of the day are dependent on the flight schedule. Your safari guide will escort you to Kigali International Airport in time for your flight and mark end of your tour to Rwanda.