Cultural Tour to Bigogwe Farm in Rwanda: Aside from stunning mountain gorilla sightings, Rwanda has a lot more for visitors to see and enjoy. The Bigogwe Farm event is a one-of-a-kind event that Rwanda safari travelers should put on their travel bucket list. It is by far the ultimate cultural/community-based tourism adventure, ideal for travelers seeking hands-on experiences. Join the residents in a variety of activities such as milking, traditional games, music, hiking, and drinking.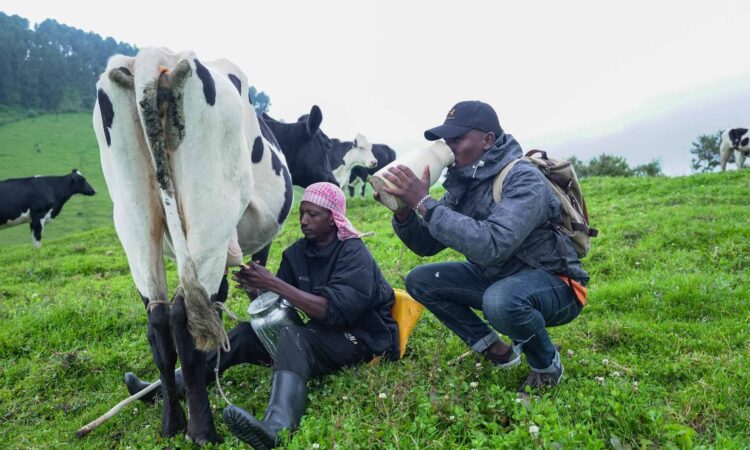 Rwanda is an East African country recognized for its magnificent natural beauty, colorful culture, and terrible past. The country has a rich and diversified cultural legacy formed by its history, geography, and people's customs and traditions.
Traditional dancing is one of Rwandan culture's most distinguishing aspects. In Rwanda, several different forms of dances are performed, each with its own distinct style and purpose. Some are conducted to commemorate key events such as weddings or harvest festivals, while others are performed for religious or spiritual reasons. The "Intore" dance, performed by men and women dressed in bright costumes and accompanied by drummers and singers, is one of the most popular.
Music is another essential component of Rwandan culture. The usage of drums, stringed instruments, and vocal harmonies distinguishes traditional Rwandan music. It frequently relates stories about the country's history and folklore, as well as about everyday living and difficulties.
Rwandan food is an essential component of the country's culture. The cuisine of the nation is renowned for its simplicity and use of fresh, local ingredients. "Ugali," a sort of cornmeal porridge paired with vegetables and meat, is one of the most popular foods. "Ibiharage" (red beans), "Isombe" (cassava leaves with eggplant), and "Mizuzu" (fried plantains) are among popular meals.
Rwandan culture is also significantly affected by its terrible past, notably the 1994 genocide. Since then, the country has fought hard to recover, and the Rwandan people's tenacity and fortitude are reflected in their culture. Museums, memorials, and cultural institutions around the country give a space for meditation and recollection, as well as a reminder of the need of peace, unity, and reconciliation.
Where is the Bigogwe Farm in Rwanda Located?
A beautiful Bigogwe sector and farm may be found in the districts of Rubavu and Nyabihu in Rwanda's Northwestern Province. The gorgeous Gishwati farms surround Bigogwe sector and serve as the major gate to the greenest hills, as well as a place to locate diverse varieties of animals.
What can I expect during my visit to Bigogwe Farm in Rwanda?
Share a meal with the locals.
Tasting the indigenous foods of Rwanda should be a must-do on your farm trip in Bigogwe if you are a cultural traveler. You will appreciate the freshly grown foods produced at the various establishments. Sweet potatoes, beans, cassava, and drink milk are examples.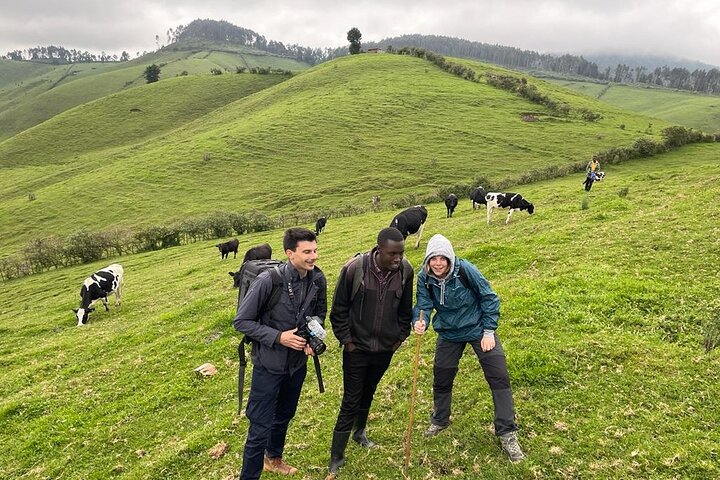 Nature Walk
One of the most thrilling and gratifying experiences on the Bigogwe Farm trip is a guided nature walk. The stroll allows you to explore the verdant hills of Bigogwe Farms, as well as listen to the amazing noises of the region.
Hike to Mount Ibere rya Bigogwe
While on your guided trek, take in the most spectacular views of Bigogwe's surroundings. The trail leads to the peaks of Mt. Ibere rya Bigogwe, commonly known as breast. The majestic mountain resembles a woman's breast. It is an excellent location for bike and trekking excursions.
Herd Cattle with local herdsmen.
You may also participate in the cow experience. Boys sing and whistle to the cows while watching them graze and drink water. Also, while on a trip in this region, don't miss the adrenaline milking experience.
Where can I stay during my Cultural Tour to Bigogwe Farm in Rwanda?
Bigogwe Campsite is the offered lodging for a night stay on the Bigodi Farm trip. The campground lacks basic amenities, such as power, yet the surrounding countryside is worth exploring for real experiences.
What do I need to pack on a cultural tour to Bigogwe Farm in Rwanda?
Camping equipment, a camping tap, a flashlight, a rain coat, a waterproof daypack, blanked, comfortable clothes, a power bank, toiletries and soap, bottled drinking water, feminine and male goods are all must-haves for your Bigogwe Farm safari.
How can I get to Bigogwe Farm in Rwanda?
Bigogwe is located in the Nyabihu District and is roughly a three-hour drive from Kigali. Visitors can also use Bigogwe Campsite for all of their lodging needs. The campground is located on the main road, and don't miss the breathtaking view of the green highland farms as you pass past. The weather in Bigogwe is constantly changing, yet tourists may continue with their activities because it frequently rains and shines in the smallest amount of time.
All in all; After exploring the Bigogwe Farm, other sites to visit include Volcanoes National Park for mountain gorilla trekking, golden monkey tracking, volcano hiking, Gishwati-Mukura National Park for primate strolling and birdwatching, and so on.