Cycling/Biking Safaris in Lake Mburo National Park: Cycling or biking safaris, sometimes known as bicycle safaris, are one of the outdoor activities available when visiting Lake Mburo National Park. This provides an excellent opportunity to enjoy the park's captivating distinctive species and eye-catching sceneries. Cycling at Lake Mburo National Park brings you closer to the park's spectacular wildlife, which includes Impala antelopes, Burchell's zebras, Rothschild giraffes, bush bucks, antelopes, and Elands, to name a few. The exercise lasts around one hour.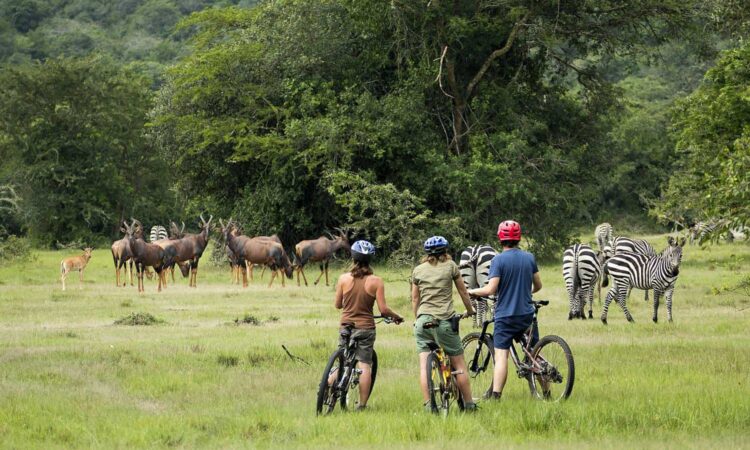 What to expect during Cycling/Biking Safaris in Lake Mburo National Park?
To begin with, it is critical to know that all bike tours are led and organized by Uganda Wildlife Authority ranger guides. You are assured a fantastic trip since these folks have extensive expertise and knowledge of all the regions where you may see the park's animals at its best.
Expect to undertake some fantastic physical workouts while enjoying wildlife watching on your wonderful cycling trip in Lake Mburo National Park. The park's management staff is well-equipped with around 15 mountain bikes, which you may hire at a reasonable price or bring your own to save money.
Expect to be challenged by Lake Mburo National Park's stunning beauty owing to sloppy and steep areas, yet parts are level. It is really inconvenient and exhausting, yet it provides a lifetime of memories.
In the case of bird aficionados, there are several birding areas in this intriguing park. Many birding areas can be found here, including woodland paths beside the roadway in the jetty and Rwonyo camp, marshy valleys (Miriti and Waruki), and salt licks, among others. View highly colorful birds such as the common scimitar bill, red-headed love bird, coqui francolin, black-bellied bustard, rufous-bellied bustard, and emerald-spotted bustard, among others.
Is it Safe to do Cycling/ Biking Safaris in Lake Mburo National Park?
Cycling is a fairly safe pastime in this area, despite the fact that it is a wild experience. If you have the opportunity to ride, you will be able to navigate relatively safe paths around Lake Mburo. Cycling is allowed in this park since it is the smallest savannah park in Uganda, with relatively few life-threatening species that may endanger a rider. All of the animals in the park are quite quiet and pleasant as long as you do not disturb their tranquility; otherwise, animals like buffaloes become extremely hostile if you do.
You need not be concerned about your safety while riding because you will be escorted by well-trained and armed ranger guides the entire time. The ranger guide ensures that no disaster occurs while you are participating in the activity, so there are no concerns about your safety.
However, before you begin riding, the management team will build trails that will take you through wooded hills, plain savannah grasslands, marshy valleys, and forested hills. However, building routes is always dependent on a traveler's preferences, for example, some choose flat plains, others steep routes, forests, plain savannah grasslands, and so on.
What should you pack for your Cycling/ Biking Safari to Lake Mburo National Park?
Pack the following items for your bicycle safari to the park:
Very light clothing if you are traveling to the park during the dry season and warm clothing if you are traveling in the wet/rainy season.
If you're bringing your own bike, bring a helmet. The ones recruited from the park are always equipped with their own.
Binoculars are essential for a clear view of various bird and animal species.
A camera for capturing memories.
A lot of water to drink.
Repellent for insects.
What other activities can one do during Cycling/Biking Safaris in Lake Mburo National Park?
Besides cycling or biking safaris in Lake Mburo National Park, the park also offers other activities such as;
Bird Watching.
Lake Mburo national park is one of Uganda's greatest birding destinations. Birding at Lake Mburo is mostly done near the Warukiri and Miriti marshes. Some of the species include the African grey hornbill, barefaced go-way bird, black-billed barbet, blue-napped mousebird, brown parrot, common quails, crested francolin, emerald spotted wood Dove, greenwood hoopoe, Lilac-breasted Roller, Nubian woodpecker, Red-necked Spur, trilling cisticola, white-winged warbler, and the rare Shoebill stork. Birders can also see the African-wattled plover Rufous, Black Bellied Bustard, Coqui francolin, Flappet larks, red-necked spurfowl, Rufous chested Swallow, southern Red Bishop, temminck's courser, and yellow-throated long claw at the Rwonyo camp. Lake Mburo national park is an excellent area to see the endangered white-backed heron and African finfoot.
Guided Nature Walks.
Besides cycling or biking tours in Lake Mburo National Park, visitors to the park can also do guided nature walks in the park. Unlike in other Ugandan parks, nature walks can be taken in any area of the park with the permission and supervision of an armed Uganda Wildlife Authority guard. During the nature walk, you will encounter antelopes, Zebras, buffaloes, and giraffes grazing. Keep an eye out for butterflies and birds as well. During your morning walks, you could see hyenas returning to their burrows after a night's hunting or hippos returning to the water after grazing in the vast savannah plains.
Game Drives.
Game drives can be combined with cycling or biking safaris in Lake Mburo National Park and this will  allow you to see the majority of the park's animals and birds. The game drives are led by an armed ranger from the Uganda Wild Life Authority (UWA), who assists in the identification of various animal and bird species. The "leopard rock" is a favorite area for leopard sightings during a night safari or early in the morning. There are hyenas in the park, although not as numerous as in some of Uganda's other big wildlife parks. The 2-hour night wildlife drives are ideal for viewing genet, leopards, bush pigs, mongooses, and white-tailed mongooses.
Boat Cruise Tours in Lake Mburo National Park.
A boat ride tour along Lake Mburo will allow you to discover everything that is great about the Park. This is especially true during the dry season when most animals gather to drink. Visitors can see zebras, antelopes, crocodiles, hippos, otters, and buffaloes during the boat ride. African Fish Eagles, Blue-headed Weavers, Cormorants, Green-necked Doves, Hammerkop, Herons, Malachite Kingfishers, Pelicans, Pied Kingfishers, Rufous Long-tailed Starlings, and Shoebill Storks are among the most frequent birds seen on the boat ride. The duration of the boat tour is flexible and negotiable.
Horseback Riding:
Lake Mburo national park is one of two parks in Uganda where tourists may ride a horse and see wildlife. Another location for horseback riding safaris in Uganda is the Kabwoya wildlife reserve near Lake Albert. Horseback safaris in the national park allow guests to get up close and personal with the animals. The Zebras and even the shy Eland seem to recognize the horses. They retain their distance, but they do not flee like they do in the sight of safari vehicles.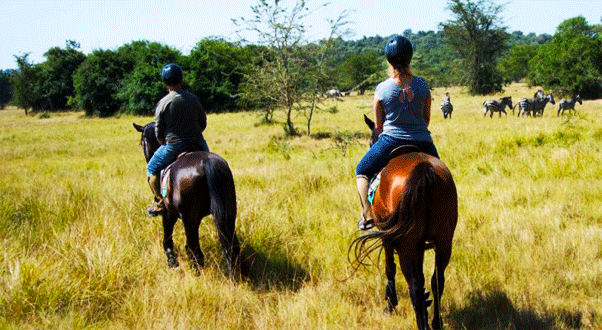 Salt Licks
An armed ranger may accompany you on a guided trip to the Salt Lick, where animals lick the salty earth. The Uganda Wildlife Authority has selected observation locations to allow people to see all of the many types of animals that come to lick the salt, including zebras and antelopes. The activity normally begins in the morning and lasts no more than two hours.
Where to stay in Lake Mburo National Park?
Lake Mburo National Park visitors can spend a night or two at housing facilities such as Mihingo Safari Lodge, Rwonyo Rest Camp, Mburo Safari Lodge, Mantana Tented Camp, Ssana Community Lodge, and Eagles' Nest, among others.
How to get to Lake Mburo National Park?
The national park is just a 3½-hours' drive from Kampala, covering a total distance of around 228 kilometers. The park may also be reached by Ibanda and Rushere from Kibale National Park in southern Uganda, and via Ishaka and Mbarara from Queen Elizabeth National Park in Kasese district.