Honeymoon Safaris in East Africa: Honeymoon safaris in East Africa offer the quintessential romantic safari experience. If you are looking for a holiday of a lifetime with the person you love, then a honeymoon safari to East Africa might just strike the right balance between romance and adventure. Honeymoon safaris in East Africa, be it in Rwanda, Uganda, Kenya, Tanzania or the Democratic Republic of Congo, offer a wealth of activities in beautiful surroundings.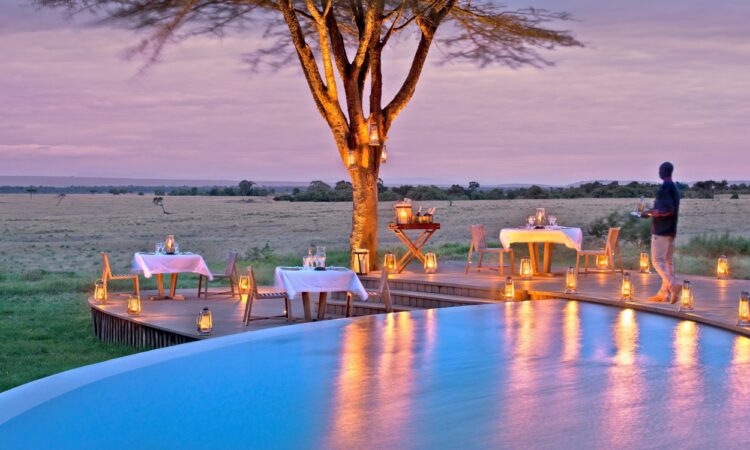 You can always mix and match spending time in bucket list destinations such as the Masai Mara national reserve, with moments in unspoiled wilderness, and some relaxation on the coast. You can also track the endangered mountain gorillas in Rwanda, Uganda or Virunga national park in the Democratic Republic of Congo. Explore the vast, pristine landscapes of Serengeti national park and view an abundance of wildlife in this paradise.
While on your honeymoon safaris in East Africa, there are small to large lodges and boutique hotels offering personable but unobtrusive service. As newlyweds, you can expect a few touches that make your stay extra memorable.
What are the most romantic places for honeymoon safaris in East Africa?
Getting away from the throng is essential for a great honeymoon safari. Private conservancies provide a complete safari experience, emphasizing quality time in a tranquil setting over ticking off the Big Five. Several resorts here provide some of the best views of Rwanda, Uganda, Kenya, Tanzania, and Congo. For good reason, East Africa is a favorite honeymoon location. The African bush, with its natural beauty, is an enticing setting for outdoor-loving couples. Intimacy and privacy are critical components of a romantic vacation.
Honeymoon Safaris in Uganda
Uganda, the gem of Africa, is a popular place for a honeymoon safari in East Africa. If you want to spend your honeymoon with endangered mountain gorillas, Uganda is without a doubt the place to go. Spend your honeymoon trip hiking gorillas in their native habitats in either Bwindi Impenetrable National Park or Mgahinga Gorilla National Park. You might also spend your honeymoon in Uganda tracking habituated chimpanzees in Kibale Forest National Park in western Uganda.
If your fantasy honeymoon included spending time with animals in Uganda, consider Murchison Falls National Park, Lake Mburo National Park, Kidepo Valley national park and Queen Elizabeth National Park. Other great honeymoon sites are Lake Bunyonyi, which provides a tranquil atmosphere and a refreshing experience as you observe the rolling hills of Kigezi, explore the islands on a canoe trip, talk walk around the lake shoreline, and many more. Depending on the length of your honeymoon safari, you may mix primate viewing, wildlife viewing, and leisure to have a memorable honeymoon safari in Uganda, Africa's gem.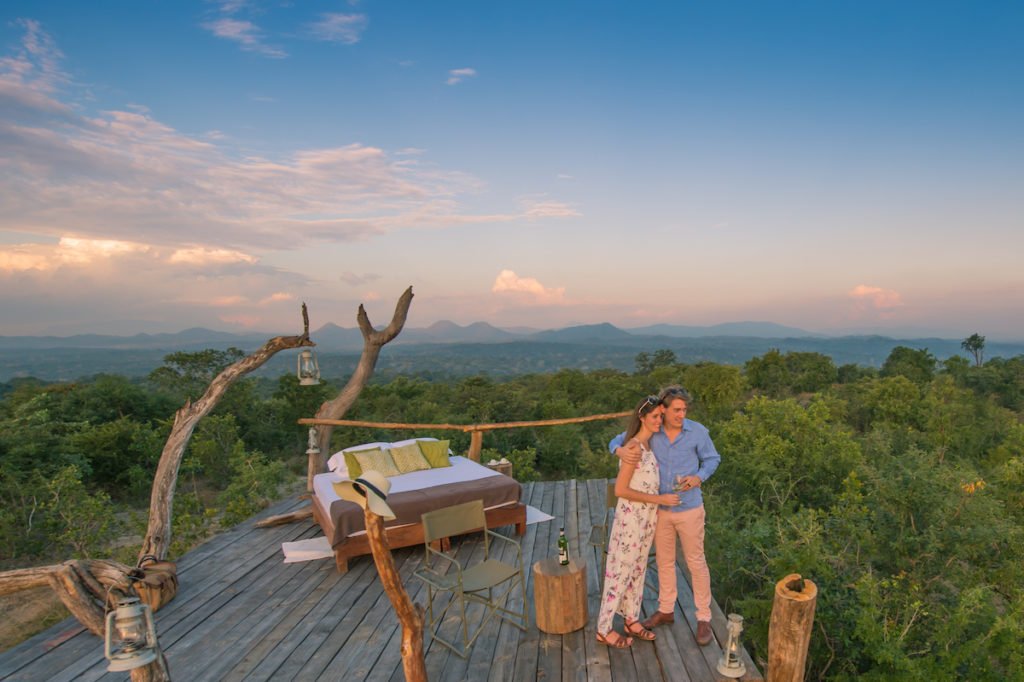 Honeymoon Safaris in Rwanda
Rwanda, like Uganda, provides the greatest honeymoon safaris, such as gorilla trekking safaris in Volcanoes National Park, where you and your loved one may spend an hour in close proximity with mountain gorillas. What about spending your honeymoon safaris in Rwanda at Nyungwe Forest National Park, where you can go chimpazee trekking and take a canopy walk. Take your honeymoon safari in Rwanda to Akagera national park for wildlife drives in Rwanda's only savanna park, as well as a boat excursion around Lake Ihema. Rwanda also provides additional unique honeymoon safaris that allow you to discover the cleanest Kigali city while visiting various destinations such as Kimironko market, Museum, Genocide memorial sites, and many more. There is also a fantastic activity of beach relaxation around Lake Kivu that you may enjoy with your partner to make your honeymoon unforgettable.
Honeymoon Safaris in the Democratic Republic of Congo.
If your dream honeymoon safari destination is the Democratic Republic of the Congo, the most fascinating activities to enjoy with your partner include mountain gorilla trekking in Virunga national park, where you can trek the cheapest gorillas in East Africa when compared to similar gorillas in Uganda and Rwanda. A gorilla permit in the Democratic Republic of the Congo costs $400, whereas a similar permit in Uganda costs $700 and in Rwanda costs $1500, making the Democratic Republic of the Congo the most affordable option for trekking mountain gorillas.
Other exciting activities to do while on a honeymoon safari in Congo include volcanic hikes, particularly Mount Nyiragongo, where you will top the world's most active volcano, which last erupted in 2002. You may also like to track the eastern Lowland gorillas in Kahuzi Biega National Park, among other things.
Honeymoon Safaris in Kenya.
Kenya, unlike Uganda, Rwanda, and Congo, does not have mountain gorillas, but trust me when I say that if you plan your honeymoon safari to Kenya, there is a lot you will enjoy, including an adventurous tour to the most beautiful savanna park (Masai Mara National Reserve), where you will be overwhelmed by a magical view of several mammals within the park. On a good day, you may come across the Great Migration "wildebeest Migration" since they always migrate directly from Serengeti National Park in Tanzania where calving happens to Masai Mara in Kenya where mating occurs and the cycle continues.
Meru National Park is another worthy contender for an enthralling safari. This Big Five attraction is severely underappreciated, and the lack of large hotels keeps it free of traffic. Elsa's Kopje, a lodge built into a hill overlooking the park, has one of the most iconic locations in the nation, and its stone-hewn infinity pools are among the most romantic. Then there's the Maasai Mara National Reserve. The wildlife viewing is unrivalled, although avoiding people is more difficult here. Stay in the Mara North Conservancy for an unparalleled experience of a lifetime while supporting local Maasai villages.
It is simple to combine a beach vacation with your Kenya honeymoon safari in East Africa. Nairobi, Kenya's capital city, is one of Africa's major transportation hubs, so consider a beach add-on inside Kenya or elsewhere in the area. On Kenya's lovely coastline, there are several resorts and boutique hotels to select from. With its coral gardens and picture-perfect bays, Watamu Marine Park is a great location for a beach expansion. You will not be bored here. Day visits to Arabuko Sokoke Forest Reserve, the overgrown Gedi Ruins, and the Kipepeo Butterfly Project, in addition to the regular water sports, are strongly recommended.
Honeymoon Safari in Tanzania
Tanzania is the largest country in East Africa, and it has many unique things to enjoy during a honeymoon safari. These include animal viewing in the greatest savanna parks, such as the Serengeti National Park, Lake Manyara National Park, Ngorongoro Conservation Area, Tarangire National Park and many others. Tanzania also provides breathtaking beach adventurous honeymoon safaris in Zanzibar, which has the nicest beaches for chilling and relaxing with your partner. The greatest way to spend a honeymoon in Tanzania is to begin with a safari in the savanna parks and conclude with beach leisure in Zanzibar.
All in all; whichever places you pick, Explore Rwanda Tours will be ready to plan your unforgettable Honeymoon safari so you can spend your alone time as a couple cherishing your love life. There are several lodging amenities available to best complement your honeymoon, ranging from budget to midrange to luxury, while luxury is always the greatest choice for a wonderful Honeymoon safari in East Africa.