Mgahinga Gorilla Trekking and Batwa Trail Experience Safari: Have you had the opportunity to meet them when visiting Bwindi Impenetrable National Park or Mgahinga Gorilla National Park? You will notice the forest in their eyes and life when you meet them. The cultural route in Mgahinga Gorilla National Park allows you to experience and learn about the old practices of the Batwa people who previously lived within the forest.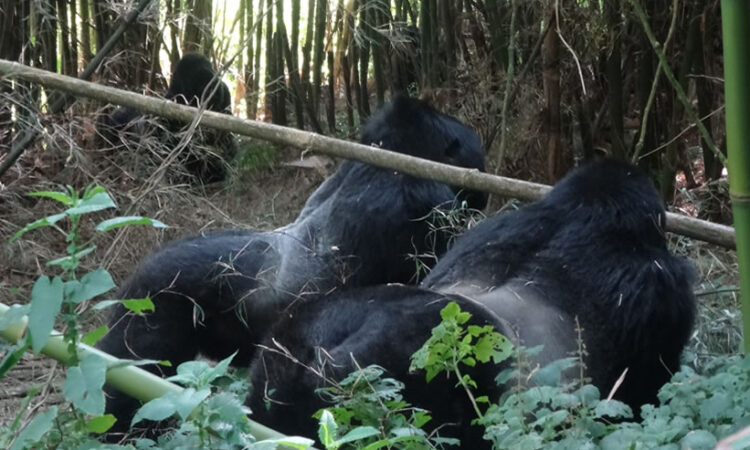 Before Mgahinga and Bwindi Impenetrable National Parks were gazetted as National Parks in 1991, the Batwa were the indigenous occupants of the forests. They used to live as hunter-gatherers and formidable warriors in the deep woods near the foothills of the Virunga Volcanoes, relying on the forest for food, herbal medicine, and nourishment. The Batwa Trail is usually paired with gorilla trekking in Mgahinga Gorilla National Park.
Gorilla Trekking and Batwa Trail Experience Safari in Mgahinga Gorilla National Park.
Mgahinga Gorilla National Park in southwestern Uganda hosts 80 mountain gorillas in total, but only one gorilla family is habituated and exposed to tourists – the Nyakagyezi family. The group used to go to Rwanda and Congo, but they have now been in Uganda for almost three years. Mgahinga gorilla trekking safaris are ideal since the park is less crowded.
With only one habituated gorilla troop, only eight gorilla licenses may be sold on a single day. Visitors are recommended to book permits at the Uganda Wildlife Authority headquarters in Kampala or the Park Headquarters in Ntebeko or Mgahinga gates several weeks in advance. A gorilla permit in Uganda costs $700, but a permit in Rwanda costs $1,500.
Tours of gorillas are available all year. However, visiting gorillas in Mgahinga is best done during the dry seasons of December to February and June to October. During the dry season, the woodland trails are less muddy and less covered with foliage. Mgahinga gorilla tracking begins with an early morning briefing at the park's lone entry, the Ntebeko gate. Tourists are instructed on the laws and procedures for monitoring gorillas. Because the Nyakagyezi family lives and eats in a smaller region that is simpler to discover, the average length of gorilla tracking in Mgahinga is less than in Bwindi Impenetrable Forest National Park.
However, following the gorillas might be difficult depending on where the family is on any given day. Moving towards one of the park's three volcanoes may be exhausting, as can crossing the steep slopes. If you are not physically healthy, you may wish to read about gorilla trekking for seniors.  You will only get one hour with the gorilla family. snap advantage of the one hour to snap photographs and watch the group dynamics.
Combining gorilla trekking and the Batwa trail experience in Mgahinga gorilla national park is a great way to explore much of the park's beautiful and dazzling natural beauty. Both the gorilla trekking and Batwa trail experience have to been done on two separate days as the both commence in the morning.
The Batwa Trail begins at the bottom of Muhuvura Cave. The walk is a living museum where visitors may learn about the Batwa People, a pygmoid tribe who formerly lived in Mgahinga National Park. These people were hunters and gatherers who relied on the forest for shelter, food, and medicine. When the Mgahinga Gorilla National Park was created, these people were pushed out of the park and rehabilitated in the communities that surround it.
These people were not expelled during the eviction and were forced to abandon their nomadic and bushmen lifestyle. Today, these are among of the poorest Ugandans, with many of them making a living by laboring on other people's farms. The Batwa Trail was created to inform tourists about these people's lifestyles – you will learn how these people survived in the bush.
This trip is led by Batwa guides who share information about their traditional forest life and culture. The Batwa display their traditional hunting tactics and honey harvesting methods. The guides will show you how to construct bamboo cups and point you the medicinal herbs that were utilized. The holy Ngarama Cave, previously home to the Batwa King, is finally open to visitors. You can join in a cultural dance performed by the women of the village.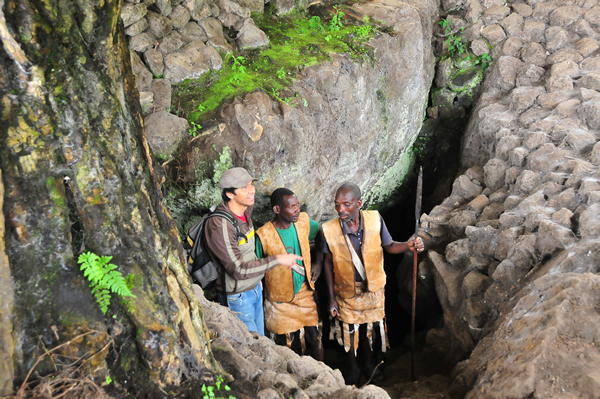 This fascinating Batwa cultural route was created on June 7, 2011, with the goal of conserving Batwa culture and customs and linking conservation with cultural development. Aside from tourists enjoying this traditional cultural experience, it also provides employment for Batwa involved in day-to-day activities on the Batwa route, such as dancers and guides.
After your exhilarating gorilla trekking excursion in Mgahinga or Bwindi National Park, you may participate in this magnificent cultural path, which is well worth every penny spent. If you left Uganda without experiencing the exciting sense of the Batwa Cultural encounter, you would be missing out on a lot of fascinating things.
During this exhilarating trail, tourists are taken through the original Batwa grass-thatched huts, as well as demonstrations of how those huts are constructed, as well as hunting skills, demonstrations of how water is fetched using bamboo cups/mugs, honey gathering skills, and how to make fire by friction using sticks.
Even when these people see or visit these woods, you can sense the anguish in their eyes as they become strangers in their once-cherished homes. The only way they may return to the jungle is to work as tour guides on the Batwa trail experience in Mgahinga Gorilla national park.
This magnificent path winds through the lush forest of Mgahinga National Park, passing through the foothills of Mount Gahinga and Mount Muhavura. The Batwa route begins with the guide stopping and kneeling at a specific hut to pray to the gods for blessings on the journey. This is the same site where men used to kneel and pray to the gods before venturing into the forest to hunt.
As you continue your stroll, you will stop to gather some berries that hunters used to eat before hunting in the olden days. You will be transported to a natural pharmacy (forest herbs). Learn about the many plants and roots that the Batwa utilized as medicine to control bleeding during childbirth, as well as medicines for malaria, blood pressure, and other ailments/diseases.
The black cover of ant nests, for example, was used to cure skin fungal diseases. I won't be able to cover all of the plants, but you will see a true pharmacy. Almost all ailments may be treated with only natural herbs.
You'll also see the leaves, which are always mashed into a paste and used to ward off evil spirits. Surprisingly, no plant in the forest is considered a waste or unimportant. What seems to be a wild yellow fruit or plant to the Batwa is a delectable vegetable sauce or even the elements of a natural soap. These nice individuals will also demonstrate how to create bamboo cups, and you will be completely blown away by how skilled they are.
You'll be completely captivated and shocked after seeing them display the old methods of generating fire by friction utilizing sticks. You may even use the flames to smoke a cigarette. Isn't it amazing? The hunting and trapping tactics they will display will also astound you.
As previously stated, the Batwa were displaced from their homes once these Parks were gazetted in 1991. They are no longer permitted to perform the things they enjoyed the most, such as harvesting honey, firewood, medicinal plants, and even wild fruits. Only on this route are the Batwa people permitted to return to the forest (as guides) to show tourists how they used to live in the wild. The descend to the holy Ngarama Cave–a 200m long subterranean cave nestled beneath Mount Mgahinga–is the highlight of this fascinating cultural tour.
Ngarama Cave was previously a royal house for the old Batwa King, a court of justice, a food store, the consecrated center of the forest, a storage for plundered valuables, a gathering place, and a place of refuge/hiding during fights. Listening to the Batwa ladies sing melancholy songs and dance to songs about their ancient ways of life and how they valued the Forest before being ejected from it is the most thrilling part of visiting this Cave.
It should be mentioned that the Batwa cultural route honors the 'first people's previous forest culture. However, it is hard to deny that the emergence of this cultural movement has significantly altered Batwa life.
Unlike in the past, the Batwa now reside in permanent dwellings, some of their children attend school, and others work, improving their level of living. This trip is always 4 hours long and costs $80 per person every day. The Uganda Wildlife Authority keeps a portion of the money you pay to assist Batwa Development programs like as school construction, while the other portion is paid to the guides so that they may support their families. Because the tour guides are Batwa, you will receive firsthand insight.
Finally, the Batwa cultural trail experience in Mgahinga gorilla national park is a great experience that you may partake in along with gorilla trekking. Aside from the exciting things they demonstrate, such as hunting techniques, honey collecting abilities, bamboo cup demonstrations, a visit to the pharmacy, and a trek to the holy Ngarama cave, you will be assisting a community and increasing their way of living.