Rwanda VISA
Rwanda VISA is one of the top requirements a traveler is required to have before they are allowed to enter the country for any activity. Recently there have been many questions that have followed the entrance requirements to Rwanda a country where tourism is booming because of its rich geographical features, pleasant climate, security, rich history and the different factors that have led to the increased tourist inflows. But one interested in coming into Rwanda might be interested in knowing the necessary requirements for the entrance into Rwanda and here are the necessary requirements that they should not miss out on while coming to the land of 1000 hills.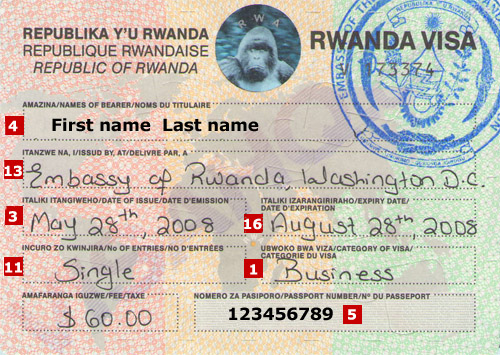 Rwanda VISA on entry: On January 1st, 2018, Rwanda introduced a new visa regime of getting visas to the country on arrival which was not the case in the previous where you had to wait for the visa for 10 working days after application, the visa into the country is issued without prior application and it only takes a few hours for you to receive it making it more convenient. On arrival, you will have to pay 30 dollars to the immigration office in order to be issued with the visa that is valid for 30 days. There are no restriction for foreign currency that is used to acquire the visa because there are different currency that can be used which include; pound sterling, dollars or Rwanda francs to make the process easier.
Requirements to Access a Rwanda VISA
A valid passport is also necessary in order to have background information about the person applying for the visa.

Other documents equivalents to travel documents for instance in East Africa the national identification cards.

Passport validity for at least 6 months

Yellow fever card, it is very vital nowadays to travel with a yellow fever card and Rwanda is not exceptional. In order t0 travel to the country, you should have a yellow fever card from a recognized health facility.

The passport should have at least a blank page to put the entry stamps.
Other ways of applying for a visa to Rwanda
You can apply online

You can get it from any Rwandan diplomatic mission

Interested in getting a business visa to Rwanda, you should first get clearance from your immigrations office in your country of origin.
Visa entry costs in Rwanda
A tourist visa goes for only 30$ valid for a period of 30 days
Entry conference visa 30$
Multiple entry visa 50$
East African tourist visa (Rwanda, Uganda and Kenya) 100$
It should be noted that if you are interested in extending your VISA while in Rwanda because of the different reasons that compel you to extend your Rwanda visit to the country, you should apply for visa extension while it's still valid and submissions should be made to the Immigration offices.
IMPORTANT INFORMATION TO CONSIDER 
Transit visas are valid for 72 hours

Applicants that are interested in obtaining a Rwanda visa should provide proof of their financial capability for their stay in Rwanda

.

You should follow the rules that are given to you while on your stay in Rwanda

A passenger with multi citizenship which may include Rwanda without a Rwandan ID. He should get a Rwanda visa, therefore, it is important for you to travel with your Rwanda identification card in order to avoid such instances.

Rwandans with dual citizenship can enter the country with only their national ID

Visa exemption is for  only tourists with diplomatic passports or service passports  

Tourists from the common market for east and southern Africa countries are able to access the visa for free