Top 10 Restaurants in Rwanda's Kigali City: Many people still link the Rwandan capital with the tragedies that occurred here during the 1994 genocide. Kigali, on the other hand, has seen a resurgence, becoming one of the continent's safest and most appealing cities.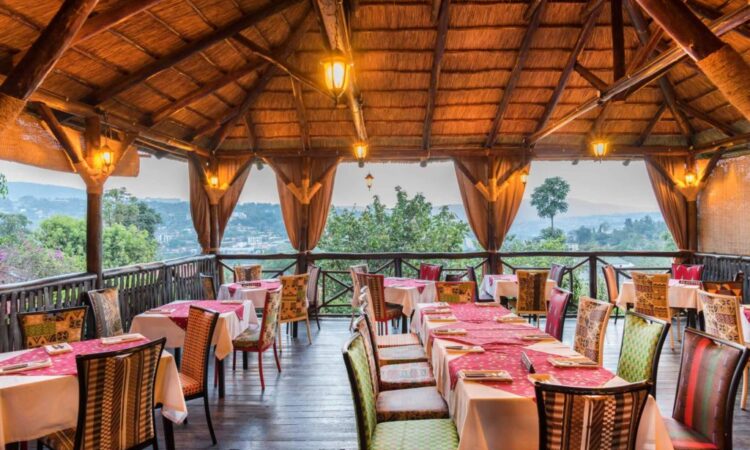 Its rich native culture and inflow of international expats make it extremely multicultural, as seen by its eclectic culinary scene. There are alternatives for every palate, from Ugandan street food booths to Italian trattorias and Asian barbecues. In between meals, a bustling café culture beckons, asking you to enjoy some of Africa's greatest locally grown coffee.
Top 10 Restaurants in Rwanda's Kigali City.
The Hut
The Hut, a boutique hotel and restaurant conveniently located behind the Kigali Convention Centre is widely recognized as one of the greatest places to eat in the country. Customers credit its popularity to its welcoming, laid-back environment, outstanding service, and creative food. Expect a fully global menu, with previous specialties ranging from Turkish lamb kebabs to French pork chops and Italian stuffed chicken. With the use of locally grown and organic ingredients, each meal is given a distinctly Rwandan flavor. Whatever you decide, it will taste even better with a beverage in hand on the outside patio, which overlooks Kigali's verdant hills.
The Fusion Restaurant.
Fusion Restaurant, located close to the hotel's rock gardens and saltwater pool, is part of the luxury boutique hotel The Retreat. It's the go-to spot for culinary experts, with fine-dining cuisine that combines culinary traditions from Italy, Mauritius, and Morocco with Rwandan ingredients. Several of them are grown in the restaurant's organic garden.
Then, either a Mauritius Nile perch stew or a pan-seared Rwandan beef fillet. The attentive crew serves all meals with immaculate plating and attention, and the beverage menu includes prime South African wines and exotic liqueurs.
The Brachetto Restaurant.
Brachetto, located near the US Embassy in Kacyiru, offers the ideal combination of sophistication and warmth, making it equally suitable for a refined lunch with friends as it is for a romantic candlelight supper. If the weather permits, dine on the terrace overlooking the tropical garden.
The cuisine is recognized for its creativity, with dishes like prawns and mango purée or strawberry and feta salad. Past customers raved about the lamb ravioli and the seafood linguini, which were created from scratch. Brachetto delights wine connoisseurs with a carefully crafted selection of over 100 brands from Italy, France, and South Africa.
The Repub Lounge.
Repub Lounge, located in Kigali's bustling Kimihurura area, serves authentic, high-quality Rwandan cuisine. Here is the best location to come early and soak in the ambiance while sipping a Virunga beer or two at the bar, decorated in modern African style with vibrant, locally created furniture and artwork.
Afterward, indulge in Rwandan specialties like sambaza (small fried fish unique to Lake Kivu), matoke (traditional green banana stew), roasted goat, or fish boiled in cassava leaves. If you have a large company, choose the African-style shared dining menu, which includes a variety of appetizers, starches, meat, and vegetarian entrees delivered banquet-style to your table.
The Now Now Rolex Restaurant.
It is a much-loved local hotspot in Kimihurura, next to Repub Lounge, for sampling a street food favorite from neighboring Uganda: the Rolex. Instead of a pricey timepiece, the name refers to beaten egg, tomato, onion, and cabbage folded within a soft chapati and served hot in a tin foil wrapper.
Today Now Rolex has extended the conventional version with Rwandan, Italian, Mexican, French, Greek, and Complete English varieties that keep consumers coming back. Instead, try a Texas chili or one of numerous excellent soups or salads.
The Poivre Noir Restaurant.
Kimihurura's Poivre Noir is one of the numerous French restaurants in Kigali, and it is frequently ranked as the finest. Its exquisite décor (with plenty of exposed wood, cushioned leather, and glittering glass) and stunning hill-view patio are popular among those in the know. The service is excellent, and the clientele is a really international mix of natives and expatriates, Top 10 Restaurants in Rwanda's Kigali City.
Join them for superb French and Belgian cuisine, including cheese croquettes, beef fillet, mushroom risotto, and decadent chocolate mousse. There are plenty of complex wines and drinks to pick from, as with any excellent French restaurant, however, some reviews claim that the wine list is on the pricey side. The food, on the other hand, is generously portioned and reasonably priced.
Soy Asian Table Restaurant.
If you're looking for Asian food, head beyond Poivre Noir to Soy Asian Table. This bustling restaurant brings the East to Rwanda's capital, specializing in authentic Chinese and Thai cuisine, with its diverse table arrangements, stunning gardens, and colorful decor. Choose anything from the vast dim sum menu, or order a bowl of delicious Thai soup.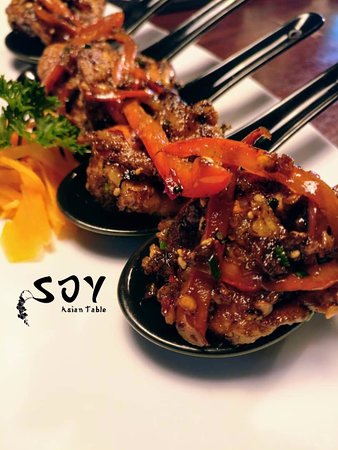 Thai classics like green curry and cashew chicken are served alongside Chinese favorites like kung pao calamari and tofu in Szechuan sauce. Whatever your preferences are, you're sure to find something to your liking among the apparently unlimited assortment of vegetarian and non-vegetarian cuisines available.
Khana Khazana Restaurant.
In Kigali, there are two Khana Khazana restaurants: one in Nyarutarama and one in Kiyovu. These are regarded as the greatest venues in town for satisfying your curry needs, particularly if you like real Indian flavors served in a relaxed environment with plenty of ambiance. The menu is broad, with many of options for vegetarians and vegans, as well as generous quantities.
 Food is also provided swiftly, which is unusual for Kigali, making Khana Khazana an excellent choice when you're ravenously hungry. The mutton rogan josh, butter chicken, and well-prepared naan bread are all crowd pleasers, followed by a drink of refreshing mango lassi on the balcony.
The Shokola Café Restaurant.
We don't want to imply that individuals who appreciate coffee also enjoy reading, but if that's the case, you'll enjoy Shokola Café. It's an open area on the top floor of the Kigali Public Library, with wood-paneled flooring and a lovely garden-view balcony. Begin your day with a freshly made mug of Rwandan coffee, or catch up with friends for a leisurely lunch.
The menu is health-conscious and cosmopolitan, featuring wraps, salads, paninis, and smoothies to choose from. If you decide to return for supper, there are plenty of hot selections. That is, if you can be persuaded to leave—the café encourages lingerers with shelves of books to borrow and a selection of comfortable chairs.
Mr. Chips Restaurant.
Mr. Chips, also in Nyarutarama, is a cult favorite among American ex-pats and locals who like American culinary culture. The fast-food establishment is often touted as offering the greatest burgers and fried chicken sandwiches outside of the United States, and it runs out of a small hole-in-the-wall facility painted a violent shade of yellow.
There are a few plastic tables outdoors, but most customers buy their food to go. Choose a conventional hamburger, get fancy with scrumptious toppings like bacon and blue cheese, or go for a little healthier option like a felafel burger or wrap. Side dishes include properly cooked chips and coleslaw, while non-burger alternatives include wings and pizza.