2023 Kwita Inzina Rwanda Gorilla Naming Ceremony: Prepare to witness one of the world's most significant natural festivities and meet Rwanda's newborn baby gorillas. The 19th Kwita Izina will be held on September 1st, 2023, to commemorate the country's commitment to sustainable and responsible tourism.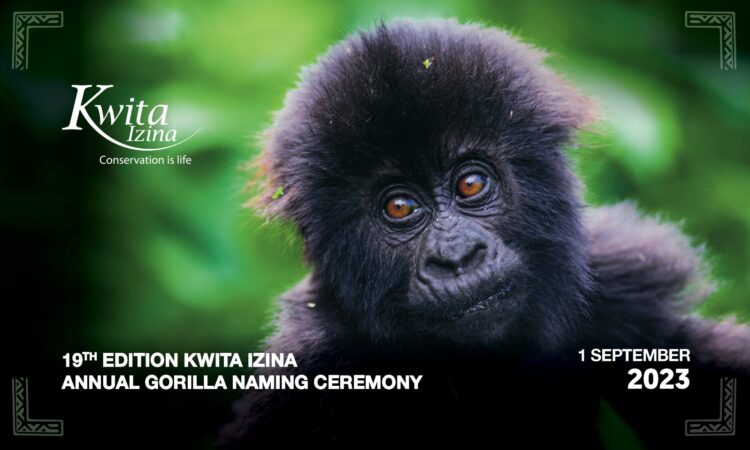 Kwita Izina is based on a centuries-old Rwandan ritual in which children are named in the presence of family and friends. In what has become a global celebration of nature, Rwanda began formally naming mountain gorillas in 2005.
We give these magnificent animals the value they unquestionably deserve by naming them. The event is an opportunity to thank the surrounding people, our research partners, vets, and the tireless conservationists, rangers, and trackers who preserve the gorillas. In Rwanda, there is a lovely custom of naming rituals to mark the advent of infants.
This practice is remembered each year during the Kwita Izina ceremony, a week-long festival held in September. The occasion is rich with historical traditions and cultural importance. Its purpose is to raise awareness and finances for the protection of the country's mountain gorillas and the expansion of their natural habitats. It's a lovely way to celebrate new life while also supporting the survival of these gorgeous Great Apes.
Since its inception by the Rwanda Development Board (RDB) in 2005, Kwita Izina has become a famous model of conservation and sustainable tourism. The event will feature a variety of fascinating events, including lectures, workshops, and the much-anticipated gorilla naming ceremony. One of the most important events of the event is the naming ceremony, which takes place on a bamboo stage like a beautiful silverback gorilla.
During this significant event, the gorillas born in Rwanda's Volcanoes National Park over the preceding year are given carefully chosen names. Participants carefully choose these names to match the infant gorillas' distinct habits and personality features. Rwandans think that these names have remarkable power, capable of bestowing favors and influencing the future destinies of these adored newborns.
Kwita Izina Rwanda Gorilla Naming Ceremony
The festivities at Kwita Izina are an amazing blend of traditional music, engaging dances, and vivid performances by local artists and students. Thousands of guests from conservation circles, ranger teams, villages, worldwide celebrities, dignitaries, and even the country's President gather at Kinigi, tucked in the slopes of the Virunga Massif, to take part in this spectacular event.
At its heart, Kwita Izina is critical in promoting conservation and raising funds through ticket sales. It is a rallying cry for Rwandans to celebrate their intrinsic connection to nature and protect their rich cultural heritage.
How important is Kwita Izina to Gorilla Conservation in Rwanda?
Since 2005, over 370 young gorillas have been named during the annual Kwita Izina festival, symbolizing Rwanda's distinct traditions and cultural history while also eliciting blessings and protection. Names are extremely important in Rwanda, as they are thought to define a newborn's character and future.
At its heart, Kwita Izina is critical in promoting conservation and raising funds through ticket sales. It is a rallying cry for Rwandans to celebrate their intrinsic connection to nature and protect their rich cultural heritage.
Kwita Izina depicts Rwanda's communal vision of the future and the country's shared cultural goals. Each newborn gorilla born at Kwita Izina transforms statistics into vivid lives, treasured gifts not just to their family but also to Rwanda and the worldwide community.
Every Rwandan heart swells with pride as the event shines a spotlight on the government's and people's heroic efforts to conserve mountain gorillas. Rwanda's unwavering dedication to and leadership in sustainable tourism is a light of hope in a landscape devoid of successful conservation stories.
The Virungas, home to the endangered mountain gorilla species, is one of the primates' final two strongholds. The region is well known for being the site of Dian Fossey's pioneering gorilla studies, which led to the foundation of the Karisoke studies Center. Dian Fossey Gorilla Fund International now works with the Rwandan government to carry on Fossey's legacy through educational efforts, park ranger support, and community-based activities.
This conservation initiative has been enormously effective, with the Virunga Massif mountain gorilla population increasing from 242 individuals in the 1980s to over 600 now.
Rwanda's commitment to conservation and responsible tourism has benefited not just the gorillas but also the local community by implementing sustainable tourist practices. The trekking program, which allows people to see gorillas in their natural habitat, has been a major source of cash for the region.
Over the course of its life, a "habituated" mountain gorilla may earn nearly $3 million in tourism income. These donations assist conservation efforts in Volcanoes National Park and other Rwandan protected areas. Furthermore, 10% of tourism money is distributed to neighboring towns, encouraging active involvement and collaboration.
The triumph of Rwanda's conservation efforts is most visible in the Kwita Izina ritual, which celebrates the mountain gorilla population's rise from "critically endangered" to "endangered."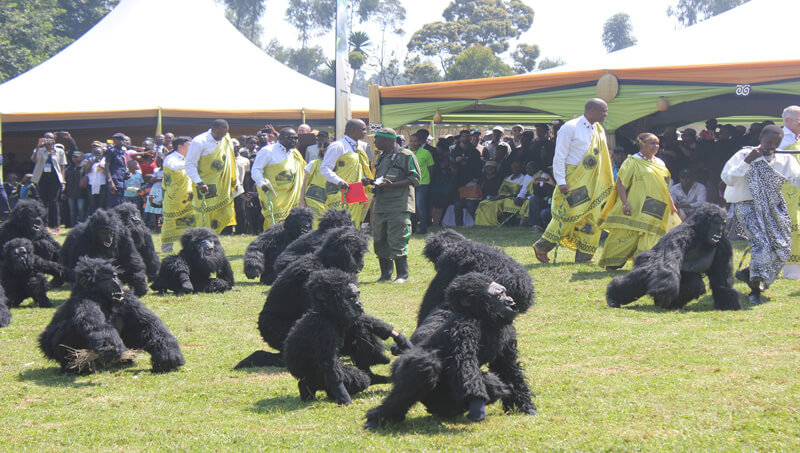 Facts About Kwita Izina Gorilla Naming Ceremony in Rwanda.
The Kwita Izina ceremony in Rwanda is based on a long-standing tradition in which relatives and friends meet to name their babies.
Kwita Izina translates to "naming" in Kinyarwanda.
Kwita Izina is held on the community grounds in Kinigi, Musanze District, just outside Volcanoes National Park, northwest of Rwanda's capital, Kigali, every September.
At the Kwita Izina event, young mountain gorillas born the previous year in Volcanoes National Park are named.
Kwita Izina began in 2005.
Since 2005, around 370 mountain gorillas have been named during the Kwita Izina festival.
The Kwita Izina event allows the Rwanda Development Board to thank the communities living around Volcanoes National Park, as well as research partners, veterinarians, and dedicated conservationists, rangers, and trackers who work diligently to protect the gorillas.
The world's mountain gorilla population is estimated to be 1,063 individuals. These endangered animals can only be found in three East African countries: Rwanda, Uganda, and the Democratic Republic of the Congo (DRC), where they are distributed throughout four national parks.
Mountain gorillas play an important role in producing significant tourism money, which benefits local communities and helps to support conservation efforts.
A "habituated" mountain gorilla, or one that is used to human visits, may generate around $3 million in tourism money over the course of its life.
In summary; Visiting Rwanda in September and attending the Kwita Izina ceremony as well as gorilla trekking in Volcanoes National Park may be an incredible experience. The event brims with joy, music, dancing, and celebration, exhibiting the beauty of nature and community resiliency.