Covid-19 in Uganda
Covid-19 in Uganda brought about a number of changes in the country especially in the tourism sector which led to the shift of interest from travel to survival by a number of individuals and in the process they abandoned tourism in Uganda because there was closure of borders, putting the country under lockdown, closure of airports and a number of entry points to the country as a measure to prevent the spread of the virus after the country registered her first covid-19 case in March 2020 which stagnated the tourism industry and a number of tourism destinations and support facilities were closed.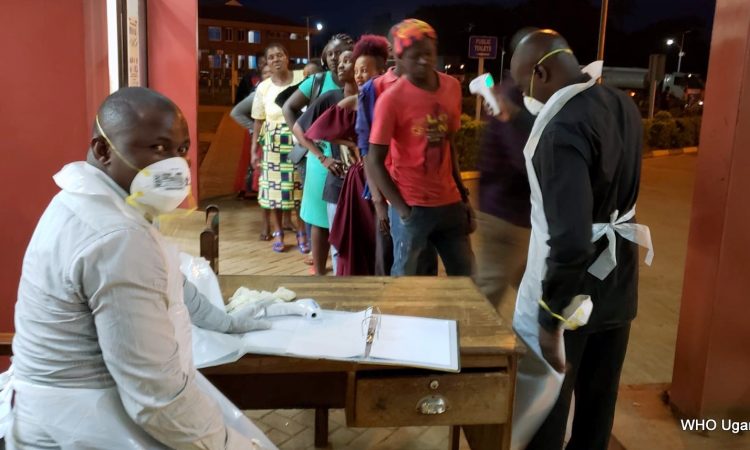 However a lot has changed in the country and covid-19 in Uganda 2021 has not been a very significant force to reckon with due to a number of safety measures that have been put in place to ensure that tourists get to participate in a number of activities like gorilla trekking in Bwindi impenetrable national park and mgahinga national park, game drives in a number of national parks in Uganda, chimpanzee trekking in Kibale national park, hiking the virunga mountains, Kampala city tour, lion tracking in queen Elizabeth national park and other rewarding activities during their Uganda safari
With covid-19 in Uganda 2021, a lot has changed where you can also get to see a number of people going for vaccination at government authorised facilities, government distribution of masks to prevent the locals from spreading and contracting the virus, there has also been the opening of a number of tourism destinations, discounts on a number of tourism activities like gorilla trekking, chimpanzee trekking, park entrance fees and birding Uganda. For tourists interested in taking part in the different activities during covid-19 in Uganda 2021 then they should follow a number of safety precautions in order to have a safe and comfortable safari.
SAFETY PRECAUTIONS TO FOLLOW DURING COVID-19 IN UGANDA 2021
Regular sanitising is advised because the virus lives on different surfaces for a given times like 12 hours and above which is a threat to people therefore you should consider  sanitising your hands using a hand sanitizer of not less than 60% alcohol to kill the virus.

Wearing of face masks are among the most stressed measures in Uganda to fight against covid-19 because it is believed that the virus can be spread through air therefore cover your mouth and nose properly to avoid droplets from a sick person and you should also avoid all facial openings.

Disinfecting of surfaces you come in contact with the virus lives on surfaces for more than 12 hours which puts people at risk to contract the virus.

Fully vaccinated tourists should carry their vaccination documents to prove that you were vaccinated this will help you avoid incurring costs like testing for the virus when you reach the country this is because it is mandatory for one to test when you enter Uganda in case you do not have a negative covid-19 test or a vaccination certificate.

Travellers under recovery should also present their recovery documents because they can test positive for 3 months after finishing medication even though they can't spread the virus therefore you should present your recovery documents in order for you to participate in the different activities in Uganda.

Travellers that are not vaccinated should present their negative covid-19 pcr test because failure to present them you will be denied access to the country and if not you will be advised to take a covid-19 test which you will have to get using your own money.

You should maintain social distance in the country while taking part in a number of activities this is because although the people are being vaccinated and a number of measures being carried out, the country is recording other new cases therefore you should be vigilant and maintain social distance to avoid getting in contact with infected people.

The government of Uganda has urged a number of travellers that visit to Self isolate  in case you have a number of symptoms of covid-19

Quarantining of travellers that are not vaccinated is carried out when tourists visit the country to take part in a number of activities in the country. This will help in the development of the symptoms in case the virus was incubating in their bodies and if they do not show any symptoms they are able to take part in the activities.

Second tests are carried out for tourists under quarantine to ensure that they are free from the virus and in case one tests positive, they are advised to go for treatment in the government authorised facilities.

Temperature guns are used at different tourism destinations and support facilities like shopping malls, cinemas and many more to check for any temperature abnormalities. 

Washing hands regularly with clean water and soap is advised and it should be noted that there are different spots in the country where you will have the chance to wash your hands with clean water and soap to kill the virus. Before accessing a number of destinations you are advised to either wash your hands or sanitise them to avoid spreading the virus.