Gorilla Trekking in Uganda during COVID-19
Gorilla Trekking in Uganda during COVID-19 is among the most memorable activities that tourists can take part it when they take part in their Uganda safari this is because Uganda is among the few African countries that were declared safe for travel during the global pandemic with a number of safety precautions that have been put in place to ensure that the tourists and primates are not exposed to the virus.  Gorilla trekking in Uganda involves tourists hiking through the natural habitats of the mountain gorillas in order to access the habituated gorilla families. When you access the families, you will spend one hour with the observing their behaviour, their feeding patterns, how they co-exist with one another, their different characteristics that you will find memorable when you get in contact with them for a memorable gorilla trekking experience in Uganda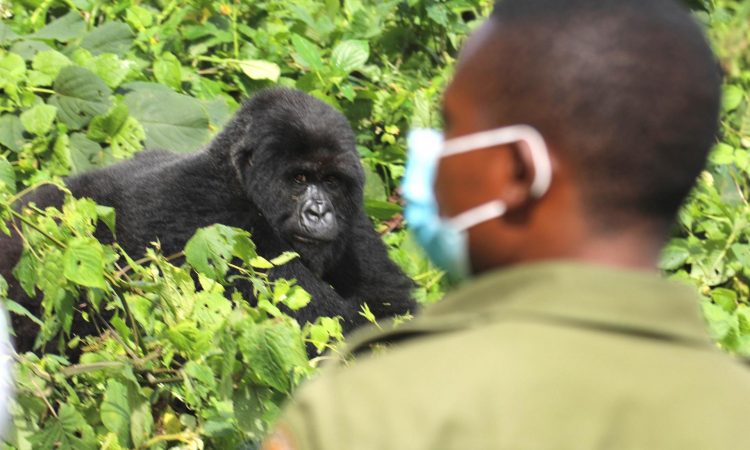 Gorilla trekking permit
Any tourist interested in taking part in gorilla trekking in Uganda during covid-19 can access a gorilla trekking permit from the Uganda wildlife authority or a trusted tour company at a fee of 700usd. Interesting about the gorilla trekking permit in Uganda during covid-19 is the fact that there is flexibility and ease in cancellation in case of any problems concerning travel due to covid.
After acquiring the gorilla trekking permit in Uganda for either mgahinga national park or Bwindi impenetrable national park,  in Bwindi impenetrable national park you will access the habituated gorilla family in Rushaga, Ruhija, Buhoma or Nkuringo sector of the park whereas in mgahinga national park,  you will get to hike three of the eight virunga mountains that is mount Muhabura, mount Gahinga and mount sabyinyo to access the habituated gorilla families for a memorable safari during your visit in either the parks.
Safety precautions
Before accessing the park premises, it is advisable that every tourist should present a negative covid-19 test which will give you the opportunity to access the park failure to present one, you will not be allowed to access the park premises this is because you are considered as a threat to the primates and the tourists.

The park personnel emphasizes tourists taking part in gorilla trekking during covid-19  to always put on their face masks always to avoid contracting the virus in case any of the tourists contracted the virus during the safari and also to avoid spreading it to the primates.

The guide during transfer to the different gorilla families in the park ensures the maintenance of social distance to minimize the spread of the virus in case of undetected cases.

During gorilla trekking, you are supposed to maintain a distance away from the gorilla families to avoid the spread of the virus to primates which can be a threat to their sustainability.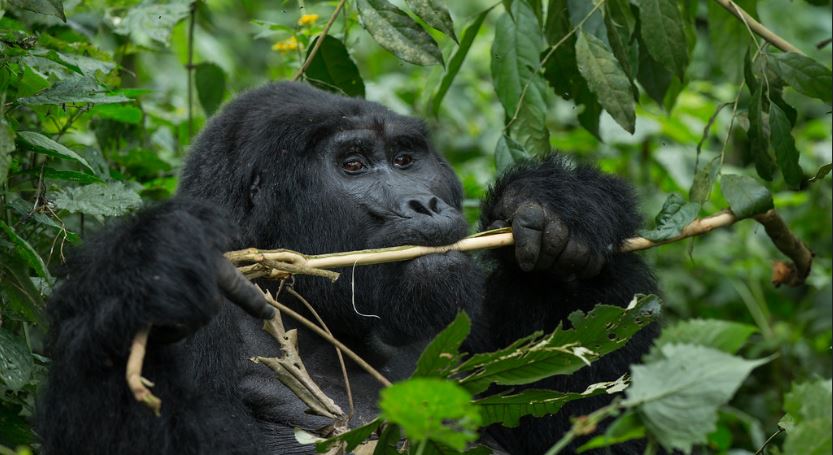 Guidelines to follow during gorilla trekking in Uganda during covid-19
Avoid littering while in the park because it can cause accidents like choking and in case the tracker had some underlying sickness that can easily be spread, it is a threat to the survival of the gorilla species

Avoid eating in the presence of the gorillas because the gorillas can attack you to get a bite of whatever you're eating and their attacks can be fatal therefore to avoid such accidents, you should avoid eating in their presence.

Unnecessary noise and movements should also be avoided because they can trigger off the tourists as a threat to them and this can lead them to fatally attack you as a way of protecting themselves from external threats.
Packing list for gorilla trekking
Hand sanitizer should be carried at any given time during your safari because you don't know what you might get in contact with and in case you catch surfaces that are not disinfected, you can disinfect your hands to avoid contacting the virus which can be spread when you touch food, touch your mouth, nose when they are contaminated.

Face masks should also be packed because they help to avoid the spread of the virus in case you come in contact with a contaminated person that has the virus. It should be noted that covid-19 is airborne and this means it can easily spread through air when drops of an infected person are transmitted through the air to a health person

A camera can also be carried because it will enable you to take a number of beautiful pictures as you observe the primates taking part in their daily activities like their grooming patterns, how they construct their nests, how they co-exist with one another among other rewarding features that are worthy of capturing.

Disinfectant should also be carried to avoid contaminating the surfaces that you get in contact with. It is advisable to regularly disinfect surfaces that you come across because the virus tends to live on surfaces for more than 12 hours.

Insect repellent should be packed because Bwindi impenetrable national park is a home to a number of disease spread insects like mosquitoes, tsetse flies, black flies and many others that can cause discomfort and irritation with their bites.