Hiking Tours and Guided Nature Walks in Bwindi Impenetrable N.P : Aside from gorilla trekking, Bwindi Impenetrable National Park provides another intriguing activity: hiking/nature walks, which allow travelers to see numerous sights in Bwindi Impenetrable National Park. The hike usually begins in the north and ends in the south of Bwindi. You can remain overnight and then proceed the next day to Lake Mutanda, where you can paddle across in a wooden dugout to Kisoro. Lake Mutanda also offers boat rides. The trekking time is between 5 and 9 hours.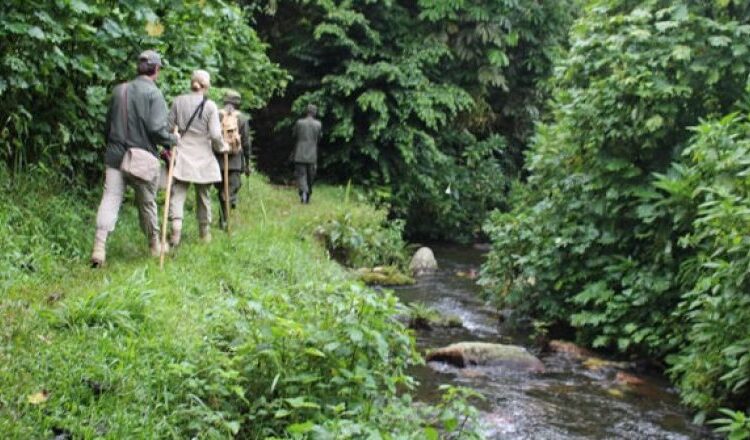 You can choose to hike the Kashasha River Trek, which takes at least 5 hours and includes higher inclines, especially if you choose the Buhoma to Nkuringo route, which is 600 meters up at the conclusion of the trail. Knowledgeable and experienced guides will answer all of your questions about the area's fauna, birds, plants, flowers, ferns, and trees.
Hiking and Nature Trails to explore in Bwindi Impenetrable National Park.
When visiting Bwindi for gorilla trekking safaris, tourists can add hiking to their itinerary. Tourists who cannot purchase gorilla permits can instead choose for nature walks/hiking in the Bwindi Impenetrable Forest. Tourists can discover and explore the Park's various bird species, plant/tree species, several primate species, butterfly species, and waterfalls via the hiking trails.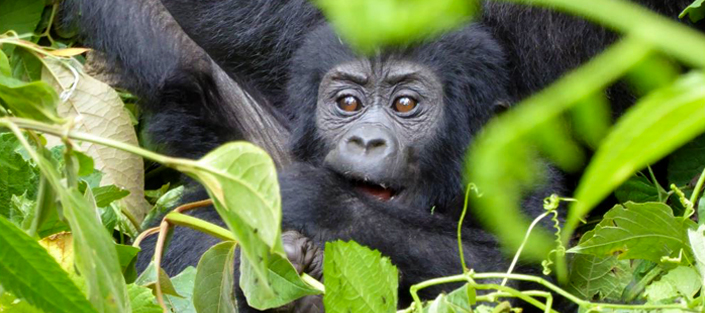 This Park's hiking paths include the following:
Mubwindi Swamp Trail
This 4-5 hour wonderful walk follows a path through the rainforests and slopes/descends through the magnificent rain forest, with stunning views of fertile valleys and the Virunga mountain along the way. Tourists on the Mubwindi Swamp route are likely to see primates, including Chimpanzees and monkeys, as well as several bird species, forest elephants, and, thankfully, mountain gorillas and bush pigs, because the bulk of those animals live in this section of the forest. Unlike other paths, travellers who wish to use this one must first obtain permission/authorization from the Uganda Wildlife Authority. Bird watchers will find this trail to be the most beneficial and ideal for their excursion.
Muzabajiro Loop Trail
This 3-4 hour trail incentivizes visitors with the most breathtaking view because it involves walking through the forest and climbing to Rukubira Hill, from which tourists can enjoy a spectacular view of the Virunga Mountains Massif, Buhoma areas of Bwindi Impenetrable Forest, and the western rift Valley below.
Kashasha River Trail
The Kashasha River trek is a 4-5 hour hike that takes you into the old forest's rainforests and ends 600 meters above sea level. This fascinating trek takes you through harder inclines and follows the Buhoma-Nkuringo circuit. This route usually starts at the Nkuringo Park headquarters and descends through community land until it reaches the Park Buffer zone. This track reaches the confluence of two rivers inside the forest before ascending for another 20 minutes to meet the other route. This route is located within the forest and is about a 90-minute walk from Buhoma. Several bird species, plants/flowers, and trees, particularly ferns, may be seen.
If you desire to see the most beautiful scenery, choose this trek. This trek from Buhoma to Nkuringo, which takes 7 hours or more, is more intriguing. The Kashasha River Trail takes only 5 hours to get from Nkuringo to the Buhoma Park headquarters. The Kashasha River Trail is one of the most intriguing routes since it provides an intimate view of the natural beauties inside this misty rain forest setting, and there are lots of birds to be found when walking this trail.
Bamboo Trail
Hiking the Bamboo Trail takes 7 hours and entails traversing a difficult region to the highest point on Rwamunyonyi hill, which is 2607 meters above sea level. As you travel along this route, you will come across various flora and plant species, such as the Bamboo forest, which has over 14 distinct plant species, until you reach the Afro-montane vegetation zone. Various bird and plant species will be encountered along this walk.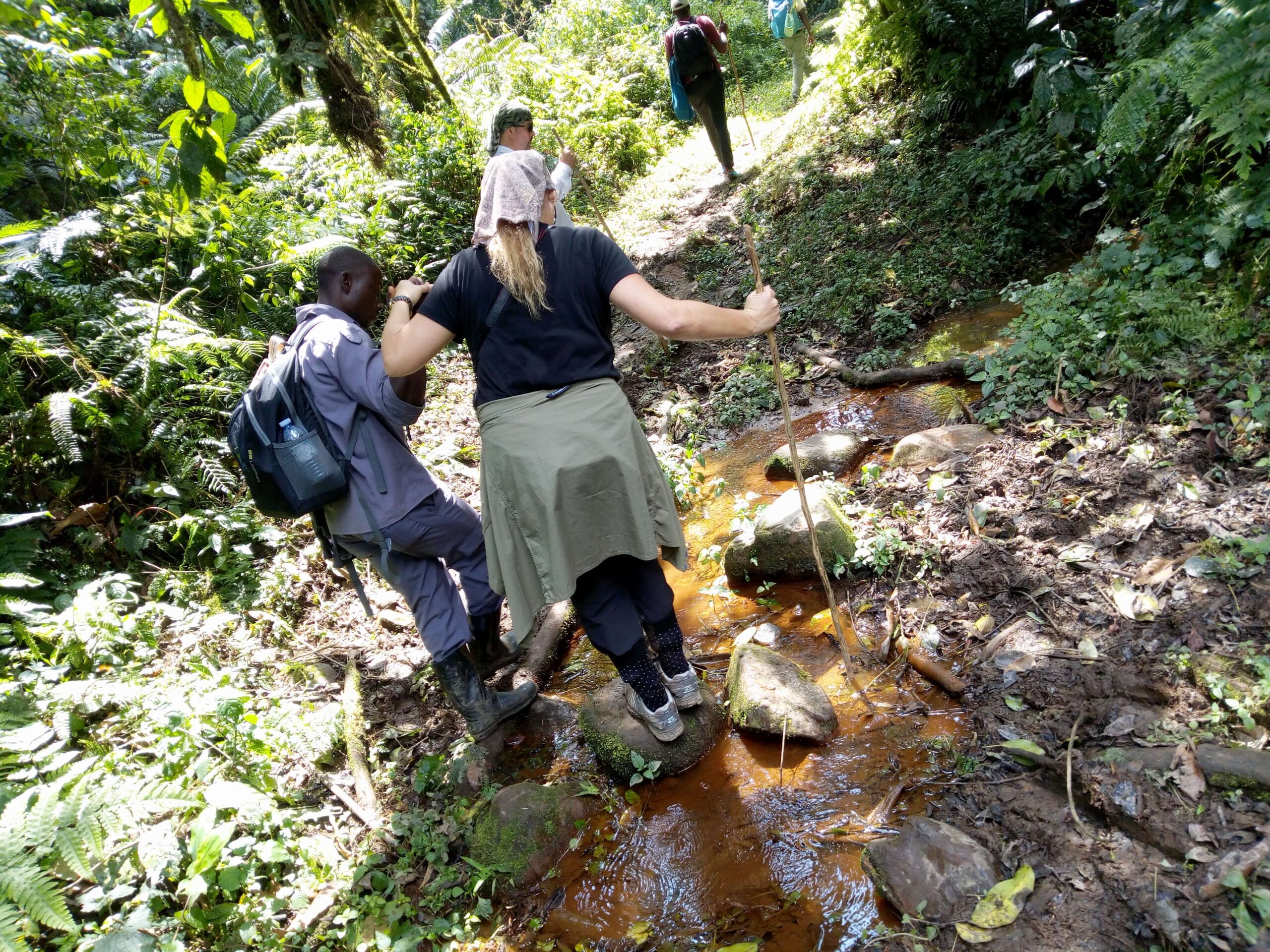 The trail's vantage point (the top of Rwamunyonyi Hill) rewards hikers with stunning views of Lake Bunyonyi as well as the Virunga Volcanoes and Bwindi Impenetrable Forest. This is a mind-boggling path that is well worth your time and effort. Because this route is done from Ruhija sector/area and is approximately one hour from Buhoma, tourists are usually suggested to stay in Ruhija sector in order to connect simply and quickly for the activity, Hiking Tours and Guided Nature Walks in Bwindi Impenetrable N.P .
Ivy River Trail
The Ivy River Trail is a 14km/full-day hike through an ancient road in the Jungles that offers the most unique experiences. Tourists can see many animal species, including bush pigs, several monkey species, bird and butterfly species, and some local community people when walking from the market. A different path for this trail might be from Buhoma to Nkuringo. The path typically takes six and a half to seven and a half hours to complete. The trek might begin in either Nkuringo or Buhoma. This walk sometimes begins at the Nkuringo Park headquarters, and then follows a murrum road downwards for about 7 kilometers before turning right to Ivy River.
Going from the Nkuringo Park headquarters to the Ivy River takes around 2-3 hours, and walking through the forest from this river to Buhoma takes about 4 hours, for a total walking duration of about 6 hours. Tourists rise and drop softly through attractive regions of the woods with several overlooks from or to Nkuringo while seeing mist-covered valleys on the Murrum route. This route is frequently utilized by local community members while traveling to or from Nkuringo, particularly during market days, to Nteko Village, which is located on the park's southern boundary. Duikers, bush pigs, notable bird species, monkeys, and vibrantly colored butterflies are among the fascinating wildlife you are likely to see.
Rushura Hill Trail
This route traverses a forest shared by two countries. Rushura Hill is the highest point in the Buhoma sector, and the route begins near the Buhoma Park headquarters and winds through terraced gardens and magnificent woodlands. The fact that travelers are rewarded with multiple spectacular overlooks makes this walk worthwhile to explore. The breathtaking views of the Western Rift Valley, Rwenzori Mountains, Lake Edward, Bwindi Impenetrable Forest, and Virunga Volcanoes await you at the summit of this peak. This climb is regarded the most picturesque since the views from the summit of the mountain (approximately 1,915 meters high) are the best.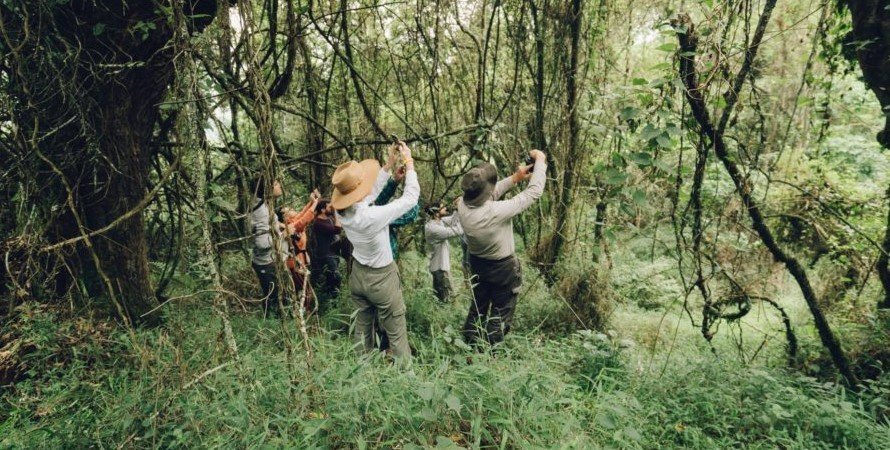 This trek begins in Buhoma along the River Ivy-Nkuringo Trail and ends with stunning views of three 33-meter-high crystal blue waterfalls. This is an excellent walk for travellers with little time. This route contains vital elements such as monkeys, tree species such as epithetic ferns, orchids, birds, and bright and lovely butterfly species.
Habinyanja Trail
This trek is always 4-6 hours long. Tourists utilize a rather steep slope of the Habigorogoro and Riyovi Ridge overlooking the Buhoma River after crossing over the Munyanga River. The "African corner," named after a rock that depicts the continent of Africa, is one of the most remarkable sights on this walk. Following the hard rise, hikers may enjoy a more calm moderate descent to the Habinyanja Swamp. Bird lovers will like this walk as well since they may see the African Back Duck, Black Bee-eaters, and Pel's Fishing Owl, among other species, Hiking Tours and Guided Nature Walks in Bwindi Impenetrable N.P.
Buhoma-Nkuringo Trail
This 3-4 hour trek winds through the park, connecting the two settlements and providing a wonderful view of the smoggy slopes as hikers descend the hills towards Nkuringo. Hikers do not need to bring their luggage because it may be found on the other side of the trail. This trail can easily be combined with the Ivy River trail.
Rusizi River Trail
This is the longest trek in Bwindi Impenetrable National Park, generally taking the entire day, and is ideal for birdwatchers.
Contact Explore Rwanda Tours if you wish to visit any of the above hiking or guided nature walk trails in Bwindi Impenetrable national park.