How different are African Savannah Elephants from African Forest Elephants: What distinguishes forest elephants from bush/savannah elephants? What is the distinction between bush or savanna elephants and forest elephants? Elephants are only found in two species: African and Asian elephants. African bush/savanna elephants and African forest elephants are the most sought-after elephant species in Africa. While the two African elephant species are quite similar, they are also very different in many ways.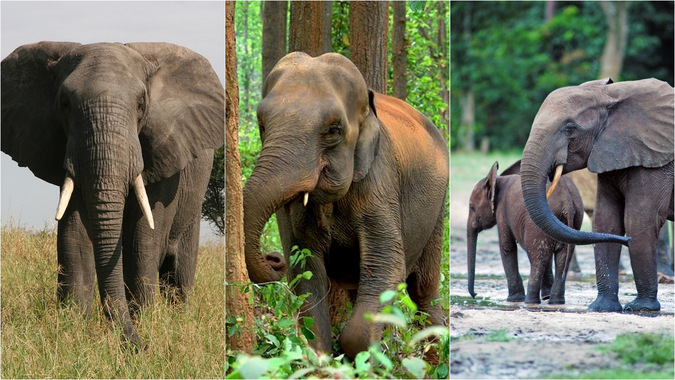 African elephants are divided into two types: savanna (or bush) elephants and forest elephants. Savanna elephants are bigger than forest elephants and have curved tusks. Forest elephants are darker and have straighter, downward-pointing tusks, in addition to being smaller.
How different are African Savannah Elephants from African Forest Elephants.
African Savannah/Bush Elephant
African bush elephants are frequently sighted when wildlife viewing in most African savanna parks. They are larger in size and stand 13 feet tall. They rely on flora that thrives in hot and dry climates. Bush elephants eat thick grass and scattered trees as well. They mostly inhabit savanna grassland settings and vary from forest elephants in that their tusks curl outwards. Unlike forest elephants, bush or savanna elephants reproduce more quickly.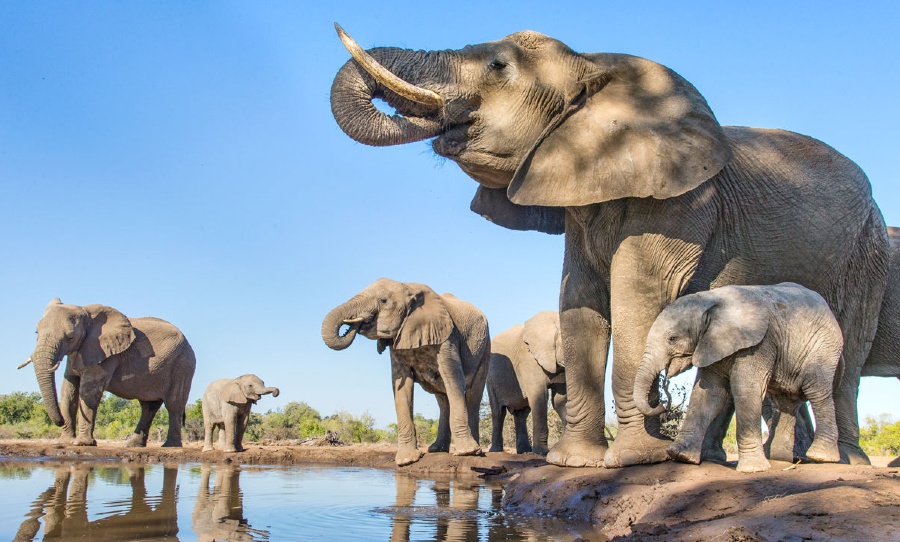 Larger herds of African savanna elephants can be seen, whereas African forest elephants reside in groups of roughly 20 individuals.
African Forest Elephant
African forest elephants are smaller than African bush elephants or savanna elephants. Forest elephants are 8-10 feet tall and reside mostly in the tropical rainforests of West and Central Africa. Amazingly, forest elephants may be seen on Uganda safaris in several parks such as Kibale National Park, Bwindi Impenetrable National Park, Budongo Forest in Murchison Falls National Park, and so on.
African forest elephants eat tree leaves and fruits since they live in the forest. Their oval-shaped ears and straight tusks distinguish them from bush elephants. In addition, they dwell in smaller herds than savanna or jungle elephants.
Are Elephants an endangered species?
The African savanna and forest elephant population has steadily declined over time owing to a variety of reasons. They are threatened/endangered for a variety of causes, including poaching, habitat loss caused by deforestation, the demand for land for farming, habitation, charcoal burning, and other activities, human-wildlife conflicts, and others. There are only around 500000 elephants surviving on the planet today, with 415,000 in Africa and roughly 40,000 in Asia.
Where can one see/find African Elephants in the wild?
African elephants may be found all throughout the African continent. These unique animal species may be seen on safari in Chobe National Park, Mashatu Game Reserve in Botswana, Murchison Falls National Park, Queen Elizabeth National Park, and Kidepo Valley National Park in Uganda. Amboseli National Park, Tsavo National Parks, and Masai Mara National Reserve are among the greatest areas in Kenya to watch elephants. You can also visit South Luangwa National Park in Zambia.
Visit Addo Elephant Park and Kruger National Park in South Africa, and Tarangire National Park, Serengeti National Park, and Ngorongoro Conservation Area in Tanzania. Savanna elephants can be seen at Rwanda's sole savanna National Park, Akagera National Park, during a game drive or wildlife safari.
Forest elephants are found mostly in Gabon, the Republic of the Congo, and sections of Central African Republic, Cameroon, Ghana, Cote d'Ivoire, Equatorial Guinea, Liberia, and other countries. Uganda, interestingly, is home to both African bush/savanna elephants and African forest elephants.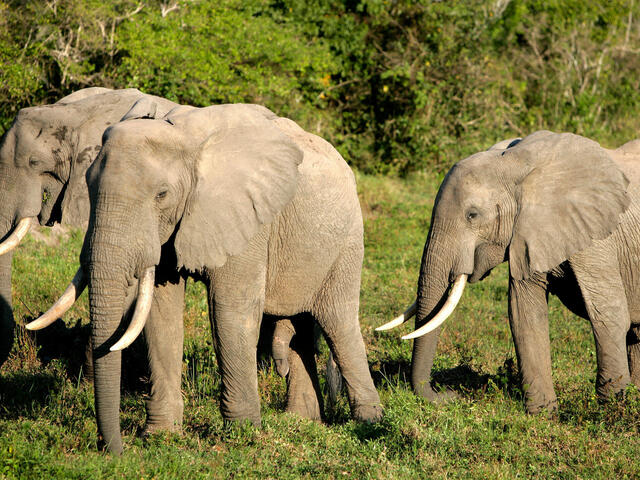 Best Time to see Elephants during your safari.
Elephants are one of the most spectacular African animal species, and they draw the majority of African safari tourists that come to view the big game. They are among the most sought-after big game on an African safari, and may usually be seen during the dry season, which runs from June to July, August to September, or December, January to February.
 What do elephants eats?
Elephants are herbivores, meaning they eat a variety of vegetation such as grasses, fruits, and roots. Each day, an adult elephant consumes around 100 kg of food and 100 litres of water. These quantities can be doubled for a hungry or thirsty person. Elephants are an important ecological element because their intake has a significant impact on, and even changes, the ecosystems in which they dwell.
Seeing elephants in the wild can really make the highlight of any visitor's safari to Africa. Contact us and book one of our exquisite wildlife safaris to Uganda, Rwanda, Kenya or Tanzania.