Nyungwe Forest National Park
Nyungwe Forest National Park is a hallmark of dream Rwanda tour destination. Nyungwe ranges 1600m-2950m above sea level and like much of Rwanda, a mountainous region. On average Nyungwe receives 1800mm-2500mm amounts of rainfall and 15°C temperature annually. This is a favorable combination of weather and climate conducive for plant growth.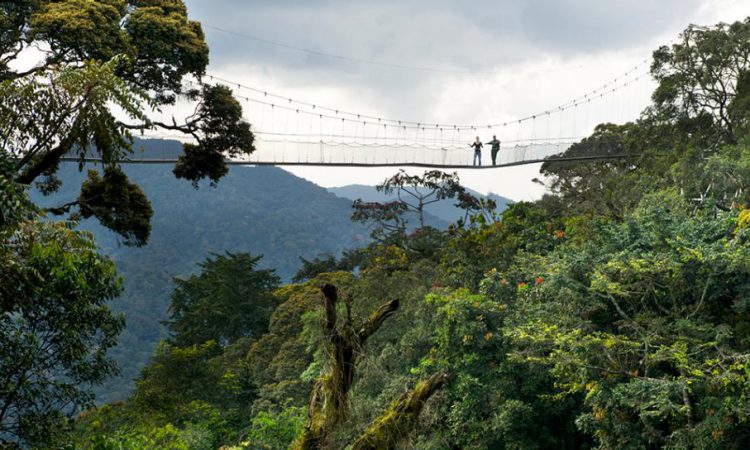 Little wonder Nyungwe's 970Km2 area coverage of montane forest is the largest of the kind on the African continent. During the rainy season, September to May, temperatures are at their lowest and sun is a rare occurrence. Increased temperatures and low rainfall characterize the dry seasons, June to August and brief period between Decembers to January.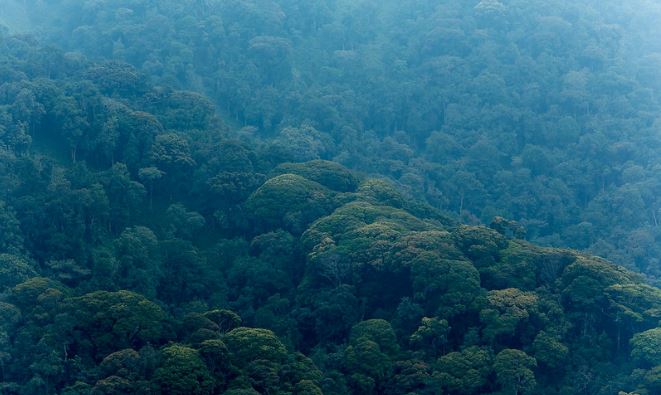 Location Of Nyungwe
Nyungwe Forest National Park is located 225Km south of Kigali City touching borders with and an extension of Kibira National Park in Burundi. Nyungwe, a habitat with no less than 260 species of trees and shrubs, 100 species of orchids and giant lobelias, had been set aside as a crown land since early 1900s. Nyungwe was later recognized as a national park in 2004 because of increased ecological value. Nyungwe is a perfect postcard of a destination for the adventure traveler on tour into Rwanda seeking cool places with quiet corners in which to explore and discover the authentic beauty of the African wilderness.
Attractions in Nyungwe Forest National Park
Mammals & Primates: Nyungwe forest National Park is home to more than 75 mammal species. 13 of them are primate species. Because Nyungwe is a rain forest and enclosed environment, most of the mammals are rarely seen save for the foot marks, waste droppings and other signs. Notable mammals residents in Nyungwe Forest National Park are leopard, African civet, duikers, tree hyrax, Genet, golden cat, serval cat, side-stripped jackal, among others. Primate species are more visible and a magnet for travelers on tour of Rwanda. Chimpanzees, Grey-cheeked mangabey, Red -tailed monkey, Silver monkey, Ruwenzori colobus, L'Hoest's monkey, Golden monkey, Owl-faced monkey, Den't Mona monkey are notable sightings on tour into Rwanda. Chimpanzees, more than any other mammal species, attract travelers on safari into Rwanda to visit Nyungwe forest. Chimpanzee tracking expeditions set out every morning to explore, traverse the thick forests and discover the families of chimpanzees feeding. There are some trips set for nyungwe primates viewing which you can take part in.

Bird Species: In excess of 275 bird species sightings are on record in Nyungwe forest making her an Important Birding Area in Rwanda. Nyungwe is Rwanda birding safaris prime destination to spot rare forest bird species. White-headed wood hoopoe, Ross's turaco, Kivu ground thrush, Ruwenzori turaco, Ruwenzori batis, Olive and Elliot's woodpecker, Kungwe apalis are amongst rare bird species anywhere else but possible sightings in Nyungwe forest.
Hiking Safaris: Nyungwe is a popular Rwanda tour destination for hiking safaris. Rangers escort travelers on Rwanda safari onto a clear network of trail system to wander into and explore the Nyungwe wilderness. Kamiranzovu trail, 13Km is absolute gem of pure marsh where wildlife species produce amazing sounds and sceneries. The Congo-Nile trail system, close to 230km long, takes a couple of days to complete, gives hikers on tour into Rwanda more time to explore and discover unique wilderness experiences. Hiking Mt Bigugu 2,925m offers hikers on tour of Rwanda exciting combination of body exercise, thrilling experiences, adventure and fun all rolled in one.
Landscape Viewing: Nyungwe's landscape is captivating and eye-catching in its unique way. Nyungwe is a popular destination for Rwanda tour photography expeditions. No particular spot offers better opportunities to capture front-page pictures than a bridge suspended 70m above ground in the forest. The bridge offers travelers opportunities of spotting and capturing beautiful photos of wildlife hidden in forest canopy from top elevation.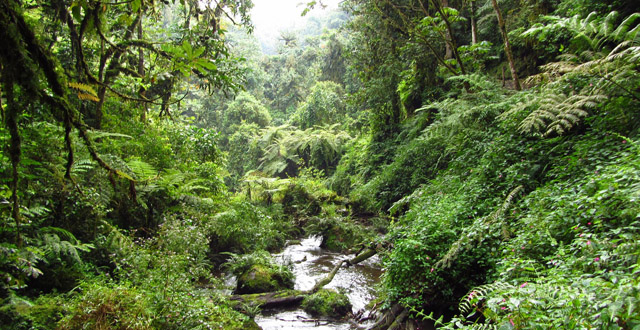 Cultural Tours: The tour to Nyungwe forest National Park offers travelers on tour into Rwanda an opportunity to interact with, explore the traditional systems and discover the lifestyle of the indigenous Rwandan people. Many travelers on tour of Rwanda break the journey at Butare 90km away towards Kigali City to visit and explore the ethnological museum where history of Rwanda is safely preserved. In the neighborhood is the ancient Rwanda traditional King's Palace at Nyanza. Many travelers on safari to Rwanda visit both places to explore and discover truer impressions of the Rwandan cultural systems. There are options of arranging specific visits to select indigenous community homesteads to interact with and share life experiences with indigenous Rwandans.  On such cultural tours, travelers experience, learn and participate in music, dance, storytelling, herbal medicine, local beer brewing, hunting skills and other traditional skills.
Other Interests: Merely traveling to Nyungwe Forest National Park, 230km south of Kigali City is an exciting adventure in its own way. Many travelers break the 6-hour drive journey at Butare for a cup of organic coffee. A well-paved road system connects from Kigali to Nyungwe forest through a scenic countryside. There are options of charter helicopter flights to Nyungwe forests for travelers on tour of Rwanda with limited time or seeking to explore and discover Rwanda in luxurious ways.
Accommodation in Nyungwe National Park
Nyungwe Forest Lodge: This is top spot for travelers on Rwanda safari into Nyungwe forests located 3km from Nyungwe Forest National Park tourism booking office. The lodge is a combination of wilderness and luxury strategically located on the edges of both Nyungwe forest and Gisakura tea estate. The lodge oozes beauty from all corners. The 22 rooms at the lodge are exclusive, luxurious, furnished with beautiful decor and all travel amenities; warm showers, flat TV screens, cable channels and others. There is cable television in the lounge, mini bar and all rooms, stable internet supported b WI-FI in all hotel premises. There is luxurious relaxation and treatment room, one of the suits has Jacuzzi, an expansive swimming pool overlooks the forest canopy, an exercise room and gym. Clients with much love for nature can dine outdoors on the deck, while room service option is readily available those in need of more privacy and convenience. The lodge has a conference and business center for corporate retreats, provides car hire and luxury private transport on request. The lawns are extremely neat and large enough to accommodate landing for chartered helicopter flights.

Gisakura Guest House: This an ideal spot for budget travelers on safari to Rwanda located in the Gisakura tea estate on the edges of Nyungwe Rainforest. The guesthouse is located on Rusizi formerly Changugu road and ideal resting place for tours into tours using public transport. Some rooms are private with running water and warm showers, though other rooms have shared washrooms. The evening fireplace is a popular spot to interact and share Rwanda safari experiences, sip on favorite drinks while watching cultural entertaining group. There is stable WI-FI in the lodge premises and guesthouse provides private transport on request. Gisakura guesthouse is 2km from Nyungwe tourism office and an ideal place to launch expeditions into Nyungwe Forest National park.

Nyungwe Nziza Eco lodge: This is a beautiful eco-friendly lodge located at Kitabi hill 6km close to Nyungwe tourism offices. The lodge has spacious well-mowed lawns for outdoor services with scenic views of the rainforest and the tea estate. There lodge is a mix of simple urban services in a wilderness setting. There is stable WI-FI, laundry service on request, private car hire, bike hire and biking safaris with simplified monitory payment using Credit cards.

Nyungwe Top view Lodge: This lodge is located on top of a hill 5 minutes drive from Nyungwe Forest National Park. It is magnificent in every perspective and offers travelers on tour into Rwanda clear views of Nyungwe forest and the tea estates. The lodge opened in 2011 with objective of giving the best of Rwanda safaris luxury and maximum satisfaction on travel in a purely African setting. All rooms are private with warm showers and a balcony that overlooks the rain forest. The lodge has a spacious dining area, lounge and outdoor bar on a deck and visitors capture every surprising sighting from the rain forest. The lawns are neat, large enough for relaxation, kids' games and outdoor services.  Travelers hang out here in the evening, surround the fireplace sipping on chilled drinks and share Rwanda safari experiences as they watch a live cultural band performance. The lodge has stable electricity and WI-FI all the time in all places. The lodge provides private transport to anywhere in Rwanda for a fee and visitors on Rwanda tour find it convenient to book all the activities in Nyungwe at the reservations desk.

One and Only Nyungwe house: This is a typical example of luxury and splendor safari camp located 3km from Nyungwe Forest National Park entrance. The safari camp boasts of luxurious private wooden chalets furnished with the decor with a simple African touch.  Everything about this lodge is unique in a way so captivating. It has the best setting every traveler on tour of Rwanda craves for. Each cottage is fitted with flat screen TV connected to cable service, free WIFI and air conditioning. The lounge, bar, restaurant and dining area are well furnished in beautiful decor spiced with an African touch. There is a health and fitness club, spa and the only of its kind swimming pool overlooking the Nyungwe rainforest. The hotel has a helipad for travelers who want to explore and discover the beauty of Rwanda tour in a more comfortable and luxurious way.  The hotel offers private car hire to travelers wishing to tour and discover Rwanda beyond Nyungwe forests.