Gorilla Trekking Discounts in Uganda During COVID-19
Gorilla Trekking Discounts in Uganda During COVID-19: Gorilla Trekking in Uganda was among the different activities that were affected by the outbreak of the covid-19 global pandemic which led to a number of border closures, shifts of interests from travel to survival because the virus was claiming a number of people's lives which led to putting a standstill to a number of tourism activities worldwide and among the destinations that were affected include mgahinga national park and Bwindi impenetrable National park where gorilla trekking can be carried out for a memorable experience during your Uganda safari. With covid-19 a number of safety measures were put in place to ensure that tourists have a safe activity while they engage with the primates and other tourists and this in a way attracted a number of tourists and has increased traveller's interests to visit the parks to take part in the activities however because the virus led the decrease in the incomes and to put this into consideration, the Uganda wildlife authority, a tourism body of Uganda led to the discount in a number of activities gorilla trekking inclusive to attract more tourists with low incomes as a result of corona virus to take part in the activity.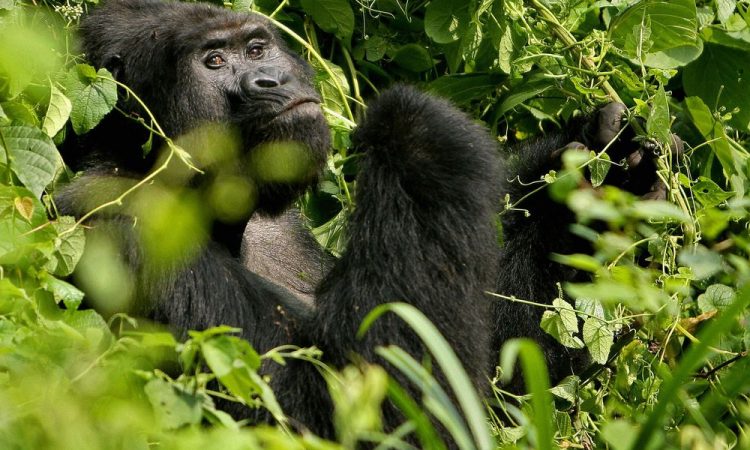 WHAT INVOLVES IN GORILLA TREKKING
For tourists interested in taking part in gorilla trekking, they should first obtain a gorilla trekking permit which will enable you to access the habituated gorilla families in either Bwindi impenetrable national park but it is important to purchase your gorilla trekking permit after you have tested negative for covid-19 however if you test positive after you have purchase your gorilla trekking permit, you can choose to reschedule your activity or ask for a refund because there is flexibility in purchasing and booking a gorilla trekking permit in Uganda.  Gorilla trekking in Bwindi impenetrable national park is carried our in the four sectors of the park Buhoma, Ruhija, Rushaga and Nkuringo  and for gorilla trekking in Mgahinga national park, you can access the habituated gorilla families when you hike the beautiful and rewarding  virunga mountains in Uganda that is mount Gahinga, mount Muhabura and mount sabyinyo.
While hiking through the forests to get to the gorilla families, you will be accompanied by a ranger whose job is to protect you from vicious animal attacks and the guide who will offer relevant information of the primates and take you through the safe trails of the parks. You will also get the chance to see a number of attractions like numerous bird species like the long-crested eagle handsome Francolin, Rwenzori Batis Dusky turtle love, paradise flycatcher, archer's ground robin, African Rwenzori, double collared sunbird, marsh harrier, Ruwenzori turaco, common moorhen Ruwenzori night jar, grey throated tit, the dusky crimson wing, red-faced woodland warbler, primate species like  vervet monkey, golden monkeys, dent's monkey, chimpanzees, mona monkey, blue faced monkey, Hamlyn's monkey, red colobus monkey, black and white colobus monkey and rewarding views. when you get to the habituated gorilla families in either the parks, you will spend one hour with the gorillas observing their feeding patterns, how they construct their nests for overnight stay, their feeding patterns and what they feed on, you will have the chance to see them feeding on their different features and behaviors in the park you can also take pictures of the primates and the end of your gorilla trekking experience during your Uganda safari.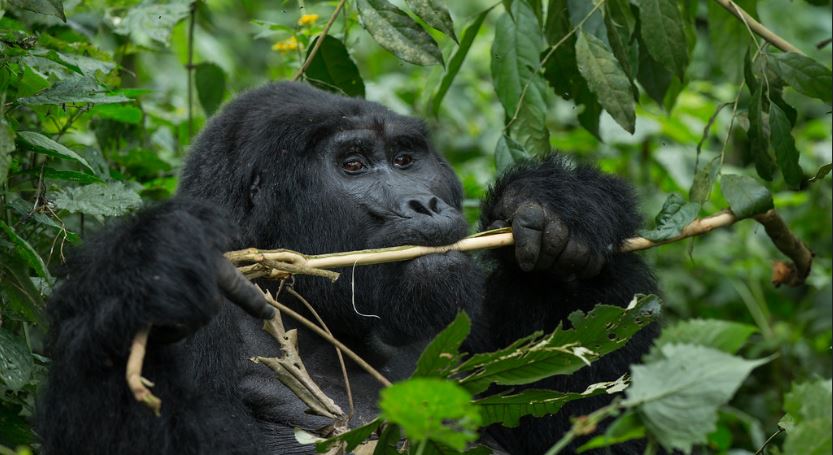 GORILLA TREKKING DISCOUNTS IN UGANDA
The Uganda wildlife authority on 15th march 2021 issued a notice to all tourism stake holders with regards to a number of tourism activities gorilla trekking inclusive on the extension of the promotion prices from march to June 2021 due to the effects of covid-19 to the economy and tourism in the country. The notice will also help improve tourist in flows during the Easter period where there was a 50% discount on park entrance fees for lake Mburo national park, queen Elizabeth national park, Semuliki national park, Toro Semuliki wildlife reserve, , katongo wildlife reserve, Pian upe wildlife reserve  and kabwoya wildlife reserve.
For gorilla trekking in Bwindi impenetrable national park and mgahinga national park, there was a discount that catered for different tourists as follows;
East African community citizens will pay Ugx 150,000

Foreign residents will pay USD 300 for gorilla permits

Foreign non residents will pay USD 400 
it should be noted that the gorilla trekking discounts during covid-19 will only apply for new purchases between 1st April- 30th June 2021 and not on reschedules of already paid gorilla permits.
Other activities aside from gorilla trekking were discounted like birding by 50%, chimpanzee trekking, chimpanzee trekking
East African community citizens will pay Ugx 100,000

Foreign residents will pay USD 100 for gorilla permits

Foreign non-residents will pay USD 150