The 6 Best Day Trips From Kigali, Rwanda : Kigali is roughly in the middle of Rwanda, one of the smallest nations on African soil. This makes the capital the perfect starting point for discovering cultural gems both inside and outside of its city limits. The top day trips from Kigali range from taking a sobering journey through recent Rwandan history by visiting the genocide memorials at Ntarama and Nyamata to exploring the breathtaking natural beauty and exotic wildlife of the nation's top national parks. You should allow money in your budget for renting a car (and possibly a driver as well), as many destinations call for an extremely early start in order to travel there and back in a single day. This is unquestionably the best and most practical method of transportation in Rwanda because the country's public transportation is so unreliable. Here are the best day trips to take from Kigali: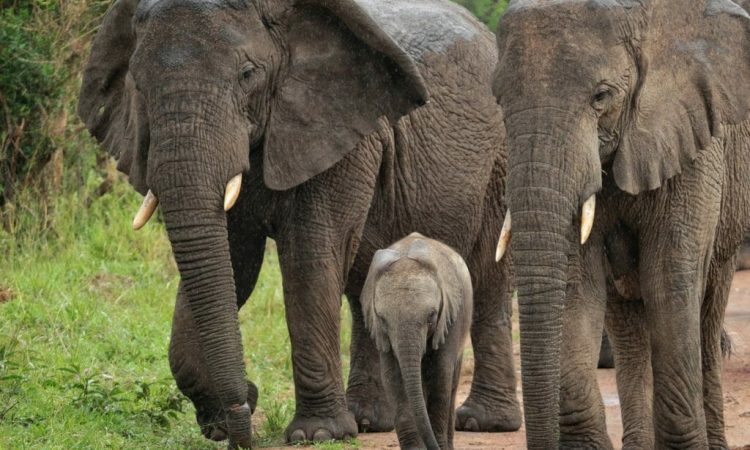 Ntarama and Nyamata Churches
Long-standing tensions between the Hutu and Tutsi ethnic groups in Rwanda were sparked in April 1994 when the Hutu president's plane was shot down above Kigali. His passing sparked the Rwandan genocide, which resulted in the killing of nearly a million Tutsis over the course of about 100 days. Rural Tutsi villagers sought refuge in their churches, but their assailants forced entry and killed them anyway. These days, two of these churches serve as national memorials to the Holocaust. More than 45,300 people are interred in mass graves outside Nyamata Church, and 5,000 people were killed at Ntarama Church.
Bones, clothing, and other personal belongings of the victims are kept on display as a sobering reminder of the atrocities, and the buildings themselves still bear the marks of bullets and machetes. Both are accessible to visitors who want to pay their respects every day.
How to Get There: The RN15 road leading south of Kigali is where you'll find both churches. Nyamata Church is approximately 45 minutes away, and it is another 15 minutes away.
Ethnographic Museum
Huye, a colonial-era town that was formerly known as Butare and is renowned for its educational institutions, numerous religious structures, and Belgian-style architecture, is where the Ethnographic Museum is situated. It is one of the eight museums of the Institute of National Museums of Rwanda and is renowned for the superior quality of its collection. It is housed in a building that Belgian King Badouin donated to commemorate 25 years of Rwandan independence. It contains numerous artifacts relating to various facets of traditional Rwandan culture, from farming and hunting to poetry, weaving, and woodwork. It has seven distinctive galleries.
On all days except April 7 (the International Day of Reflection on the Genocide), the museum is open from 8 a.m. to 6 p.m. Don't overlook the on-site craft shop, where you can buy genuine trinkets created by regional artisans. Even regular performances of traditional Intore drumming and dancing are held at the center.
How to Get There: On the RN1, leave Kigali and travel southwest. The road leads directly south to Huye, just after Nyamabuye. Continue on it for just under three hours to get to the museum.
Travel advice: The museum closes early on the last Saturday of every month at 11 a.m. for Umuganda, a day when Rwandans give up their time to perform community service.
King's Palace Museum
Nyanza served as the seat of the Rwandan monarchy in the middle of the 20th century. The king's historic palace has been meticulously restored to its former splendor, with the thatched, beehive-shaped structures that have made it famous being constructed using genuine materials and methods. Visitors are welcome to take a tour of the palace, watch Intore dancers perform while donning ornate headdresses, and interact with a few rare royal Inyambo cattle. These creatures are offspring of the king's herd and, like them, are notable for their muscular build and extraordinarily long, large horns. In the past, the cattle were taught to "dance" along to particular songs, which they would then perform at royal ceremonies while decked out in priceless jewelry. It is a highlight for visitors to the King's Palace Museum to see the Inyambo parade, which their descendants have been taught to perform in the same manner.
How to get there: Leaving Kigali, take the RN1 south, then southwest. Turn right onto the Nyanza Road to the museum once you arrive in Nyanza. The trip takes about two hours and twenty minutes.
Travel tip: The King's Palace Museum and the Ethnographic Museum are both located on the same road, making it simple (and very rewarding) to visit both in a single day.
Volcanoes National Park
Although most tourists who want to see the renowned gorillas of Volcanoes National Park opt to stay at least one night nearby, it is possible to visit the park in one day from Kigali. You'll need to wake up early because it takes about 2 /3 hours to drive from the capital to the park headquarters, and you must arrive by 7 a.m. to receive your trek briefing. Once a habituated gorilla troop has been assigned to you, you will set out with a knowledgeable guide to locate them in the foggy cloud forest. Depending on where the gorillas are that day, the hike could take anywhere from 30 minutes to several hours, but once you find them, you'll have up to an hour to spend admiring them in their natural environment. Numerous other activities are available, such as searching for critically endangered golden monkeys or paying a visit to renowned primatologist Dian Fossey's grave.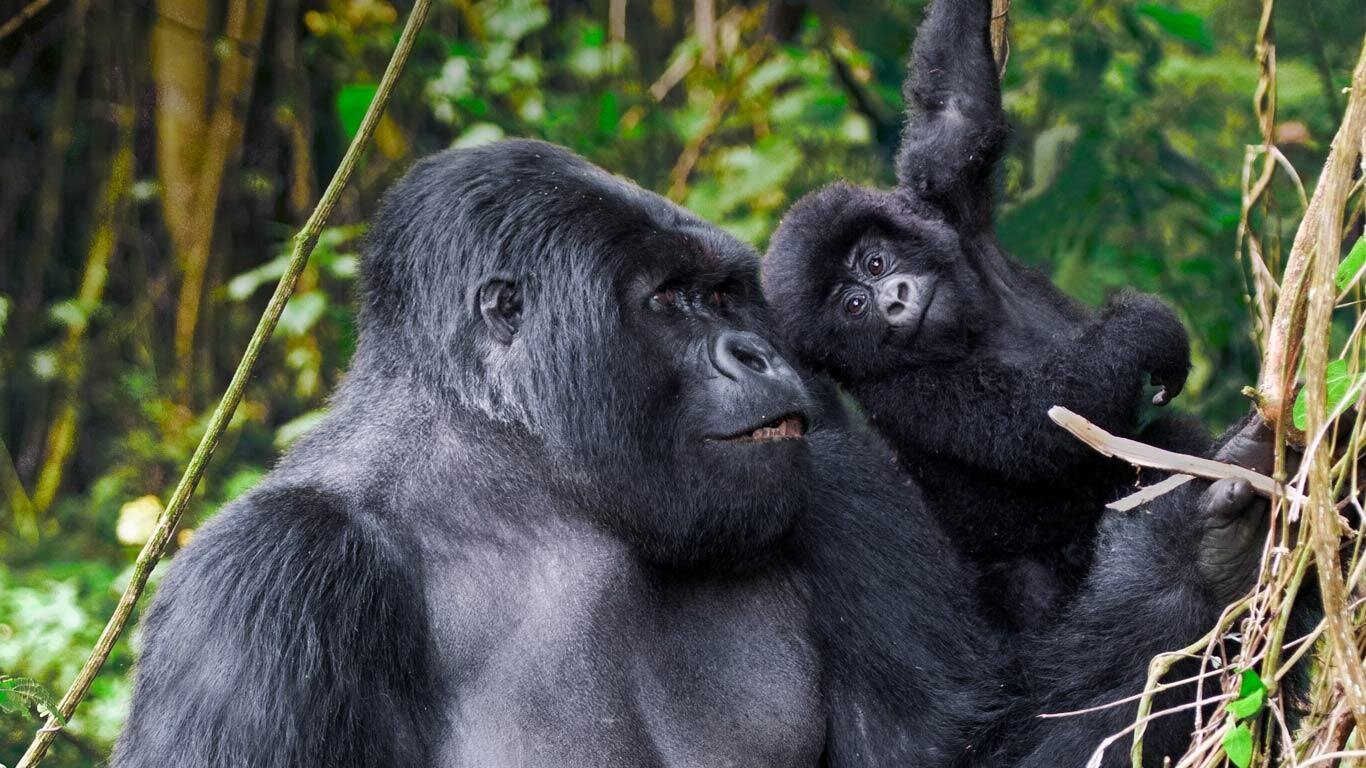 How to Get There: Take the RN4 northwest out of Kigali until you reach Musanze, and then drive another 20 minutes to the Kinigi Park headquarters.
Travel advice: Permits for gorilla trekking must be reserved months in advance. The simplest way to do this is to arrange your day trip through a certified tour operator such as Focus East Africa Tours.
Lakes Ruhondo and Burera
Another, much less well-known option for daring day trippers exists before you arrive at Volcanoes National Park. Lakes Ruhondo and Burera, also known as the Twin Lakes due to their adjacent locations at the foot of Mount Muhabura volcano, perfectly capture Rwanda's exceptional natural beauty. It is easy to understand why seasoned landscape photographers prefer this location given the area's deep sapphire waters, hilly emerald shoreline, and breathtaking backdrop of the entire Virunga Mountain range. The lakes also provide opportunities for water sports, such as tilapia fishing with locals and guided boat and canoe trips. The lakes in particular are known as one of the best places to observe birds. Bring your binoculars and keep an eye out for an impressive variety of different waterbirds, from herons and storks to kingfishers and cormorants.
How to Get There: Take the RN4 north from Kigali, and just before you get to Musanze, look for the right turn to Ruhondo Lake. It takes 2.5 hours to travel.
Travel advice: Rather than setting out on your own, look for a guided tour like this one that includes transportation to and from Kigali as well as all of the lake activities.
Akagera National Park
Akagera National Park, the only Big Five game reserve in Rwanda, is another educational day trip destination for those prepared to rise early. This means that you have a chance of seeing some of Africa's most famous animals, including the elephant, buffalo, lion, leopard, and rhino, all in one day when you go on a traditional Jeep safari. Since they were successfully reintroduced to the park from other African nature areas and even some European zoos, Akagera's rhinos are a special conservation success story. Another choice is to view the game from a boat on Lake Ihema; be on the lookout for hippos and crocodiles. Other options include safaris specifically designed for birdwatching. At Akagera, nearly 500 different species have been identified. A rare and highly sought-after species that thrives in this, Central Africa's largest protected wetland, is the shoebill stork, which is of particular interest.
How to Get There: Take the RN3 out of the city and continue until you reach Kabarondo. The park entrance is then reached by turning left onto Akagera Road. The entire trip takes about two hours and forty minutes.
Travel Tip: Try to time your visit for the extended dry season (June to September) for the best game viewing. The best time to go birding is during the brief wet season (October and November), though.