Top 3 Best Lion Sightings in Africa : Lions are frequently the highlight of an African safari. No other animal stalks the plains or roars at night with the same strength and gravity as a lion. Despite obstacles across the continent, lions may still be seen, and often fairly readily, in numerous parks and reserves in southern and East Africa. Continue reading for our list of the top 3 best lion sightings in Africa to watch lions.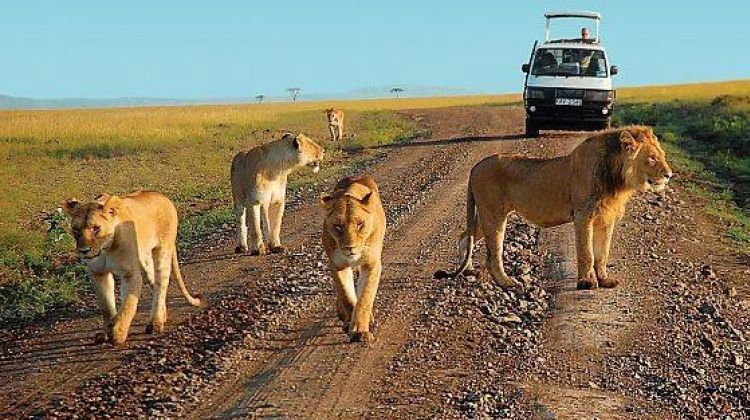 Top 3 Best Lion Sightings in Africa.
1.Lion Sightings in Kenya's Masai Mara
Lions abound in the Masai Mara national reserve. Large prides of lions roam the Masai Mara National Reserve and the more restricted Maasai-run conservancies that border the reserve to the north and east. This is typical safari landscape. The savannah grasses and light forests provide a great lion habitat while also providing excellent visibility. If you want to avoid the throng, the conservancies are ideal.
The greatest time to watch lions is during the dry season (June to October). They're a big component of the huge migration, which starts in the Mara in July or August and peaks in September and October.
2.Seeing Lions in Serengeti National Park in Tanzania.
The Serengeti national park's huge grasslands are ideal for viewing lions. Whether or not the huge wildebeest migration is going by, there are usually plenty of lions in the area. Lions are most frequently spotted in the Seronera section of the Central Serengeti, but going on a game drive anyplace in this incredible park puts you in a terrific position to observe them. It's a Serengeti sensation to see a family of cubs playing atop one of the kopjes (rocky outcrops) that are so common here.
From July until February or March, the weather is often dry, making it ideal for viewing lions. The big migration begins in the park's south in January and February and proceeds north through the park until it reaches Kenya's Masai Mara between July and September.
3.View Lions in Uganda's Queen Elizabeth National Park.
Queen Elizabeth National Park, easily one of Uganda's top national parks for spotting lions, is one of the few areas in Africa where you can reliably observe lions up in the trees. This is especially common in the park's Ishasha area. Nothing beats peering up into the limbs of an African sycamore fig tree or an umbrella acacia and seeing a whole pride of lions staring back.
The dry seasons, which go from January to February and June to July, are the finest months to explore Queen Elizabeth National Park.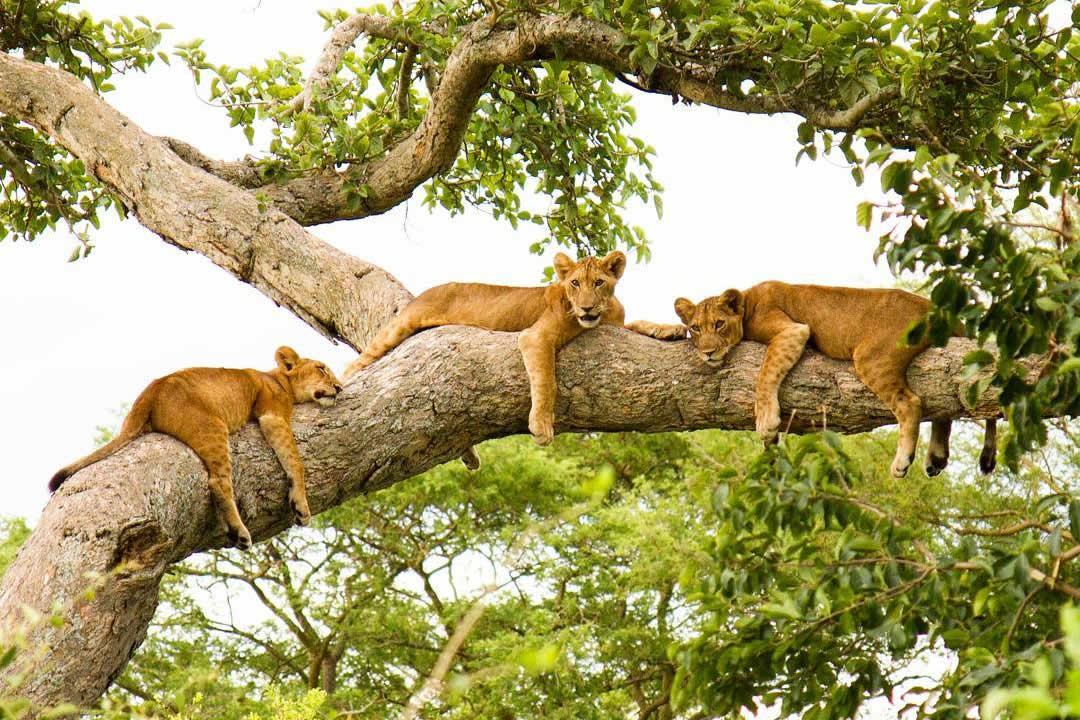 Other Places where you can see Lions in Africa.
Kruger National Park in South Africa.
When it comes to where to observe lions in Africa, Kruger National Park is unrivaled. This is a wonderful site to observe not only lions, but big cats in general, with hundreds of kilometers of easily accessible safari routes and excellent places to stay. With plenty of open area and prey species to entice the lions out into view, visibility is also superb.
When is the best season to see lions in Kruger? There is no terrible time to observe lions in Kruger, although the mildest and driest weather is normally from May to September.
Murchison Falls National Park in Northern Uganda.
Murchison Falls National Park, Uganda's largest wildlife park, contains the most lions of any park, with around 250 lions. Murchison Falls National Park is now the greatest place in Uganda to go on safari to observe lions.
Many prides with many cubs and youngsters may be spotted on game drives on a regular basis (from 215 lions in 2013 to 250 in 2020, the only lion population increase among all parks). Furthermore, because Murchison Falls National Park is vast and has few driving paths, a big portion of the park will not be explored in order to increase the possibilities of encountering lions.
However, the park has opened up a few additional drive routes, and with the increased population of lions, the park now guaranteed lion sightings.
Okavango Delta in Botswana.
There's a reason why lions appear in so many wildlife documentaries shot in the Okavango Delta. Lions prowl the Delta's islands and canals, and while sightings are never assured, the Delta has one of the greatest lion concentrations in southern Africa. This is true in both the Moremi Game Reserve and the exclusive private concessions that make up much of the Okavango.
The ideal time to observe lions in the Okavango Delta is between July and October. This occurs during the dry season, when most lodges are open and water levels are high, preventing the animals from dispersing into the surrounding region.
Akagera National Park in Rwanda.
According to data from Rwanda's Akagera National Park, the number of lions in the area has increased from zero to 58 in less than 20 years, thanks to aggressive conservation efforts. Akagera National Park, located in the country's east, has the distinction of being a "big five" park since it is home to lions, leopards, black rhinoceros, African bush elephants, and African buffalos.
Tarangire National Park in Tanzania.
Tarangire National Park is estimated to have approximately 250 lions, and with the Tarangire Lion Project's conservation efforts, the Tarangire National Park lion population is expected to rise gradually. The park is easily accessible, being only a short drive from Arusha and Kilimanjaro International Airport. As a result, it is an ideal safari location.
You may and should not only go on a wildlife drive in Tarangire, but you can also go on a walking safari in portions of the park! This is a once-in-a-lifetime event that is not available at the other Northern Circuit sites.
In summary, there are so many wonderful parks and game reserves where you can see lions in their natural habitat while on your African Safari. Lions are best sighted during a game drive and it's always best that you have a professional guide or hire an experienced park ranger so as to maximize on your game drive safari and experience during your visit to any African Safari Park.