Top 8 Uganda Luxury Lodges: Uganda, commonly referred to as the 'Pearl of Africa', is one of the continent's most underappreciated safari spots. It is most renowned for its mountain gorillas, which may be monitored in the national parks of Bwindi Impenetrable and Mgahinga Gorilla. Less well-known is the fact that Uganda's bio-diverse network of parks also provides superb chimp trekking and a good chance of seeing all five of the Big Five. Other attractions include some of Africa's most beautiful mountains and lakes, as well as a list of over 1,000 bird species.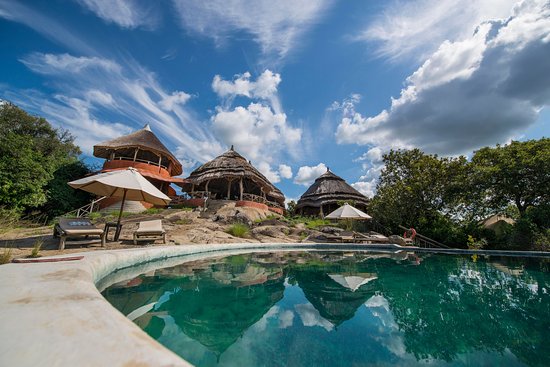 When it comes to places to stay in Uganda, the nation has a broad network of options, ranging from campsites and backpacker lodges to five-star hotels and world-class safari lodges. We present you to ten of our best luxury Uganda safari hotels and camps, listed alphabetically.
Top 8 Uganda Luxury Lodges.
Clouds Mountain Gorilla Lodge
Clouds Mountain Gorilla Lodge, which resembles an Africanized version of a luxurious Alpine ski chalet, is Uganda's highest lodge, positioned at a height of roughly 2,100m/6,889ft on a wooded ridge near Bwindi Impenetrable National Park's Nkuringo Gate. Each of the eight charming 80m2/860ft2 guest cottages has a king-size bed, a wide parlour with soft sofas and a blazing log fire, and a smart modern bathroom.
There is no better base for gorilla hunting in Bwindi's distant southwest than Clouds, and the vistas towards the volcanic Virungas, with active Nyiragongo flaming orange after dark, are simply breathtaking. A personal butler, a soothing foot massage after your gorilla hike, and great meals matched by a range of international wines are among the luxurious touches.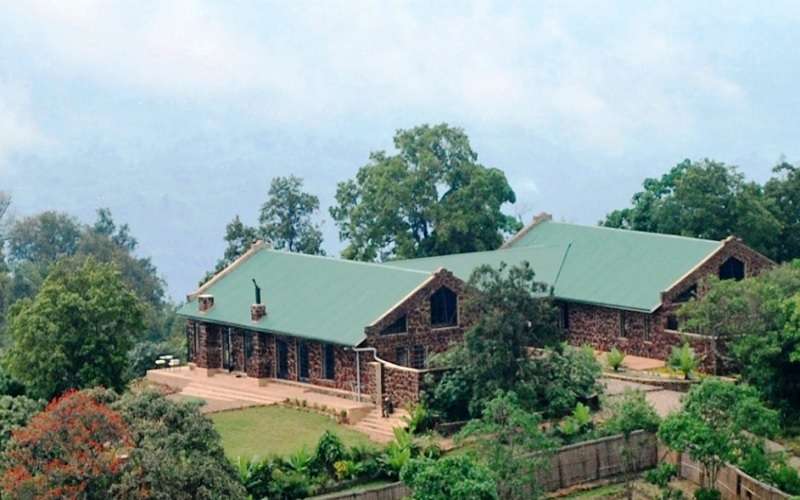 Apoka Safari Lodge
Apoka is without a doubt the best safari resort in northeast Uganda, perched on a rocky slope overlooking a waterhole in Kidepo Valley National Park. There's a magnificent natural rock swimming pool and a shaded thatched eating area with a view of the plains, as well as super-spacious cabins with canvas walls and individual patios. Best of all, Apoka is an ideal base for exploring a distant and little-known park where lions, elephants, and buffalo are all common sightings.
Kyaninga Lodge
The most spectacular architecture of any Uganda safari lodge may be found at this premium owner-managed resort on the outskirts of Fort Portal. It comprises of eight roomy houses scattered widely along a stilted wooden walkway on the wooded rim of Kyaninga Crater Lake, built nearly completely of wood and thatch. The view across the lake to the Rwenzori Mountains is spectacular, there's some wonderful walking and canoeing on the property, and it's one of the greatest locations to stay in Uganda before trekking chimpanzees in adjacent Kibale National Park.
Paraa Safari Lodge
Paraa, one of Uganda's oldest and largest safari lodges, was built in 1959 on a slope overlooking the north bank of the Nile as it passes past Murchison Falls, the country's largest national park. The 54-room lodge has undergone several renovations since then, but it still boasts a fantastic setting, which is best experienced from the huge and welcoming swimming pool. It provides pleasant, well-equipped rooms as well as a colonial-style restaurant. Paraa is strategically located for boat tours to the foot of Murchison Falls and wildlife drives along the fertile Delta Circuit.
Mihingo Lodge
Mihingo is an exclusive family-owned resort located in a remote wilderness region near Lake Mburo National Park that stands out for having that elusive 'wow' element. A dozen luxurious tented cabins are spread across a wooded slope, the rocky peak of which gives spectacular views in all directions, Top 8 Uganda Luxury Lodges
There's also a lovely open-sided eating space and a swimming pool nestled among the stones. This is without a doubt the most opulent Uganda safari resort serving Lake Mburo National Park. It has the extra benefit of providing horseback and walking safaris, as well as night drives with a good possibility of seeing leopards.
Sanctuary Gorilla Forest Camp
Sanctuary Gorilla Forest Camp is without a doubt one of the greatest locations to stay in Uganda, combining the atmosphere of an upmarket safari camp with a stunning rainforest environment in Bwindi Impenetrable National Park. Accommodation is provided in eight big and sophisticated standing tents placed deep in the forest, each with two queen-size mattresses and an own balcony. There is no more magnificent location from which to explore Uganda's mountain gorillas, especially because it is directly across the street from the major tracking assembly point at Buhoma, Bwindi's park headquarters.

When you come back to camp, the wildlife viewing doesn't stop: forest birds like the brilliant Great Blue Turaco, monkeys pass through on a daily basis, and gorillas have been known to meander over the lawn!
Mweya Safari Lodge
Mweya Safari Lodge, one of the most well-known locations to stay in Uganda, commands a spectacular cliff top position on the Mweya Peninsula in Queen Elizabeth National Park. It provides some of the most consistent in-house wildlife watching of any Uganda safari resort, overlooking a part of the Kazinga Channel frequented by thirsty buffalo and elephant herds.
The gardens are also home to a plethora of birds, and on a clear day, you can see the snow-capped peaks of the Rwenzori. It is not as intimate or private as smaller Uganda safari camps, but the great location and attentive management ensure that it remains a popular choice for premium safaris.