Tourism in Rwanda: Rwandan tourism is substantially developed, with numerous luxury resorts in game areas. The government has gone to considerable efforts to promote its tourism assets. Most people on a safari in Rwanda, however, are drawn by the potential of seeing mountain gorillas in the Volcanoes national park. The park became famous as a result of research activities that culminated in the film "Gorillas in the Mist."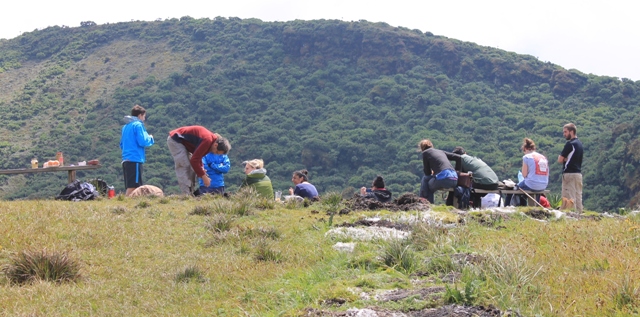 The park itself is a lush green area teeming with birds, butterflies, primates, and other creatures. Gorilla trekking is also possible in Uganda and the Democratic Republic of the Congo, but the quality of service and the park's closeness to the city Kigali entice travelers to choose a Rwanda safari, Tourism in Rwanda.
Tourism Attractions in Rwanda.
Nyungwe Forest National Park in Rusizi
One of the most appealing sites on a Rwanda wildlife trip is Nyungwe Forest National Park. Nyungwe forest is a huge tropical forest with over 1000 plant species that reflects Rwanda's diverse biodiversity. The woodland is the finest area to monitor chimps after tracking mountain gorillas on a Rwanda tour.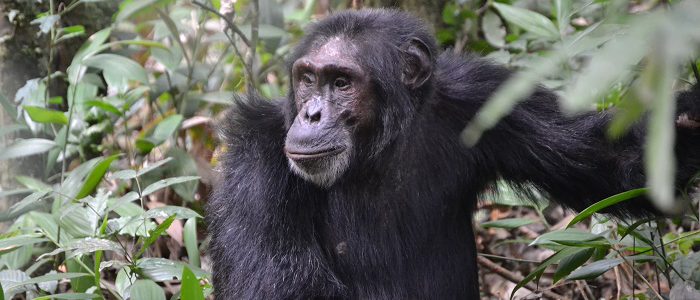 The woodland is home to approximately 240 bird species, making it a birder's delight. Visitors may expect to see baboons, golden monkeys, colobus monkeys, blue monkeys, and other primates in addition to chimp trekking and birdwatching. A Nyungwe forest canopy hike is a must-do for bird watchers and anyone visiting Rwanda to monitor chimps.
Volcanoes National Park.
The park, which is located inside the Virunga mountain ranges, is home to around 400 mountain gorillas and ten habituated gorilla families. The park is distinguished by dense woodland and rocky terrain, which may make gorilla tracking difficult but Rwanda excursions exciting, Tourism in Rwanda.
Since Dian Fossey set up camp at Volcanoes National Park, the country has emerged as a global leader in mountain gorilla protection and study – visitors may arrange to see Dian Fossey's former research station and tomb. While mountain gorilla tracking is the major activity at the volcanoes national park, tourists may also see forest elephants, forest pigs, golden monkeys, buffalo, birds, and various types of butterfly while on a Rwanda Safari tour.
The park has numerous hiking-friendly volcanoes and mountains, including Bisoke, Sabyinyo, and Karisimbi. Combining a Rwanda Gorilla Safari with a mountain hike is exhausting but worthwhile for the daring.
Akagera National Park
The national park is the ideal area in Rwanda to go on a safari. The park is located in the country's east and has about 1000 square kilometers of savanna comparable to that found in Kenya, Tanzania, and Uganda. The park is near to Kigali and is home to a diverse range of African species that congregate at its several watering holes, including the Akagera River and Lake Shakani.
A game drive is the most popular activity in Akagera National Park, where you may see hyenas, jackals, antelopes, giraffes, baboons, zebras, buffalos, leopards, and elephants, among other animals. Lions and black rhinos are being brought into the park to provide tourists with a complete picture of Africa's big five. Bird watchers may expect to see around 500 species on a three-day wildlife tour in Akagera, including shoebill storks.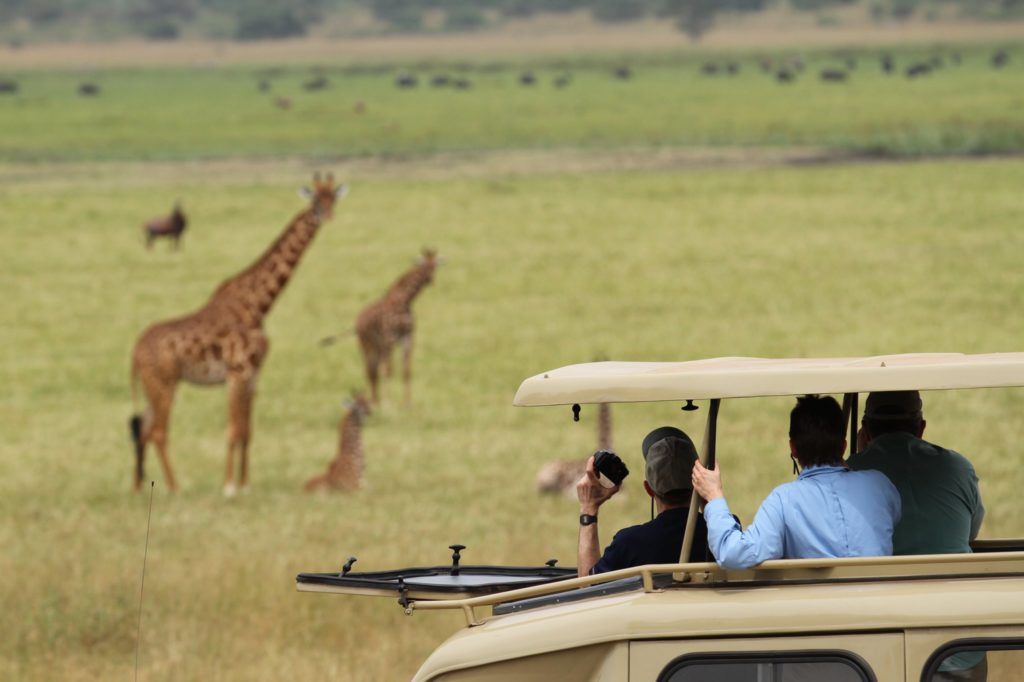 Gishwati- Mukura National Park
The Gishwati forest was recently combined with the neighbouring Mukura forest to establish the Gishwati-Mukura National Park. Rwanda presently has four national parks.
The Gishwati Forest, which spans over 250,000 acres, is one of Rwanda's most popular tourist destinations. The forest offers a beautiful perspective of Lake Kivu, and birders will be wowed by the approximately 400 resident species. Massive destruction has occurred in the forest as a result of ranchers, pastoralists, and refugees who sought refuge after the 1994 massacre. Plans are being developed to restore the entire stretch of land to its former state of forest.
Rwanda Genocide Memorial Centres
While on safari, visiting one of the genocide memorial places is strongly suggested in order to appreciate the present progress achieved by the people of Rwanda. Hundreds of thousands of Tutsis and moderate Hutus were slaughtered during the three-month genocide in 1994, and sites like those located in Kigali serve as a continual reminder of that horrific past. The mass graves, pictures, video footage, and other exhibits provide visitors a look into the country's horrific past. Visiting the genocide memorial site allows you to pay tribute to the victims, mourn loved ones, and confront the truth of what happened in Rwanda, Tourism in Rwanda.
Another site worth seeing is the Nyamata church, which is home to about 50,000 genocide victims. The church is still standing, and human clothing, bones, and blood stains may be seen on the church pews. The Gisozi genocide war memorial monument is erected over the remains of nearly 250000 genocide victims.
Congo Nile Trail
The Rwanda Development Board has worked hard to establish Rwanda as a significant African tourism destination. With the inauguration of the Congo Nile Trail, the Rwandan government has expanded tourist options. Hiking the Congo Nile Trail is currently one of the most exciting things to do on a Rwanda safari. The well-known path passes across Lake Kivu and allows hikers to marvel at the country's gorgeous scenery, lush flora, hills, and clear lake waters while seeing adjacent mountains.
Lake Kivu
Lake Kivu, located on the border between Rwanda and the Democratic Republic of the Congo, is one of Rwanda's natural wonders, encompassing an area of approximately 2,600 km2. The lake is Africa's highest, flowing at roughly 1450m above earth. It is one of only three lakes in the world that sometimes suffer carbon dioxide eruptions from its depths, phenomena known as "exploding lake." There have been no recent volcanic eruptions, and tourists may expect to witness beautiful beaches, lush greenery, islands, fishing settlements, and ports like Rubavu. A Rwanda safari tour of Lake Kivu includes options for hiking, bird viewing, nature hikes, monkey tracking, and boat rides.
Hiking Karisimbi Mountain
Mount Karisimbi is one of Africa's tallest peaks and is part of the Virunga mountain range. Hiking Mount Karisimbi is one of the most popular activities to do in Musanze. Visitors who can endure the 6 hour ascent to the summit will be rewarded with a magnificent view of the volcanoes national park and opportunities to spot birds of different species. Hiking Mount Karisimbi can be combined with following mountain gorillas in Volcanoes National Park. Combining a Mount Karisimbi walk and gorilla trekking on a Rwanda safari is a strenuous endeavour that needs significant fitness levels if completed in a few days.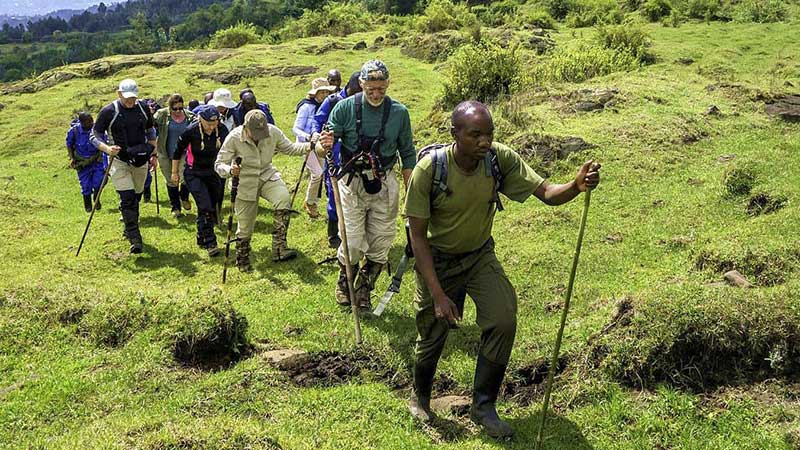 Hiking Bisoke Mountain
Mount Bisoke is an active volcano on the border between Rwanda and the Democratic Republic of the Congo. Trekking up Mount Bisoke may be ideal for people want to experience the gorgeous scenery while on a Rwanda Safari Tour. Mount Bisoke trekking takes around 6 hours, with difficult bits here and there, and is rewarded with spectacular views of the Volcanoes National Park. Visitors may also marvel at the Crater Lake and the lush green beauty that surrounds the mountain when trekking Bisoke.