2022 Tours to Lake Kivu in Rwanda: Lake Kivu is located on the boundary between Rwanda and the DR Congo. It is Rwanda's largest fresh water lake and the African continent's sixth largest fresh water lake. Lake Kivu is located in the Albertine Rift, which is connected to the western arm of the East African Rift Valley. The lake's waters drain into the Rusizi River, which flows south into Tanzania's Lake Tanganyika. Lake Kivu is roughly 90 kilometres long and 50 kilometres broad. It has an uneven surface form, making estimating its true surface area challenging.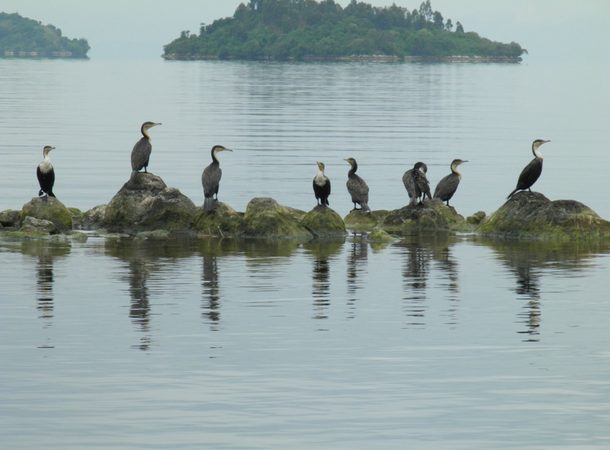 Lake Kivu is Africa's eighth biggest lake, with a total surface area of around 2,700 square kilometres. The lake is 1,460 metres above sea level and 475 metres deep, ranking it as the world's fourteenth deepest lake.
Lake Kivu is thought to have formed as a result of volcanic activity; hence a limnic eruption is expected to occur in the lake every 1000 years. Limnic eruptions on lakes are caused by excess methane and carbon dioxide gases in the lake, which can kill plant, marine, and human life inside and surrounding the afflicted lakes.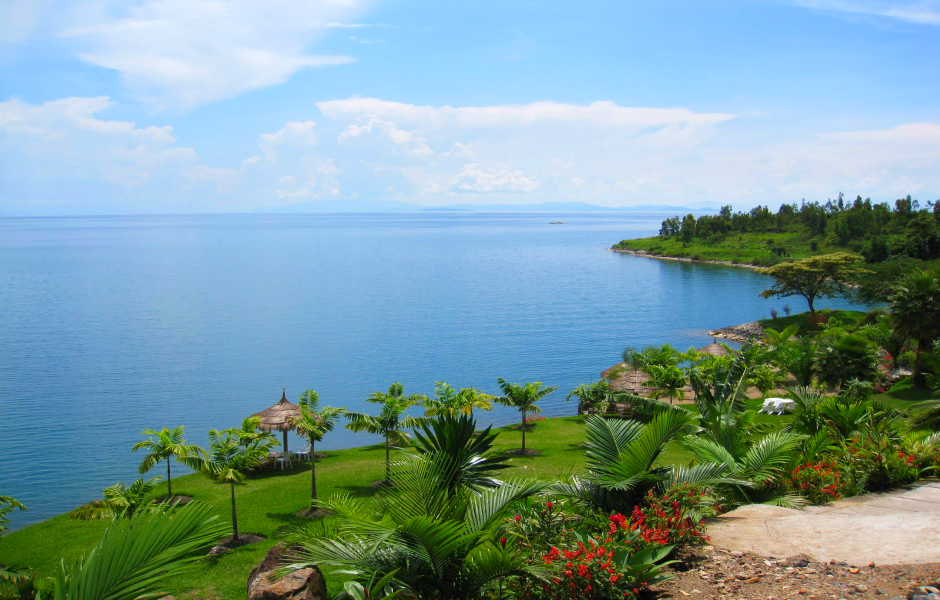 Lake Kivu is home to the world's tenth biggest island, known as 'Idjwi.' This island is located inside the limits of the Democratic Republic of the Congo's Virunga National Park.
Lake Kivu has a few communities along its shores, including Gisenyi, Kibuye, and Cyangugu in Rwanda, as well as Bukavu, Kalehe, Sake, and Goma in the Democratic Republic of the Congo, 2022 Tours to Lake Kivu in Rwanda.
Attractions and Activities in Lake Kivu, Rwanda.
Ripon Barb, East African red- finned barb, Red- spot barb, and Pellegrino's barb are all found in Lake Kivu.
Amphilius Catfish and Clarias Catfish are both found in Lake Kivu. The lake also contains tilapia fish species such as the Nile tilapia, Red breast tilapia, Long fin tilapia, Blue-spotted tilapia, and the Lake Tanganyika sardine, which was formerly exclusively found in Lake Tanganyika and has just recently been introduced into Lake Kivu.
In the early 1990s, Lake Kivu had 6,563 fisheries, 3,027 of which were affiliated with the pelagic fishing and 3,536 with the traditional fishery. However, the number of these fisheries has significantly decreased owing to a variety of factors, one of which being the low amount of fish in the lake.
In addition, the widespread warfare in the region in the mid-1990s [including the Rwanda Genocide] reduced the number of fisheries on Lake Kivu.
Lake Kivu also features four kinds of fresh water crabs, making it one of the Rift Valley Lakes with fresh water crabs, along with Lake Tanganyika in Tanzania and Lake Victoria in Uganda and Kenya.
Lake Kivu is a natural wonder that travellers may enjoy when on safari between Nyungwe Forest and Volcanoes National Parks. Enjoy the wonderful scenery of the undulating hills and tropical mountains that beautify the lake from Gisenyi all the way to Cyangugu town, with Kibuye town at its centre.
As previously stated, Lake Kivu contains three major towns: Gisenyi, Kibuye, and Cyangugu. These places are around three to four hours apart by car.
Visit Gisenyi Town during your 2022 tour to Lake Kivu in Rwanda.
Gisenyi is a town on Lake Kivu's northern shore. It is currently known as Rubavu town. The town is spread out over several hills, making it a beautiful sight for tourists visiting the area, 2022 Tours to Lake Kivu in Rwanda.
Gisenyi town is endowed with lovely lake shoreline that has a good beach where both visitors and residents may participate in water sports such as swimming and wind surfing.
Tourists should visit the Imbabazi Orphanage when visiting Lake Kivu from Gisenyi town. Rosamund Hasley Carr, an American humanitarian who returned to Rwanda after the genocide conflict, built the orphanage.
She offered her home as a refuge for civil war survivors, the bulk of whom were women and children. She sheltered, fed, and clothed people who sought safety in her modest hut home.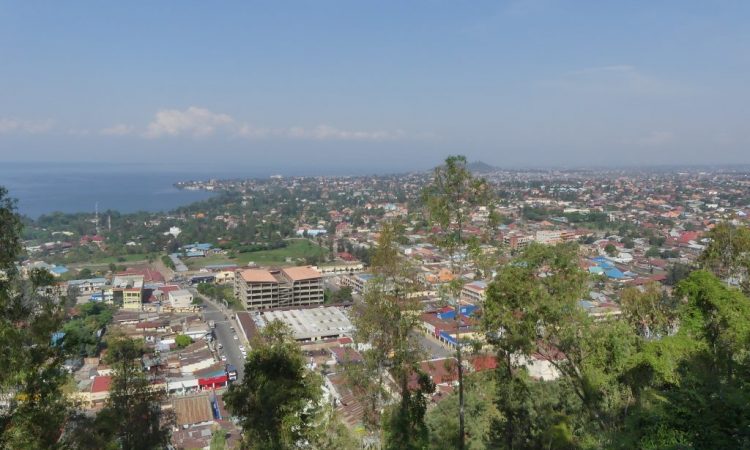 Since then, the orphanage has undergone extensive restoration and development work, and it has become a home for nearly 400 orphans.
Gisenyi town also boasts charming, friendly, and stylish pubs that are great places for travellers to connect with the locals and have a sundowner beverage. Tourists may enjoy activities such as beach walks, swimming, boat excursions, and bird watching while at Gisenyi.
Accommodation in town is plentiful, depending on one's likes and preferences. Lake Kivu Serena Hotel, Kunda Gisenyi Guesthouse, Ubumwe Hotel, Stipp Hotel, and Motel la Corniche are some places to stay.
Visit Kibuye during your 2022 tour to Lake Kivu in Rwanda.
Kibuye Town, presently called as Karongi Town, is located about 100 kilometres south of Gisenyi Town. It's a tropical getaway surrounded by hills and densely forested with eucalyptus and pine trees.
Tourists can indulge in birding activities while in Kibuye town since the town is a home for several bird species such as yellow-billed kites, which are famed for their yearly migration in August.
If you need to stay somewhere while on your vacation to Kibuye, some options are Bethanie Guesthouse, Moriah Hill Resort, Rwiza Village Guesthouse, Rebero Kivu Resort, and Macheo Eco Lodge Camping.
Visit Cyangugu town during your 2022 tour to Lake Kivu in Rwanda.
Cyangugu, now known as Rusizi town, is located in the southern section of Lake Kivu. It is the nearest town to Nyungwe Forest National Park, which is around an hour away.
Tourists may visit the Congolese city of Bukavu from Cyangugu Town, which is on the border with the Democratic Republic of the Congo. You will also get the opportunity to explore Lake Kivu and have a boat trip on the lake, 2022 Tours to Lake Kivu in Rwanda.
While at Cyangugu, visit Nyungwe Forest National Park and enjoy the park's many activities, including nature hikes, birding, and the best, the forest canopy walk. There are several options for lodging, including the Motel Gloria, Munini Hill Hotel, and Rubavu Motel.
Boat Excursions/ Tours on Lake Kivu
Lake Kivu offers wonderful scenery to its visitors, and boat tours may be organized for people who want to explore the lake and its surrounds. Enjoy the lakeside coastlines of Lake Kivu as well as its undulating hills and beautiful, green mountains while on your boat tour. Boat cruises through the towns of Gisenyi, Kibuye, and Cyangugu can be arranged for tourists who want to explore all three towns.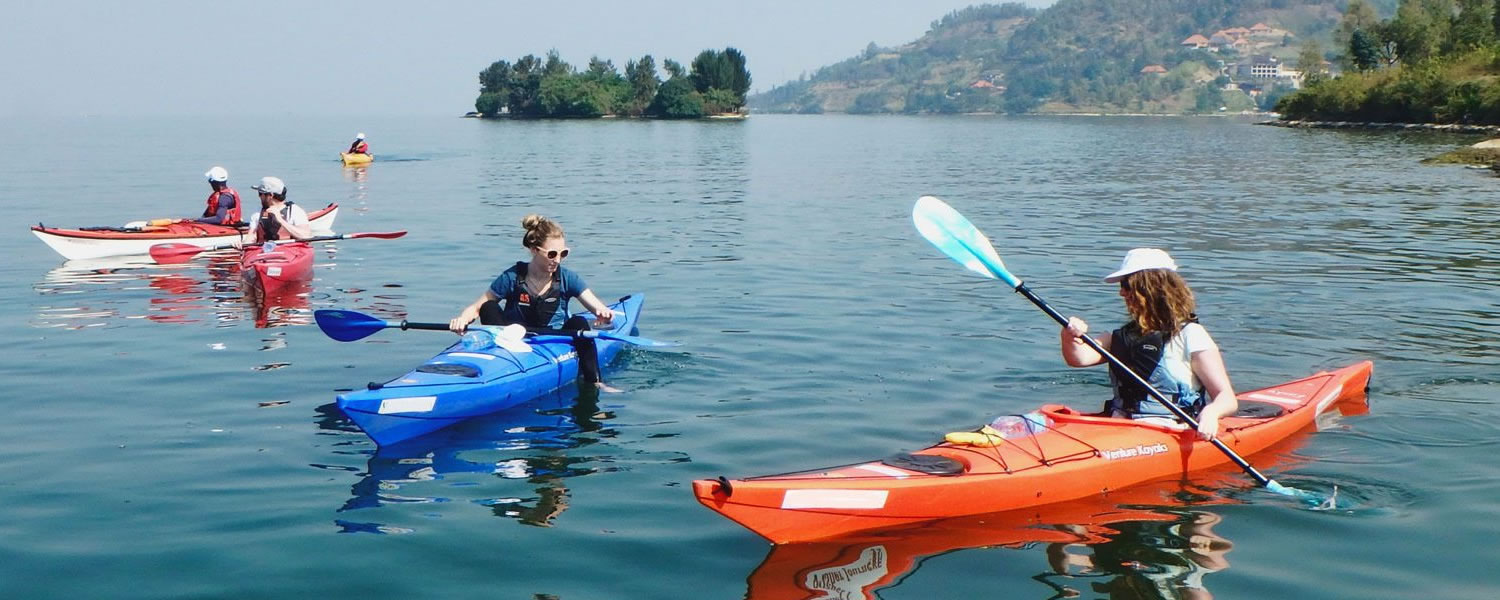 Bird Watching tours at Lake Kivu- Rwanda.
Lake Kivu is home to approximately 780 bird species, including egrets, yellow-throated Greenbuls, Speckled Pigeons, Chin- spot Batis, Cardinal Woodpecker, Bronzed Sunbird, African Pied Wagtail, Common Waxbill, and Tropical Boubou.
Explore Coffee Plantations at Lake Kivu
Tourists may visit coffee farms on Lake Kivu's famed coffee producing island of Nyamirundi. While there, visitors may learn about the coffee-making process and purchase processed coffee to benefit the local community.
Explore Islands on Lake Kivu.
Lake Kivu contains a number of islands, including Napoleon Island, which is famous for its fruit bats, Amahoro Island, Akeza Island, and Nyamirundi Island.