Chimpanzee trekking in Uganda during COVID-19
Chimpanzee trekking in Uganda during COVID-19: Chimpanzee trekking in Uganda will give you the most rewarding adventure when you visit Kibale national park the primate hub of Uganda and also Queen Elizabeth national park where you can also take part in chimpanzee trekking in the kyambura gorge. Chimpanzee trekking in Uganda during covid-19 has not changed much because the activity has always been safe for tourists and the primates aswell but with the confirmation of Uganda's first covid-19 case in march 2020, a number of safety measures were put in place to ensure that you have a memorable Uganda safari when you take part in chimpanzee trekking in Kibale national park or queen Elizabeth national park which made the country one of the few countries in Africa that have been declared safe for travel during the covid-19 pandemic.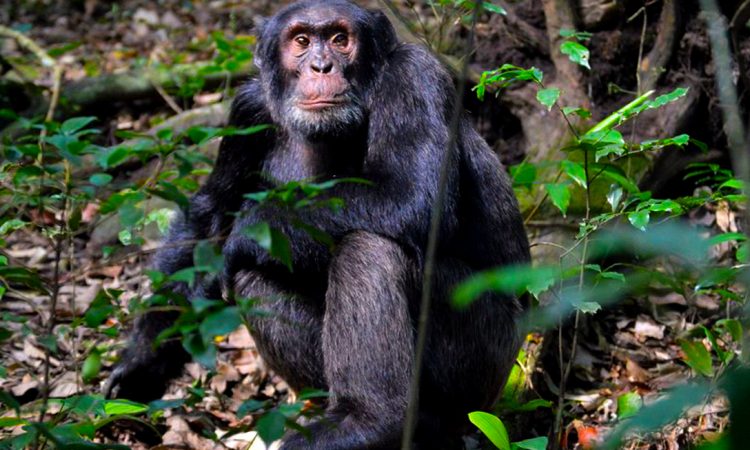 Chimpanzee trekking is quite different from gorilla trekking in Uganda where you hike to the habituated gorilla families and observe the behaviour of the species. Chimpanzee trekking on the other hand involves hiking to the chimpanzee troops of the park to observe their rewarding features like their feeding patterns, their grooming patterns, how they co-exist with one another among other rewarding features but interesting about the activity is the fact that it is highly active because you will have to follow the primates wherever they go since they are also active species that can be seen swinging from one tree branch to another and during the activity you will have the chance to see a number of rewarding views like numerous bird species, numerous animal and other primate species that will make the activity quite rewarding and this can be carried out in the  dry months of June, July, August, September and December, January and February every year and in other months which are characterised with both dry and wet season.

Refunds and Cancellation Policies for chimpanzee Trekking during Covid-19
With the covid-19 global pandemic a lot has changed which has affected a number of tourists during their transfers to Uganda in order to take part in chimpanzee trekking and by this it has led to the Uganda wildlife authority revising some  cancellation and refund policies for tourists that encounter problems after they have booked their permits for the activity.  After booking your chimpanzee trekking permit from a trusted tour company or travel agent, in case you encounter some difficulties like delayed flights, testing positive for covid-19 and lockdown in your country among other difficulties that can hinder you from accessing Uganda in time before you chimpanzee trekking permit expires, you can ask for a refund, cancel your permit or reschedule your activity at no extra cost for your comfort.
Safety precautions to follow as you take part in gorilla trekking in Uganda during covid-19
Before any tourist accesses the parks to take part in the ultimate chimpanzee experience in Uganda, they should have a negative covid-19 test which you have to present to the park management to ensure the safety of the other tourists and the primates when you take part in the activity.

Emphasis is put on the masks and this has led to the park management to stress tourists in putting on their masks when they access the park premises to avoid contracting and spreading the virus in case a tourist might have contracted it on their way to the park.

regular disinfect the exposed surfaces to avoid contaminating other surfaces which can lead to easy spread of the disease.

Regular sanitising of the tourists hands should be ensured because of the fact that you might get in contact with contaminated surfaces which harbour covid-19 and because they live on surfaces on a long time.

You should maintain social distance while tracking the chimpanzees in both Kibale national park and Queen Elizabeth national park to avoid spreading  the disease to both the trackers and the gentle giants because they are highly vulnerable primates that can contract the virus.
Guidelines for chimpanzee trekking in Uganda during covid-19
Avoid smoking in presence of the chimpanzees this is because the primates are highly vulnerable species that can easily catch diseases like pneumonia, lung cancer among others which can be fatal and in cases where they are exposed to smoke for a long period of time it can affect their mortality rate, lead to birth defects which can be a problem to their sustainability in the park.

During chimpanzee trekking in Kibale national park  chimpanzee trekking in queen Elizabeth national park, it is important to follow the lead of the guide for a safe activity this is because the guides are well knowledgeable about the park premises and the safe routes to take during the activity. It should be noted that the parks are habitats to a number f wild animals like the four of the big five animals in Queen Elizabeth national park, a number of other vicious primates that can easily attack you and hence make the activity quite discomforting.

You should avoid eating in the presence of the chimpanzees should be avoided because it will attract the primates to eat some of what you're having and in case you have diseases that you can easily spread to them they can easily contract and this can be a problem to their mortality rate.

You should maintain always maintain a distance away from the primates when you come in contact with them in order to avoid spreading viruses to them. This is because the primates are vulnerable species that are just like human who can contract any diseases form travellers therefore in order to avoid such incidents you should maintain a distance of 7 away from them.

Littering in the park should be avoided during chimpanzee trekking in Uganda because it can cause accidents like primates choking on the litter, contracting viruses from them in case they are contaminated with covid-19 which can be fatal to the primates therefore littering should be avoided to avoid any accidents in the park.