Rwanda Chimpanzee Tours
Rwanda Chimpanzee tours are one of the best tours that tourists on safari tours to Rwanda will appreciate and have a fruitful tour of the vast wildlife in Rwanda. Rwanda offers the most satisfying tours anyone could embark on while in Africa reason being Rwanda is one of the most organised, politically stable and one of the most hospitable that once a tourist chooses it as a tourist destination, they will not be disappointed.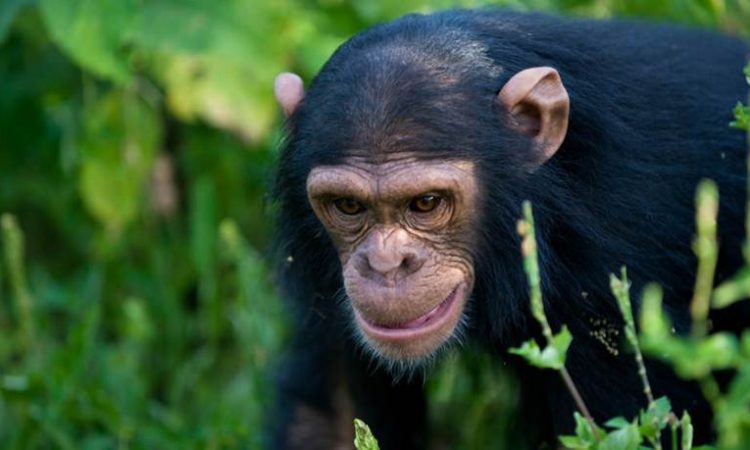 Located in East Africa, Rwanda has become one of the best tourism destinations in Africa because of its good climatic conditions that favour tourists, the availability of wildlife species that are conserved in protected areas like national park all of which have a lot to offer to make the experience of the tourists on their Rwanda tour memorable for example Akagera National Park that has the Big five animals that is rhino, elephant, buffalo, lion and  leopard, Volcanoes National Park where the Rwanda mountain Gorillas can be found. 
And also the most important National Park for tourists on Rwanda chimpanzee tours is Nyungwe National Park. However other animals like the zebras, giraffes, warthogs, vervet monkey, the endangered golden monkeys, owl-faced monkeys, black and white colobus monkeys, red tailed monkey and many more can be seen while tourists visit the different National Parks.
Nyungwe National Park: Rwanda chimpanzee tours will enable tourists to visit Nyungwe National Park because the park is home to the beautiful primates in large numbers. Currently the park has a total number of over 400 chimpanzees and this has attracted many tourists to come to the park because of the availability of the species in large numbers and this has led to the popularity of Rwanda tours and in the long run, they contribute to the development of tourism in the area.
The park is also a home to other wildlife animal species that can also catch the eye of a tourist while on their Rwanda chimpanzee tours, for example, the different monkey species like the Owl Faced Monkey whose face looks like that of an owl, vervet monkeys have got black faces with grey fur/hair on their entire bodies, Angola Colobus Monkey which are high in numbers and usually travel in big groups, the monkeys are over 300 in the park.
Others include Chinese Golden Monkeys, Crowned monkey, L'hoste monkey with their unique facial structures. The monkey is an all black-haired monkey with a white beard which will also be mesmerizing for the tourists. The Grey Cheeked Mangabey, Mona Monkey which are small in number and love travelling with other groups of monkeys like the Ruwenzori colobus monkey. The Mona monkey has unique features which can catch the attention of the tourists, for example, their long tails brown back can also catch the eye of the tourist, Olive Baboon etc. This will make their experience memorable and their expectations will be exceeded once they see the different monkey species along the way while they track for chimpanzees in the park. The monkeys will be seen jumping from the branches because they are active animals which once seen it's a wonderful adventure.
Chimpanzees are one of the driving forces that have led tourists on Rwanda Chimpanzee tours to visit the park because of the need to understand the behaviour of the primates, their organisation and many more. Just like the Rwanda mountain gorillas, the chimpanzees are also habituated for tourists to get a closer look and understanding of the primates. In Nyungwe national park, there is one chimpanzee habituated group with 60 chimpanzees and the 2nd group is habituated in Cyamudongo forest which is a fragmented forest but park og Nyungwe and most of the chimpanzee tracking process starts at the forest.
How to access Nyungwe national park
Accessing Nyungwe national park is easy for a tourist because of the good transport system to and from the park. For tourists using road transport, they can either use private or public means which is all up to their budget. But in this case, private means are better because they can save up time as compared to public means.
From Kigali city, the distance to Nyungwe National Park is 190 kilometres and it takes about 4 to 5 hours to reach the park.
Alternatively, tourists can use air transport that is if they land at Kigali international airport they can use a domestic flight to Kamembe airport which is near the park. For luxury tourists,  there are available helicopter pickups to the park.
Cyamudongo Forest: Tourists on a Rwanda chimpanzee tour with a mission to explore Rwanda will also have a chance to visit Cyamudongo forest which is an important destination for chimpanzees and chimpanzee lovers. The forest lies on a small area of about 4 square kilometres south west of Rwanda in the town of Nyakabuye bordered by Congo. The forest is another part of Nyungwe national park that was isolated to carry out conservation of the plant and animal species that are found within it.
Tourists on a Rwanda tour will have an opportunity to see the different wildlife in the area as there Rwanda chimpanzee tour begins, some of the animals that they will come across include the Dent's Mona monkey, L'hoste monkey the vervet monkey and also some butterfly species like the Phalanta Eurytis, Leptosia Hybrida, Graphium Riley, Mylothris Atewa, Bicyclus Auricruda and many more
The forest is also a home to a number of bird species which can also be seen while they track the chimpanzees for example the blue turaco, Ross's turaco, coqui Francolin, long-tailed cisticola, bubbling cisticola, Miombo wren warbler, Chubb's cisticola etc.
How to access cyamudongo forest
From Kigali, the capital city of Rwanda, the forest is 238kilometres which takes about 5hours for the tourists to reach. For tourists using air transport, they can land at Kigali international airport and then to Kamembe airport where tourists will then use road transport means to the forest which is about 23kilometres and takes one 40 minutes to reach the forest which will be easier for luxury tourists on a Rwanda chimpanzee tour.
Chimpanzee tracking in Nyungwe national park
Chimpanzee tracking is a rewarding activity for tourists on a Rwanda chimpanzee tour, the activity involves moving around in order to locate the chimpanzees in order to understand and find out about their behaviour while in the wild and contact with the humans. The activity can be carried out after a tourist has paid a fee of US$100 at the Uwinka reception area where they are given a tracking permit.
Rwanda Chimpanzee tracking fees are cheap compared to that of trekking the gorillas which is USD 1500 and the fact that a tourist gets to see the gorillas for only one hour so for price-sensitive people, they can opt for chimpanzee tracking while on their Rwanda tour. 
Unlike Rwanda gorilla trekking where tourists are only given one hour to spend with the gorillas, Rwanda chimpanzee trekking is quite different and engaging in a way that tracking them has no limited time and that is tourists can see them as long as they want but because of the fact that the primates are highly active creatures, they can be tiring because they move from one place to another.
Before the activity, tourists on the Rwanda chimpanzee tour will be briefed by their guide at the reception centre about the dos and don'ts while they embark on their activity. In Nyungwe national park, the activity starts near cyamudongo and with the help of the guide tourists will be led through the forests to the park as they look for the primates.
Since the chimpanzee jump from one tree branch to the other tourists should be able to keep up by moving on a faster pace this is an exciting adventure cause it involves people using their physical strength running, walking faster but once they reach the area where the chimpanzees are they will be fascinated by the ''closest living relatives of humans'' because they exercise curiosity which is so human-like on seeing strangers, they can be seen clapping hooting as a form of communication and the fact that the other chimpanzees understand one another with the languages is interesting.
Chimpanzees in Rwanda
From the different ape species like the Bonbon, Orang-utan, Gorillas in Nyungwe national park and cyamudongo forest the common chimpanzees can be seen and it has distinctive features from other ape species as explained below;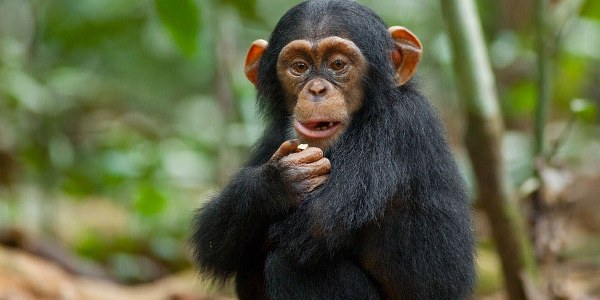 Physical structure: Both the male and female chimpanzees have relatively dark fur/ hair on their entire bodies except for the face, palms and their feet which can be seen hair free and they grow older they tend to lose more hair and also develop old spots on their bodies. On their feet, the chimps stand at a height of 3.3 to 5.7 ft. Adult male chimps have an average weight of 40-60kilograms and adult females have an average weight of 27-50 kilograms. The arms of a chimpanzee just like gorillas are longer than their feet which makes it hard for them to walk but on rare occasions, they can be seen walking.
During locomotion, the chimpanzees use their knuckle to walk; they can also be seen using their hands swinging from branch to branch.
Diet: Chimpanzees in Nyungwe National Park survive in the wild by feeding on animal and plant matter and also by eating fruit which is most favoured among all that they eat as a source of food. They often go for ripe wild fruits and they can also feed on small insects like the weaver ant, honey bee, invertebrates like worms and so on. Just like it is when it comes to the Rwanda gorillas, female chimpanzees consume less than the males 
Behaviour: The Rwanda chimpanzees live within communities within a number of 20-50 chimpanzees and also during movements there can be different groups depending on age, sex, roles and others can be seen.  Just like the Rwanda mountain gorillas, the male chimpanzees dominate and they can exercise dominative characteristics like being aggressive during gatherings.
Grooming among the chimps is an important aspect to avoid diseases i.e. the chimpanzees help check one another for lice and other parasites for the young ones their mothers help them to clean and groom them.
Mating and reproduction: The dominant males have the most rights to mate with the females as compared to the lesser males. When food is readily available, for the chimpanzees, the females are able to experience sexual swellings especially the genitals swell meaning they are ready to mate with a male.
Females can choose whether to mate with their fellow members of the community or they mate with a male from a different community when they mate it takes a female eight months to produce a young one and it the duty of the mother to take care of its young one.
The mother gets food for the young one, provides warmth, teaches it how to groom, protects it from one to four months the babies are carried by the mothers to offer support and from five to six months they are put on the backs of their mothers during walks, jumps from different tree branches. When a tourist on a Rwanda chimpanzee tour comes across the baby chimpanzees on the backs of their mothers then they are sure that are 5 to 6 months old which is a great eye-catcher because of the fact that they exercise love and show affection for their babies even if they are in the wild and the age of 6 years they are able to do things on their own..
Communication: Rwanda chimpanzees communicate in various ways to ensure that their messages are conveyed and understood among each other. Tourists on Rwanda tours especially those interested in Rwanda tours will have a chance to see the primates communicating in various ways for example they use a number of facial expressions, body language and so on like when they are being playful they put on an open grin, when they are being fearful they will put on a closed grin which is really important for tourists to understand while their encounters with the primates in order to avoid accidents.
Chimpanzees are known to hoot loudly but their hoots differ on the occasion, occurrence etc for instance when a young chimpanzee is lost from their mother, a soft hoot or whimper can be heard which can help a chimpanzee to go back for its young one.
When there is a danger, barks can be heard like when they come across dangerous animals like snakes and when they are jumping from different tree branches, they can be seen clapping and beating tree trunks and drumming the backs of the trees  which can be quite a fascinating scene for tourists on Rwanda chimpanzee tour.
All the above characteristics of the chimpanzees will be discovered by tourists on a Rwanda chimpanzee tour which will enable to spend as much time as they want with the chimpanzees and finding out different characteristics which will be a unique and unforgettable experience while on a Rwanda tour.
Equipment to use while on a chimpanzee tracking
Safety boots or willies to avoid any accident like snake bites during  the search for the chimpanzees

Insect repellents should be applied on the skins to avoid insect bites like the mosquito bites that can cause malaria.

Tourists should also carry lunch in cases where the tracking time is an all day tracking experience

They should also take carry their water with them in case when they need to quench their thirst.

They should dress appropriately for the adventure that is they should wear clothes that will protect them from getting scratched; they can opt for long sleeved clothes, long trousers and so on.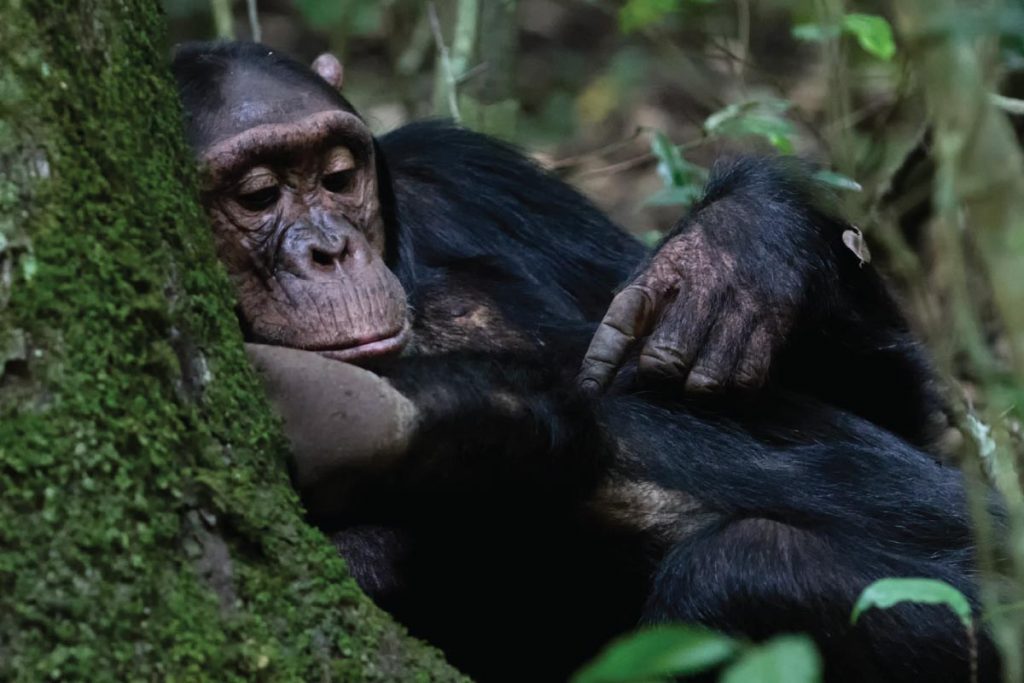 Accommodation 
Tourists on a chimpanzee tour will have a variety of accommodation options they can choose from with all the hotels located within the proximity of Cyamudongo forest and Nyungwe national park giving the tourists on a Rwanda tour ease to carry out their activity of chimpanzee tracking.
The accommodation facilities in Rwanda offer excellent customer care, well-organized rooms, bar services, well-mowed lawns, ample parking space, a comfortable dining area with a variety of cuisines, excellent views, well trained professional staff that will make your Rwanda Chimpanzee tours one not to forget Nyungwe Top View Hotel. The different facilities include; Kitabi Eco Centre, Nyungwe Nziza lodge, Rwiza lodge, Spa Shallum Macheo eco-lodge camping all of which take a tourist not more than an hour to reach the park which will make the experience and the Rwanda chimpanzee tour exciting and memorable.