Shoebill Stork
Shoebill Stork  is a special bird found in Uganda "the pearl of Africa" which protects a number of bird species including other wildlife species, primate species, tree-climbing lions, Antelopes and many.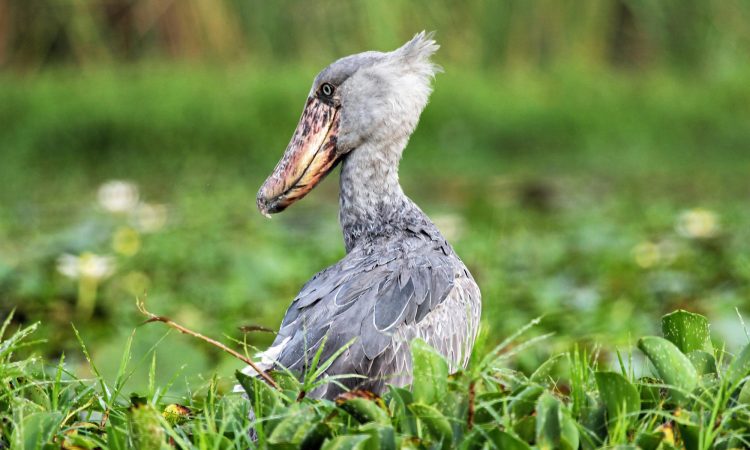 Shoebill is a rare bird that is sighted in Uganda National Parks and the bird is also commonly known as a whale head yet it's a large bird that is found in the lakes of the Eastern part of Africa.
The bird is mostly seen in Uganda however in Kenya as well it can be spotted, in North Cameroon, Central African Republican, Malawi, Botswana, and Upper Congo.
This is a bird that sought by almost all travelers that visit Uganda and Africa at large. There are a few facts about the bird species in the park which worth seeing during your Uganda safari Tour.
Shoebill stork is 150cm tall and it weighs up to 15 pounds. Arabs call the shoebill stork – Abu Maruk. The name means father of the shoe, and it's a unique bird because of its bill.
The Shoebill stork is a solitary bird with a life span of 50 years.
Shoebill stork forms a Monogamous relation during the mating season and this happens in the months of June and April.
Shoebill stork bird builds a nest on the grounds and the females lay only two eggs. The shoebill will then incubate the birds for a period of a month. The elder shoebills will then feed the chicks for several months.
Shoebill stork is found in the swamp areas, lakes and they end up finding their food in the water.
Shoebill storks feed on lungfish, puddle fish, frogs, snakes, baby crocodiles and many more, they can all fit in his wide bill.
Shoebill storks are very protective and mostly very solitary. The shoebill is very silent and it displays their nests. When the shoebill stork is on the ground it's sluggish, very graceful in the air when attacked, they bull back their wings as they approach their prey as a way of strength.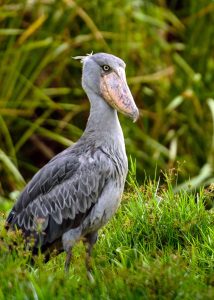 Shoebill stork can as well be spotted  in different National parks including in Queen Elizabeth National park along the Lake Edward flats, Murchison falls National park this is the area where the Nile Margeees wit Lake Albert, Lake Mburo National park, Lake Kyoga, Ziwa Rhino Sanctuary, Mabamba swamp, Semiliki National park, Nabujuzi swamp among other wetlands.
There are over 1000 shoebill storks and the shoebill stork is mostly hunted by fishermen. The shoebill stork is very slow and it is very sensitive to human disturbance and it abandons their nests when only flushed by a human.
Shoebill stork is attracted to poorly oxygenated water which is a surface to breathe. The species sometimes utters a cow-like moo with pitched whines. The infants always beg for food, calling out with uncannily like human hiccups. The adult birds always utter a hoarse croak as a sign of aggression near a marabou stork.
The shoebill stork is considered as one of the most interesting and desired birds in Africa.
Contact as for arrangements of these birding safaris to have a chance to spot the shoebill stork.