Boat Cruise in Rwanda
Boat Cruise in Rwanda is one of the fascinating safaris activities that travelers engage in, to be able to experience wildlife and bird species as their sail on the African waters.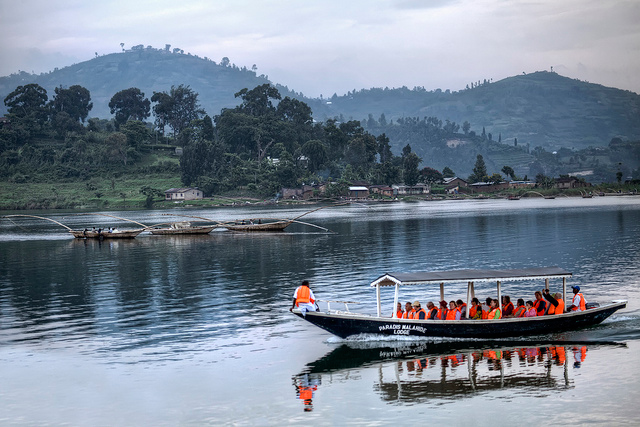 While the biggest attractions in Rwanda are the 3 National Parks for animal treks and wildlife viewing, choosing to go on a boat cruise in Rwanda as a trip is a great choice to shed off the fatigue of the treks or the long game rides. On your boat cruise in Rwanda, you may even see more aquatic life that you may not be able to see on land on the game drive. Boat cruise in Rwanda are also a great choice for honeymooners especially the sunset boat cruises. If one has fear of water though, I may not advise you to take a boat trip as they usually last about 1 hour so spending that much time on the water, you should be sure of your choice. This can be the highlight of your safaris in Rwanda so you can choose to either start with the boat cruise or end the safari with a boat. The boat options usually used are the engine boats and on these boat trips is where you get the best sights of the area.
In Rwanda, you can have a boat ride on Lake Ihema (1,292m above sea level) that is found in the Akagera national park that offers you the opportunity to see hippos on the beachy sands of the lake or enjoying the waters of the lake. You will also see crocodiles on the shores and in the lake. The time spent on this lake is so soothing and is a great option for bird lovers as you are able to spot a good number of bird species on Lake Ihema like papyrus gonelek, kingfishers, heron, jacanas, ibises. Bird watching is a great and growing activity in most national parks and on a boat cruise with a great birding guide, you get to enjoy this activity for free as they come hand in hand. On this lake, you may also do sport-fishing but only if you are permitted to make arrangements if you are interested in this sport. Lake Ihema is fed by the Akagera River along with other lakes. The boat trips on Akagera are scheduled and set off four times per day with the last one being a sunset boat trip which is great for sunset photos. The scheduled times for Akagera National Park-Lake Ihema boat trips are as follows:
The first trip sets off at 7:30 to 8:30 am

The second group goes at 9:00 am to 10:00 am

The third boat trip of the day goes after lunch from 3:00 pm to 4:00 pm

The last one which is the sunset trip goes at 4:30 to 6:00 pm
In case you want a private boat trip, it can also be arranged in the hours of 10:30 am to 1:30 pm and are charged at a flat rate, not per person basis like the scheduled trips and should be booked in advance in case there are free spots for the desired day. To be part of the scheduled trips, you will have to book in advance as well. There are also canoes on Lake Ihema if you are interested in canoeing.
You may also do a boat trip on Lake Kivu, Rwanda's calm and yet beautiful lake. A boat trip on Lake Kivu is a well sought after activity by people who have some extra days after their gorilla treks either in Volcanoes National Park, Bwindi Impenetrable National Park or even after their visit to the Democratic Republic of Congo. Lake Kivu offers you great views of the Nyiragongo Volcano along with the other 4 volcanoes. Most trips start from Gisenyi beach waterfront with very many resorts and operators on the shores ready to take you on the trip visiting the islands of the lake like the napoleon island with also a stopover at the mini island that has a blue monkey staying on it. The excursions on the Lake Kivu usually take about two to four and are charged accordingly. The boat trips offered start from 30 dollars per person but the bigger the number of people the cheaper the fare so it is better to join a group when going for a boat trip instead of opting for a private trip if you are on budget but you may also opt to book out the whole boat if you want a private tour at a good rate. Get in touch with a tour operator to organize this for you.