Best time to visit Rwanda National Parks
Best time to visit Rwanda National Parks on Rwanda safaris/ Rwanda tours is in the dry seasons where primates trekking and wildlife safaris can be carried out with ease. Rwanda is a landlocked country also known as a country of a thousand hills located in Central/East Africa ranking at 149th in the world's largest countries. Rwanda is located at the highest altitude of 4,507 meters at mount Karisimbi and the lowest height at 950 River Rusizi. The country lies at the coordinates of 2°00′S 30°0′E neighboring the Democratic Republic of Congo in the west, Uganda in the north, Tanzania in the east and Burundi in the south. Rwanda as a country has Kigali as its Capital City located in the center of the city and it also lies a few degrees south of the equator.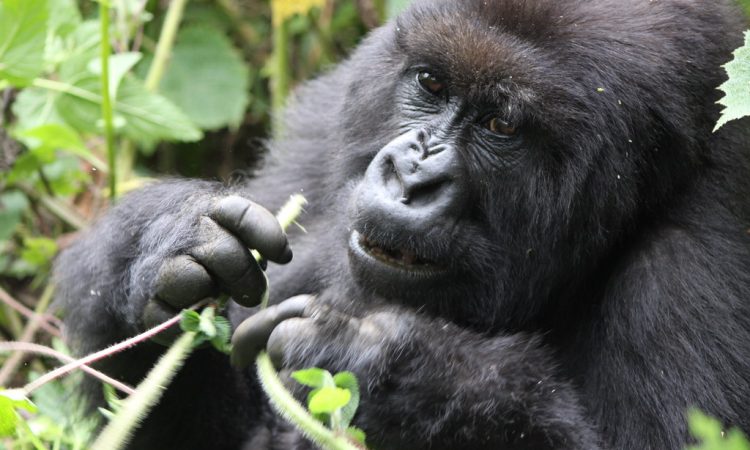 Rwanda is a famous tourist destination with many tourist potential destinations and attractions within the country. These attractions include:
Mountains including volcanoes which are part of Virunga Mountains which are eight in number which attracts a large population of tourists for hiking experiences. These mountains include
Mountain Gahinga at the altitude of 3474 meters 

Mount Huye at 2278 meters

Mount Karisimbi at 45507 meters 

Mount Muhabura at 4127 meters

Mount Bisoke at 3711 meters

Mount Muhungwe located in Western Province at 2,928 m

 

Mount Rutare located in Western Province at height 2,884 m

 

Mount Marenga found in Western Province at 2,875 m

 

Mount Kwiruhelo found in Western Province at 2,776 m

 

Mount Ngabwe found in the Southern Province at a height of 2,763 m

 

Mount Kabuye found Northern Province at a height of 2,643 m
Mountain gorillas: mountain gorillas are critically endangered primates in Rwanda and they are found in Volcanoes National Park which is part of Virunga Conservation Area harboring approximately 700 gorilla individuals which are made up of Virunga National Park of the democratic republic of Congo, Uganda's Mgahinga gorilla national park and Rwanda's Virunga national park. Mountain Gorilla trekking is one of the best activities offered by Rwanda. For mountain gorilla trekking a permit costs US$ 1500
Lakes which include Twin lakes: Twin lakes of Lake Burera and Lake Ruhondo are another magnificent attraction one of Rwanda's beautiful attractions. These lakes are located just a few meters from Musanze town. 
Lake Muhazi: Muhazi Lake is the best spot a trip away from the city as it is located 50 kilometers from Kigali offering an unforgettable experience full of memories. There are canoe trips on this lake and sunset viewing. 
Sorwathe tea plantation: Sorwathe tea plantation is found halfway between Kigali and Musanze. The tea plantation is an amazing tourist spot offering tea production tours, lunch, tea tasting and from this spot you get to a fantastic view of the neighboring mountains and the tea as well.
Ethnographic museum: Ethnographic museum formerly known as the national museum of Rwanda constructed with the help of the Belgian government is located in Butare, the museum is a source of information concerning the cultural history of Rwanda and also known as the site of the murder of queen Dowager Rosalie Gicanda and the genocide.
Inema Arts Center: Inema arts center founded by Emmanuel Nkuranga and Innocent Nkurunziza and located in Kigali, the arts center houses contemporary Rwandan art and it also has galleries, yoga classes and happy hour.
Kigali Genocide Memorial: the Kigali Genocide memorial is a respected place for remembrance of the Rwanda genocide of 1994 which was a clash between the Hutus and the Tutsi. At the memorial tourists get more informed about the genocide, many tourists and normal Rwandese visit the memory because it is the only place where they feel the presence of the relatives who perished in the war.
Kimironko market:  Kimironko market is one of the busiest markets in Rwanda where things like kitenge fabrics, fruits, clothes, shoes, and many materials are sold. The market is full of people with different noises and colors which is overwhelming.
Presidential Palace Museum: The presidential palace museum located on the outskirts of Kigali was once home to the former president of Rwanda President Habyarimana and it is filled with the many components including the remains of the presidential jet and the crash of Rwanda genocide f 1994 are still very visible.
Kigali Convention Centre. Kigali convention center is the most iconic architectural buildings in Rwanda in Kigali. The conventional center was completed in 2016, and it is more amazing at night giving a spectacular view at night as lights give out the colors of Rwanda's flag.
Rwanda is blessed with various flora and fauna which lead to demarcating these areas as national parks to protect and conserve the ecological systems. These national parks include 
Volcanoes National Park: Volcano national park is located in the northwest of Rwanda on the steep slopes of karisimbi volcano, Mount Bisoke, Mount Gahinga, Mount Sabyinyo, and Mount Muhabura. The park consists of a rich vegetation cover of montane trees, evergreen bamboo forest, savannah grassland, swamp vegetation, and heath. Volcanoes national park is a home to mountain gorillas and only park where they can be found in Rwanda, the park is also a home to primates like chimpanzees, 200 species of birds including long-crested eagle, grey throated tit, paradise flycatcher, red-faced woodland warbler, and archer's ground robin, Rwenzori Batis, Rwenzori double collared sunbird and other animals like spotted hyenas, bush pigs. The park offers many activities including hiking, primate tracking, and gorilla tracking.
Akagera National Park: Akagera national park named after river Akagera is found in the plains of Akagera in the northeastern region of Rwanda famous for rhinos. It is dominated by swamps and small lakes and covered savannah vegetation. Akagera national park is home to numerous animals for example baboons, buffaloes, elephants, zebras, giraffes, rhinos and antelopes, and approximately 490 bird species. Akagera is the best destination for bird watching safari, guided nature walks along river Akagera.
Nyungwe National Park: Nyungwe National Park is one of the oldest rainforests forests in Africa located in the South western region of Rwanda. Nyungwe National Park is rich in biodiversity including various flora and fauna that are primates like chimpanzees, L'hoests monkey, 75 mammal species such as leopard, cerval cat, and various bird species. Visiting tea plantations, bird watching, primate tracking are some of the fun filled activities offered by nyungwe national park.
Best time to visit Rwanda national parks
Rwanda experiences different climatic conditions which greatly affect tourism activities, activities in Rwanda national parks are greatly influenced by the season or weather as explained below
Wildlife safaris and viewing games are best done during the dry season because the trails are less slippery giving the tourist an experience to remember, months from June to September are the dry months experiencing majorly sunshine and little amounts of rainfall.
Primate tracking including chimpanzee tracking and the famous gorilla trekking are easy to be done in the dry season in the months of June to September
Forest walks are also best done in the dry season so as to avoid the too much rain received in the rain forests 
Hiking is also easy as trails are dry 
Weathercast information of Rwanda
Rainy season in the months of March, April, October, November 

Dry season with least rainfall is in months of June, July, August, and September
Though the parks operate throughout the year the dry months are the best time to visit Rwanda national parks because
Forest trails are dry and not slippery like in wet seasons

There is more of sunshine and less of rain

In these months changes in viewing the wildlife are high as the animals gather to drink water most especially in Akagera National Park.
Note: 
For photographer tourists, the best time to visit Rwanda parks is during the wet season in the months of March, April, October, and November when the parks are green and the plants are flourishing.
For chimpanzee trekking in nyungwe national park, it is best done in the wet season because in the dry season there is less food which makes these primates to migrate to adjacent areas.