Gorilla Trekking in Uganda
Gorilla trekking in Uganda is one of the most rewarding tourist activities that a traveler on a Uganda tour can participate in and have an experience for a lifetime, in all the countries that have gorillas in Africa. Uganda should be chosen as one of the top ten tourist destinations in East Africa and Africa with the numerous tourism destinations, activities, and attractions that they can visit and see making their experience in the country memorable.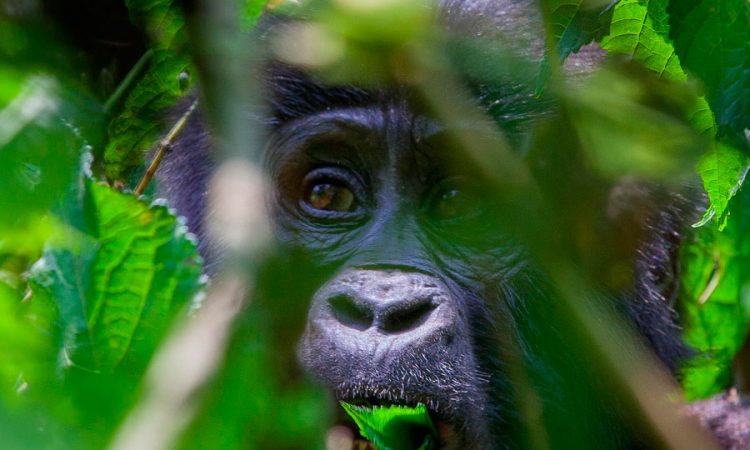 Uganda among the African countries that offer gorilla trekking as an activity, offers the best experience to the tourists reason being it has 2 national parks that can be visited while on the Uganda National Parks tours in order to participate in the activity that is to say a tourist can go on a Bwindi impenetrable national park tour and Mgahinga gorilla national park tour in order to carry out a number of activities including the main activity gorilla trekking.
Uganda is one of the East African countries that is blessed with a number of tourism destinations like national parks where tourists can go on different tours like Kidepo valley national park tour, Mgahinga gorilla national Park tour, Murchison falls National Park Tour, Queen Elizabeth national park tour, Mount Elgon National Park tour, Kibale national park tour among others where every national park has a number of unique features for instance; Kibale national park which is famous for a number of the different primate species like the chimpanzees, golden monkeys, Queen Elizabeth National park for the tree climbing lions and many more.
The country has a number of attractions like the monuments, physical features like mountains like mountain Rwenzori which has glaciers that are believed to be some of the sources of River Nile, culture which involves different cultural sites like the Kasubi tombs which are the burial grounds for the royal family in Buganda kingdom which has rich history once visited. 
Other attractions include festivals like NyegeNyege festival which takes place annually in September is an interesting entertainment festivals which attracts any tourists from various countries, it involves different local dishes from different tribes of Uganda and many more other festivals include festival on the Nile, featuring music, dancing, theatre, storytelling, folklore, and food.
There is a street parade of children's activities and dance workshops offering visitors and residents alike the opportunity to learn about Uganda's tribes and customs. This is Uganda which promotes the rights of women in the country, Pearl of Africa Tourism Expo which aims at boosting the tourism sector of Uganda. Amakula Kampala International Film Festival aims at celebrating the film industry in Uganda here different showcases can be carried out which can be interesting to tourists. 
Where to find the Uganda Mountain Gorillas
Gorilla trekking in Uganda can be carried out in two national parks all of which have habituated gorilla groups that are harmless making the activity exciting and this is because of the fact that they are accustomed to human presence. The Uganda gorillas can be found in the following national parks;
1. Bwindi Impenetrable National Park 
Tourists while carrying out the Uganda national parks tours, can access the park in order to participate in gorilla trekking. Bwindi Impenetrable National Park is located in the south western part of Uganda and it is bordered by Virunga National Park.
The park has over 348 bird species making birding in Bwindi impenetrable national park rewarding, it the right place for birders/bird lovers to see the different bird species some of which include Red-headed blue bill, Garners warbler, short tailed warbler, yellow-eyed black flycatchers, bar-tailed blue trogon, Kivu ground thrush, black billed turaco, blue-headed sunbird, black bee eater, red-headed blue bill, African emerald cuckoo, common bull bull, western green tinker, cinnamon chested bee eater.
Other attractions include the indigenous group of people known as the Batwa people who are forest people that have not embraced modernity at any. They are an interesting group of people who mainly depend on forest products, for instance, they hunt small animal animals and collect fruit as a source of food, carrying out the Batwa trail or visiting the Batwa people will enable tourists to see how backward the group is in terms of modernity but it is an interesting encounter which will offer beautiful experiences
Gorillas in Bwindi Impenetrable National Park
With more than 400 mountain gorillas in the park, Bwindi impenetrable national park currently has 18 gorilla groups which are distributed in the 4 different sectors of the park. The sectors include Rushaga sector, Buhoma sector, Nkuringo sector and Ruhija sector which have different habituated gorilla families which can be visited by the different tourists all the gorilla groups have interesting facts and characteristics among themselves.
These gorilla groups include the Habinyanja gorilla family, Rushegura gorilla family, Bitukura gorilla family, Oruzogo gorilla family, Nkuringo gorilla family, Nshongi gorilla family, Mishaya gorilla family, Kahungye gorilla family, Bweza gorilla family, Busingye gorilla family, Nyakagezi gorilla family, Kyaguliro gorilla family. The gorillas are distributed in the different sectors and for a tourist interested in carrying out gorilla trekking in the different sectors in the park; they should obtain a gorilla permit to take part in gorilla trekking.
Aside from gorilla trekking in Bwindi impenetrable national park, tourists can also carry out gorilla habituation in Uganda which is done in the park which involves participating in the gorilla habituation process of the gorillas in order to make them accustomed to human presence while they are visited; here the tourists accompany the people that habituate the gorillas and make them accustomed to human presence before they are presented to the tourists for trekking, the normal habituation gorilla process takes a period of 2 years before the gorillas are fully ready for  habituation. The habituation process is quite expensive as compared to gorilla trekking and it costs a tourist interested in participating in the activity to pay an amount of 1500$.
2.Mgahinga gorilla national park
Just like Bwindi impenetrable national park, the mgahinga gorilla national park is located in the south western part of Uganda which from Kampala city is 494 kilometers but regardless of the distance, a tourist is guaranteed to be in awe with the numerous attractions that will be seen while on the journey and it was also established in order to protect and conserve the mountain gorillas in the country which were being poached by the people in the local communities. 
The park has a number of tourist activities that can be seen by tourists while carrying out the mgahinga gorilla national park tour these include 3 of the 8 Virunga mountains, mountain gorillas that are found on the slopes of the different Virunga Mountain Mount Muhabura, Mount Gahinga, and Mount Sabyinyo.
The Virunga Mountains can be interesting and rewarding for tourists if they carry out the Virunga mountains hike where different species can be seen like bushbucks, duikers, elephants, golden monkeys which are usually found in the bamboo tree slopes of the mountains which is a source of food to them and many more. 
Mgahinga gorilla national park has one gorilla group and others are still in the habituation process. The gorilla group that can be trekked is the Nyakagezi gorilla group which is a humble Gorilla group which can be compared to Amahoro gorilla group found in Volcanoes national park Rwanda where a number of gorilla families can be found like sabyinyo family, karisimbi family, Agashya family, kwitonda family which are found on the slopes of Mount Gahinga, Mountain karisimbi, Mountain Bisoke, Mountain Muhabura and  Mountain sabyinyo.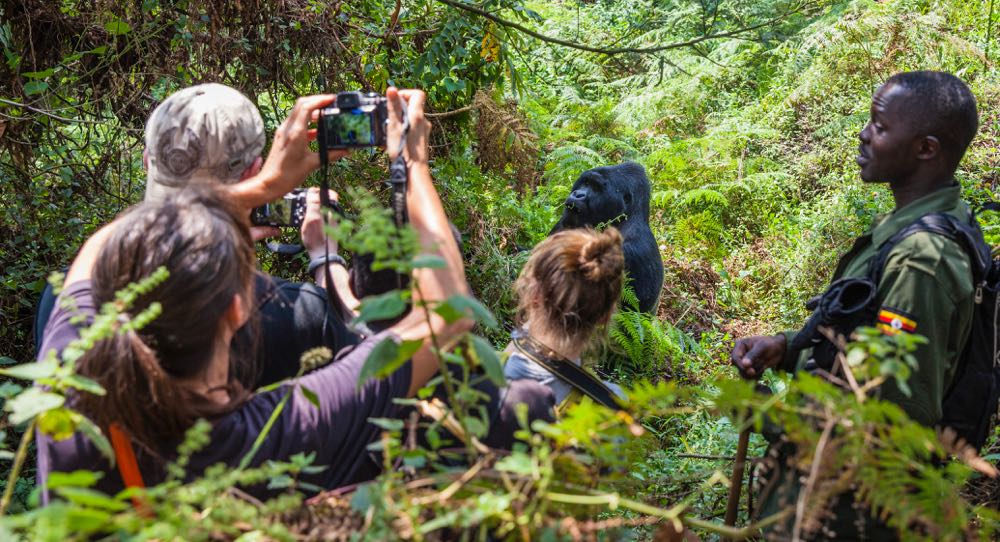 How to obtain a Uganda gorilla trekking permit
Gorilla trekking permits in Uganda can be purchased from the Uganda wildlife authority offices or trusted tour companies or a trusted tour operator who will offer the permit to you on the day of your trekking activity. It should be noted that the price for each individual to track the gorillas is 600$ but come 1st July 2020 the price of the gorilla permits will increase to 700$.
Before anyone purchases a gorilla permit, they should follow some guidelines in order to carry out the activity as explained below;
Tourists should carry out early booking this is because the gorillas are highly sought after attractions that many people want to see it is therefore to book six months before the actual trekking time.

For tourists going to purchase a gorilla permit in Bwindi impenetrable which has different sectors, tourists should be mindful of the sector they will trek in and share with the tour operator in order to get accommodation facility next to the sector in order to avoid missing out on the activity because the facilities they booked were far from your gorilla family.
What involves in gorilla trekking?
Gorilla trekking in Bwindi impenetrable national park and mgahinga gorilla national park involves tourists presenting their gorilla permits to the park headquarters for verifying and if they are authentic, they are able to go on a briefing by the park guide who is going to take on the guiding process to find the gorillas. Tourists should pay attention to the guide in order to have a great experience with the gorillas without encountering accidents.
After the tourists are briefed, they then embark on their journey of tracking the gorillas, they will encounter a number animals if lucky, they will see different attractions and at the end they will locate and come across the mountain gorilla or the different Uganda gorilla families in the different sectors that is in Bwindi Impenetrable National Park and in Mgahinga National park they will spend an hour with them observing how they live in their natural habitats, what they feed on, how they groom themselves and many more.
Best time to carry out Gorilla trekking?
Uganda has 2 seasons that is the dry and wet season and because gorilla trekking involves hiking. It will need tourists to carry out the activity in the dry month where access to the park is easy and hiking not difficult. The dry season is more conducive and comfortable for gorilla trekking which includes mid-December, January and February and also the month of  June to September.
What to carry and wear during gorilla trekking
While embarking on the journey to gorilla trekking, the tourist should carry a few items in order to make their activity interesting and fun and interesting and easy for them and fun as explained below;
Long sleeved trousers and shirts to avoid nettles scratching since it involves hiking through the forests to reach the gorilla families

Hiking boots are a must to avoid slipping because the mountain can be slippery and also water boots for tourists carrying out gorilla trekking in Bwindi impenetrable national park because it is characterised with many water channels.

Tourists should carry garden gloves to avoid nettles pricking the fingers as they hike through the forest.

They should carry insect repellents to avoid insect bites

Tourists should carry a camera in order to capture moments while in the presence of the gorillas.
Gorilla trekking guidelines
A number of guidelines should be followed in order to carry out a successful gorilla trip while in Uganda in Mgahinga Gorilla National park and Bwindi Impenetrable National Park and avoid accidents during the activity.
Tourists should maintain a distance of 7 metres while in contact with the gorillas in order to avoid contracting diseases to the gorillas.

Gorilla trekking in both national parks is prohibited to children under the age of 18 years 

Tourists with health issues and diseases should avoid taking part in the activity, in fact, they should not participate in the activity in order to avoid contracting diseases to the gorillas since they are really fragile creatures. 

A maximum of eight people visits a given gorilla family which is one of the reasons why people should book their permits in advance in order to avoid missing out on the activity. 

Littering in the parks should be avoided because animals can be in danger with the litter.

After locating and seeing the mountain gorillas, a maximum of one hour is  given to tourists to spend with the gorillas and 

Tourists should avoid unnecessary movements and noise to while in the presence of the primates.

Eye contact with the gorillas should be avoided, and in case where the tourist locks eyes with the gorillas, they should lower their head down.

Tourists should also avoid thumping their chest while in the presence of the gorillas because it can lead to the break out of a fight once seen by the primates.
Safety of gorilla trekking in Uganda
Tourists carrying out gorilla trekking in Uganda are guaranteed to have the best time of their life without any hindrances and any security threats reason being Uganda is a peaceful country without any political instabilities making it ideal for tours in the country. For tourists carrying out gorilla trekking in Bwindi Impenetrable National Park and Mgahinga National Park, a guide will first brief them at the park headquarters about the do's and don'ts/ guidelines that are to be followed while carrying out the activity in order to avoid accidents.
During gorilla trekking, the tourists are accompanied by a ranger to avoid any animal attacks in the process the ranger is usually armed with a fir arm in order to scare off the animals he doesn't shoot the animals. And also a guide carries a first aid box with him in case of an accident; they can take care of the tourist before they seek medical attention from the hospital.
NB: Tourists should also put in mind that gorilla trekking in Uganda can be carried out by tourists that land Kigali can carry out gorilla hence Uganda gorilla trekking from Kigali.
With the necessary equipment, knowing the guidelines to follow while carrying out gorilla trekking activity, tourists will have an adventure in the different parks because of the ease and thrill involved in the activity.