Gorilla Trekking Uganda from Kigali
Gorilla Trekking Uganda from Kigali is one of the most fascinating Uganda Gorilla tour packages where travelers travel from Rwanda Kigali and do Gorilla trekking in Uganda. Gorilla trekking has gained popularity as one of the most rewarding tourism activities that can be carried out to ensure visitor satisfaction. There are different gorilla species that can be trekked on the African continent but among the gorilla species that have gained popularity is the mountain gorilla species that can be found along the slopes of the virunga mountains shared by different national parks that is Virunga National park in the Democratic Republic of Congo, Mgahinga national park in Uganda and Volcanoes National Park in Rwanda. However, in Uganda you can find the gorilla species in Bwindi impenetrable national park which is not part of the Virunga massive.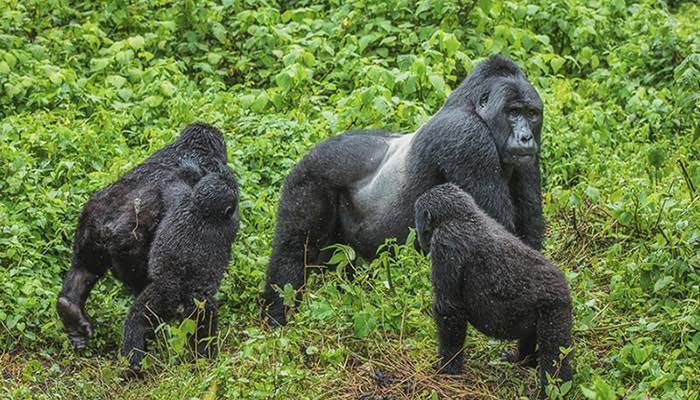 Gorilla trekking in Uganda
Uganda is a famous gorilla trekking destination because it is believed to house half of the world's remaining mountain gorillas and because of its safety compared to other gorilla trekking destinations, it has attracted a number of tourists to come to the country to participate in the activity. Gorilla trekking in Uganda can be carried out in two national parks which is an added advantage to the tourist which gives them a high chance s to participate in the activity.
Bwindi Impenetrable National Park
The park is a tourist's dream destination because it has a lot to offer when it comes to the primate safaris in Africa. Bwindi impenetrable national park will give you the ultimate gorilla trekking experience in Uganda because of what it has to offer. The park is a habitat to 11 primate species including the 19 habituated gorilla families for example; Habinyanja gorilla family, Mubare, Kyaguliro, Bitukura, Mukiza, Bukarara, Oruzogo gorilla family, Bweza gorilla family and Busingye gorilla family among other gorilla families in the park and different monkey species like L'Hoest's monkeys, Red tailed monkey, De Brazza monkeys, Blue Monkey, Galago and so on. 
In the park, you will also find 120 mammal species, 250 butterflies and bird species which gives you a chance to see a number of beautiful attractions during gorilla trekking. Gorilla trekking in the park can be carried out in 4 different sectors, therefore, you should put in mind the gorilla sector you are to trek from while choosing accommodation facilities because some facilities can take you almost hours to reach the trekking sector which can affect your activities or they can even make you miss the activity since it begins early morning. The different gorilla sectors where gorilla trekking is carried out include; Rushaga, Nkuringo, Buhoma, and Ruhija where you will have the utmost experience while you engage with the gentle giants.
Mgahinga national park
The park is part of the virunga massive and for that reason, while visiting the park, you will able to see the different virunga mountains that it shares with volcanoes national park in Rwanda which include Mount Sabyinyo, Mount Gahinga, and Mount Muhabura. Gorilla trekking in the park, one will be able to see the Nyakagezi gorilla family and the newly migrated gorilla family from volcanoes national park the Hirwa gorilla family. Aside from the gorilla families, the park has a number of attractions which you can see during gorilla trekking and some of the interesting attractions that you can see include; the Virunga Mountains, different animal species like the forest elephant, buffalos and in rare occasions you can spot a leopard, monkey species like the golden monkeys. If you are interested in carrying out gorilla trekking in the park, you should book in advance for a gorilla trekking permit because in the park only 8 permits are issued daily for tourists to participate in the gorilla trekking experience.
Gorilla trekking Uganda from Kigali
While carrying out Gorilla trekking Uganda from Kigali, you will arrive at Kigali International Airport where you will be picked by your tour operator with whom you've been making travel arrangements. From there you will transfer to a national park of your choice which is either Bwindi Impenetrable National Park or Mgahinga Gorilla National Park where you will participate in the gorilla trekking activity. 
For any tourist interested in gorilla trekking in Uganda, you should obtain a gorilla permit through your travel agent from a trusted tour company or through the Uganda wildlife authority. The gorilla trekking experience in the park starts with a briefing at the different reception areas at the different parks where you will be told on the guidelines to follow during the encounters with the gentle giants and these include the following;
You should keep a distance away from gentle giants in order for them to carry out their normal daily activities without any inconveniences.

There should be noise regulation to avoid triggering the gentle giants because they react violently towards noise.

You should avoid feeding the gorilla any of your food and] it should be noted that eating in the presence of the gorillas to avoid contraction of diseases since they are fragile creatures.

Tourists should limit their movements during encounters with the gorillas and many other guidelines.
Following the briefing, you will then embark on your journey to the gentle giants where you will hike the virunga mountains if you're in Mgahinga national park and hike through the dense forests of Bwindi impenetrable national park. Upon reaching the gentle giants, you will spend one hour with them understanding their behavior by observing how they co-exist with one another, their feeding patterns, what they feed on, their eating, resting and playing intervals when they construct their nests for the night among other interesting aspects.
Why should one carry out gorilla trekking Uganda from Kigali 
A gorilla trekking permit is cheaper: Compared to gorilla trekking in Rwanda, gorilla trekking permits are quite cheaper than the gorilla trekking permits in Uganda. In Rwanda, gorilla trekking permits are sold at a fee of 1500USD, whereas gorilla permits in Uganda are at a fee of 600USD and come July 1st they will be increased to a fee of 700USD which will still be at a cheaper price as compared to Rwanda permits. Therefore you can participate in the activity to save some cash which can be used to participate in other activities.
Gorilla habituation: For tourists interested in participating in the gorilla habituation process, then should visit Bwindi impenetrable national park because it is the only park where the activity can be carried out among the national parks where gorilla trekking is carried out. Gorilla habituation involves accompanying the gorilla habituation team to train the gentle giants in order for them to get accustomed to human presence, which is an interesting activity.
Double trekking: While in Uganda you can participate in double gorilla trekking where you can participate in gorilla trekking in two national parks in order to have more. For tourists that are interested in knowing much more about gorillas, then they can book permits for both national parks that is Mgahinga national park and Bwindi impenetrable national park. 
Short distance: Accessing Bwindi impenetrable national park and mgahinga national park from Kampala city is far compared from Kigali city/ Kigali international airport which makes it the best alternative to access the parks. From Kigali city, the tourist will take 3 hours and 30 minutes' drive from Kigali International airport to the park and from Kigali International airport to Mgahinga National park it will take you about 3 hours.
From Kampala city, while accessing the different national parks it will take the tourist will take a longer period of time as compared to Kigali city. From Kampala city, the tourist will take 8 and a half hours to reach the mgahinga national park and 8 hours and 20 minutes to reach Bwindi impenetrable national park.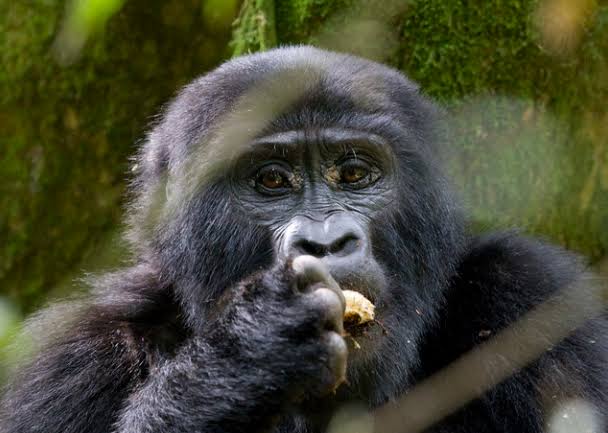 Chances of gorilla trekking are high
There are a number of different habituated groups which give you high chances of participating in the activity. Given the fact that there are two different national parks in Uganda, there are high chances of participating in gorilla trekking because there are many gorilla trekking permits that are issued daily to participate in the activities. On a daily 8 permits are issued per gorilla family which gives the tourists high chances to participate in the activity because of the different habituated gorilla families.
Other added benefits with gorilla trekking in Uganda, if you have time you can visit queen Elizabeth national park where you will be able to see the tree-climbing lions, you can also carry out chimpanzee trekking in the kyambura gorge within Queen Elizabeth National Park, you can also participate in the Batwa cultural expedition where you will get the chance to visit an interesting group of people with unique cultural traits, for example, the fact that they are forest people that depend on forest products like honey, fruits, small creatures of the forests like squirrels among other products.